Daughter of Edinburgh panto star Andy Gray reveals heartbreak over Covid-19 death shortly after he beat leukaemia
The daughter of Edinburgh panto star Andy Gray has spoken of the heartbreak caused by her father's death from Covid-19 just after he managed to beat leukaemia.
Clare Gray sat at her father's bedside as he lost his life to the virus on January 18.
She told the Sunday Mail: "I think the fact my dad had beaten leukaemia makes his death from Covid all the more painful.
"His life was getting back to some sense of normality, then out of nowhere coronavirus came along.
"When the bug strikes, it's like Russian roulette.
"My dad was one of the unlucky ones – so many people have lost their lives to Covid – and I'm absolutely heartbroken."
He had been working in England and rehearsing with lifelong friend Allan Stewart for a condensed version of Sleeping Beauty they were set to stage in Milton Keynes.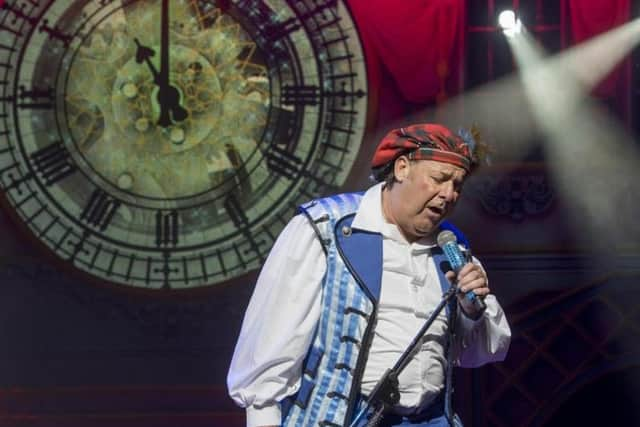 When English health chiefs brought in tough restrictions, the panto was cancelled and Andy, who had a weakened immune system after being diagnosed with leukaemia in July 2018 and having a life-saving bone marrow transplant in 2019, returned to his Perthshire home.
The 30-year-old said her father was admitted to Ninewells Hospital - where he had been treated for leukaemia - in Dundee but, as his condition worsened, he was transferred to the intensive care unit and he needed to be placed on a ventilator.
Clare and Andy's partner of six years, Tamara Kennedy, who he was set to marry this year, were by his side when he lost his fight for life on January 18.
Clare said: "A lot of families haven't been able to be with their loved ones at the end.
"We are so appreciative that we were allowed to be with my dad."
While only 20 members of his closest family and friends could attend his funeral, Clare says she is planning a celebration of her father's life when they can.
She said her father was "overwhelmed" by the outpouring of love received during his leukaemia fight but that he would be "shocked" by the way so many people have been saddened by his death.
She said she grew up watching her father on stage and was "always in awe" of how he captivated an audience with a look or funny face.
Clare has many wonderful memories of her father who, as a huge fan of Batman, loved to dress as his favourite superhero and collected comics and memorabilia.
Following his death, fans left flowers displaying tributes at the entrance to the King's Theatre.
Andy Gray was much-loved in Edinburgh and treated it as a second home, having studied drama and Queen Margaret College and performed in many pantos and shows across Capital venues such as the King's and the Royal Lyceum.
He also attracted a huge crowd at Edinburgh's Fringe with thanks to his theatre double act with panto co-star Grant Stott.
Originally starting his acting career at Perth Theatre in the late 1970s, Gray shot to fame in the 1980s with the BBC Scotland sitcom City Lights.
The Scottish entertainer also starred in famous shows such as Naked Video and River City.