Curling gold that was British Olympics first goes on display
​One of Great Britain's first Winter Olympic gold medals has gone on display at a museum in Scotland.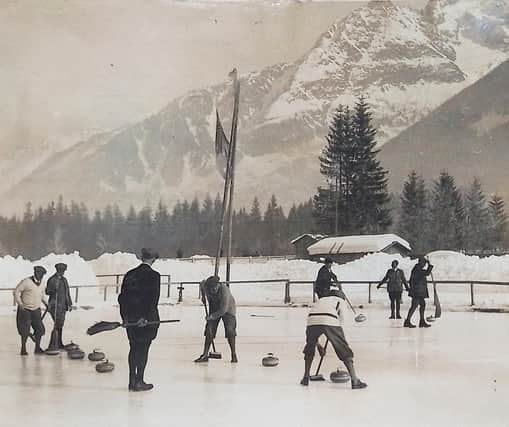 A team, comprised of four Scots, became the first British team to win gold in the Winter Games as they emerged triumphant in Chamonix, France, in 1924.
They won an opening match 38-7 against Sweden before beating France 46-4 to become champions on January 30. They were the only three teams in the tournament.
One of the medals presented to the curling team which won the gold forms part of the exhibition at the Biggar & Upper Clydesdale Museum in South Lanarkshire, along with other memorabilia.
The team was made up of Biggar's Tom Murray, who was a cattle and sheep breeder; father and son Willie and Laurence Jackson, who were farmers and auctioneers from nearby Symington; and Robin Welsh, an international rugby selector from Edinburgh.
They travelled by train from Edinburgh and then on to Paris, before spending 13 hours on a train to Chamonix where they eased the boredom by playing bridge.
The exhibition features photographs, letters and telegraphs sent home to proclaim the team's success.
Scrapbooks kept by Mr Murray and a bust of Willie Jackson, who was rated the world's finest curler at the time, also feature in the exhibition.
The team marched into La Grande Patinoire, the outdoor ice rink, with union flags on their left arms and brooms carried over their right shoulders rifle style, according to the Royal Caledonian Curling Club's annual report of 1924.
But despite the popularity and interest in the sport at Chamonix in 1924, curling was dropped from the second Winter Games in St Moritz four years later and did not return as an official Olympic sport until 1998.
Another Olympic curling team comprised of Scots, captained by Rhona Martin, famously won Britain's second Olympic curling title in 2002.
Biggar Museum curator Elaine Edwards said the exhibition is a fitting tribute to three local heroes: "The museum is always keen to celebrate the area's impact on the wider world and we're sure that this exhibition will have far-reaching appeal."
Upper Clydesdale was a curling stronghold in the era before indoor rinks, with its reliable rainfall, healthy rivers and sufficient altitude to encourage hard frosts.
The many ponds in use around Biggar in the 19th and early 20th centuries are detailed in a map displayed in the exhibition.
Lindsay Scotland, of the Scottish Curling Trust, said: "This is a timely celebration of one of Scottish sport's greatest adventures - three farmers from Upper Clydesdale, and an international sportsman, who made the arduous trip to the Alps and came home with gold."
The exhibition has been co-curated by museum staff and the Scottish Curling Trust - a charity based in Edinburgh that seeks to promote the sport and look after its heritage and will run from Tuesday to Sunday until December 17, and then at weekends from January 6 until March 24 next year.