Creating orange-lid bins from recycled diamonds
More than 77,000 redundant Aberdeenshire wheelie bins have been recycled and used to create the orange-lid bins destined for the very areas from which the materials were sourced.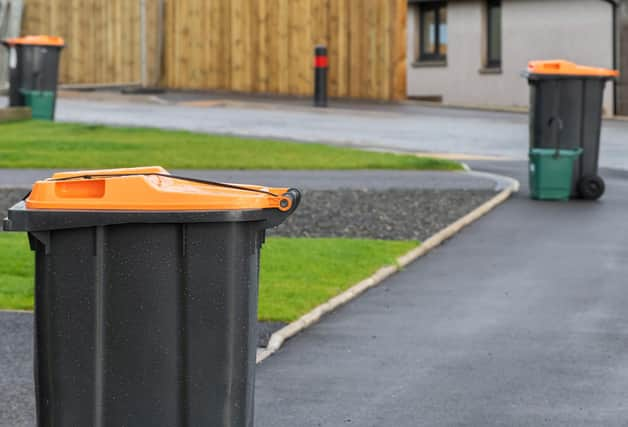 Across six months, Aberdeenshire Council recovered old-style diamond lift-bins from the two remaining areas using them in the region – Marr and Kincardine & Mearns – and replaced them with industry-standard comb-lift bins.
All household waste and recycling bins in Aberdeenshire are now standard comb-lift bins, making all collection vehicles compatible with any bin anywhere in Aberdeenshire, allowing for efficiencies in vehicle usage and routing.
At the time of replacement, Aberdeenshire Council was the only local authority in Scotland still using diamond bins.
This meant that sourcing replacements was increasingly difficult and far more expensive than the industry standard comb-lift bins used in the rest of the Shire.
The new orange-lid bins – in the comb-lift style – continue to make their way to households and trade customers across Kincardine & Mearns in preparation for changes to kerbside collections that will ultimately roll out across all of Aberdeenshire.
The redundant bins were sent to Bright Green Plastic, part of IPL UK – a company offering a closed-loop recycling solution to shred, granulate, re-formulate, wash, and create a clean polymer from the recovered resource that was ultimately used in the making of the new orange lid bins.
Chair of the council's Infrastructure Services Committee Councillor John Crawley said: "The two collection systems are not interchangeable, and the redundant diamond-lift waste bins were more than 15 years old – the guaranteed lifespan of a wheelie bin.
"It is fantastic to be able to recycle that resource, bringing the two areas of Marr and Kincardine & Mearns up to the same compatible standard as the rest of Aberdeenshire."
Vice-chair Councillor Isobel Davidson added: "Diamond lift bins were becoming increasingly difficult and expensive to source, meaning longer wait times for residents at more cost to the council. It was certainly time to upgrade and support efficient use of our collection vehicles.
"Thank you to the Scottish Government for part funding the project through the Recycling Improvement Fund, as it will ultimately benefit the new kerbside collection strategy to have the industry-standard comb-lift for orange-lid bins across Aberdeenshire."
As the new kerbside collection changes roll out across Aberdeenshire, households should be on the lookout for a teaser postcard that will indicate that the change will soon apply to their home.
A letter will follow that includes a new service booklet with everything residents need to know about the changes, including when to expect delivery and when to start using their new orange-lid bin.
Orange lid bins are for tins, cans, foil, aerosols, food and drinks cartons as well as plastic bottles, pots, tubs, and trays.
The blue lid bin will then become for paper and card only.
Kincardine & Mearns is the first area for the full rollout of a new kerbside collection cycle. Once all households in the area have their new orange-lid bins, Kincardine & Mearns will be switched to a three weekly collection cycle to improve recycling capture and quality.
From Monday 29 May, orange lid bins will also begin to be delivered to some households and trade customers in the Marr area: specifically, Deeside from Banchory to Braemar and some of the surrounding area.
The council is asking that the households seeking additional orange lid bins allow time for the service to settle in before making their request for another.
This is to ensure that the maximum capacity of the bin is used and that additional bins are not wastefully allocated.
More information on the changes to kerbside collections rolling out across Aberdeenshire can be found on Aberdeenshire Council's website at: aberdeenshire.gov.uk/bincollectionschange