Council remains committed to tourism as it prepares to welcome visitors for the season ahead
Aberdeenshire Council remains committed to developing tourism across the region this year as it prepares to welcome visitors for the season ahead.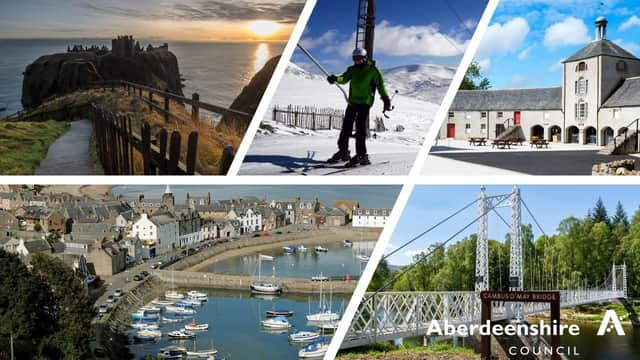 While we might not be enjoying the better weather we might have expected by now, the Shire is gearing up for another influx of visitors to its stunning countryside and coastline.
A mecca for local people and visitors alike, Aberdeenshire relies on a strong tourism strategy to support many of its communities and businesses.
During recent years, despite the obvious impact of the Covid pandemic, it's been heartening so see such strong visitor numbers enjoying local sights and scenes as they continue to support our local shops and services.
As part of its economic development strategy, Aberdeenshire Council continues to invest and support VisitAberdeenshire – alongside Aberdeen City Council and Opportunity North East (ONE) - which promotes high quality visitor experiences in North-east Scotland to targeted audiences in the UK and overseas on our behalf.
There is also a requirement to help to grow the visitor economy through initiatives which help tourism businesses to understand and meet demand from an ever-changing market.
While the council agreed to a reduction in funding during its challenging Budget discussions, there remains a firm committal from the local authority and partners to deliver a sustainable, inclusive, high-quality experience to visitors.
And with such an abundance of sights and attractions it's easy to see why Aberdeenshire remains a jewel in Scotland's tourism crown all-year round.
The wonderful range of Aberdeenshire Tourist Trails explore everything from historic bridges, castles and Victorian heritage to secret malts, stone circles and Pictish stones.
There are also many wonderful locations to visit: we have beautiful countryside the length and breadth of Aberdeenshire – epitomised by Royal Deeside where you can see majestic castles, the graceful River Dee itself and welcoming towns and villages along the way.
To the east and round the north-east coast we have some of the most stunning wide open beaches that Scotland has to offer – from St Cyrus in the south to Fraserburgh and Sandend in the north.
The region boasts so many tourist attractions for people of all ages to enjoy including:
Macduff Marine Aquarium - where you will meet all kinds of sea creatures that live in the Moray Firth, Scotland's largest bay
Peterhead Prison Museum – Step back in time as you walk through 125 years of turbulent history inside Scotland's toughest jail
Museum of Scottish Lighthouses – Tour this nationally-significant collection of lighthouse lenses, artefacts and archives and Kinnaird Head Castle and Lighthouse - the only manned lighthouse in the UK
Grampian Transport Museum – Boasting an impressive range of transport exhibits, from travelling chariots of the 1800s to some of the fastest cars ever made
Aberdeenshire also has four amazing country parks at Aden, Alford, Balmedie and Haddo where you wander through the stunning woodlands and coastline, learn about the rich history of the areas and enjoy playparks and other attractions they offer.
And fresh from hosting last year's Tour of Britain, Aberdeenshire has a host of activities and major events which keep tourists returning year after year.
Whether you want to try your cycling prowess on the stunning Aberdeenshire Ascents, enjoy a fun-filled day out at Portsoy's Scottish Traditional Boat Festival or take in the sights and sounds of the Braemar Gathering, there's something for everyone.
Big-hearted communities are also front and central, organising a host of events whether it's the hugely-popular agricultural festival that is the Turriff Show, Peterhead Scottish Week - the longest-running traditional showcase of its kind in Scotland - or the spectacular Stonehaven Fireballs – Aberdeenshire has it covered.
Cllr John Crawley, chair of the council's Infrastructure Services Committee, said: "There is no doubt that we are blessed in Aberdeenshire with so many beautiful towns and villages right here on our doorstep and they each offer a wealth of attractions and offerings for visitors from within the region itself or from further afield.
"Offering a wide range of retail, hospitality and leisure pursuits and activities, our business sector will be looking for a busy season ahead as they continue to bounce back from the pandemic and are now having to deal with the pressures around the cost of living and energy prices.
"While we are all feeling the pinch very acutely at the moment, I hope we can all demonstrate our support for the sector while enjoying tremendous days out across Aberdeenshire and exploring both our popular attractions and those hidden gems just waiting to be discovered."
Vice-chair Cllr Isobel Davidson added: "From county to coast, visitors to Aberdeenshire are guaranteed a very warm welcome from our communities and businesses which provide such a wide range of offering.
"Tourism is hugely important to the north-east supporting more than 18,000 jobs through some 1,400 diverse businesses – so let's all do our bit this year to get out into the fresh air and rediscover our amazing region."