Consultation starts on developing the Aberdeenshire Local Development Plan 2028
While the Aberdeenshire Local Development Plan may only have been adopted earlier this month, Aberdeenshire Council's Planning and Economy Service is already focusing on production of the next plan.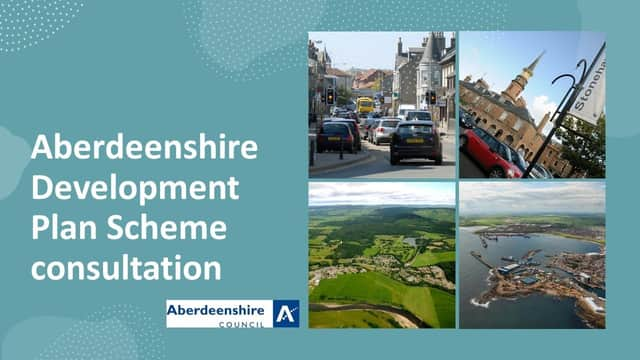 At a meeting of the Council's Infrastructure Services Committee (ISC) on Thursday (January 26), it was agreed that consultation should take place on a draft 'Development Plan Scheme' which will set out the timetable and anticipated consultation on a future Local Development Plan.
The Local Development Plan is an important document which governs where development can and cannot take place and its preparation is of keen interest to communities and the public who will encounter the long-term impacts of the proposals it makes.
It took around six years to develop the Local Development Plan 2023 due to the legal need to step through a process governed by the Planning (Scotland) Act 1997 which involved two stages of public consultation and a public examination.
Scottish Ministers have advised that the next Local Development Plan should be prepared by early 2028.
The draft Development Plan Scheme sets out a timetable that will see a new process employed for preparing the plan including new elements which have been added to the process to ensure that the plan is evidence-based and is prepared in a spirit of cooperation between communities and developers.
Recognising that formal Government regulations on plan preparation are likely in the near future, it focuses on detailed matters over the next year, but with a general approach to see the Local Development Plan prepared for consultation by early 2026, with approved following a public examination of objections by early 2028.
Key changes which are adopted into the process are the production process are an Evidence Report made up of a compendium of place-based analysis of a range of more than 25 planning related topics and a Gate Check examination of that document.
Other changes include the removal of a draft Plan stage and the introduction of opportunities
The results of the survey will thereafter be presented to Infrastructure Services Committee at which time a revised Development Pan Scheme will be published, officially starting the process for the preparation of the next Local Development Plan.
Head of Planning and Economy, Paul Macari, said "Preparing a development plan is not a straightforward process and inevitably takes time.
"I am pleased that we can start talking to our partners on how we should prepare a new plan, even in the light of the uncertainty we have at this early point in time.
"Engagement on - and publication of - a revised Development Plan Scheme will ensure that we are all on the same page, understand the challenges and demands that will be forthcoming, and are prepared to work together for the good of Aberdeenshire."