Charity breaks ground at new Deeside facility
A north-east charity which supports adults with additional support needs has reached a landmark moment in the charity's development.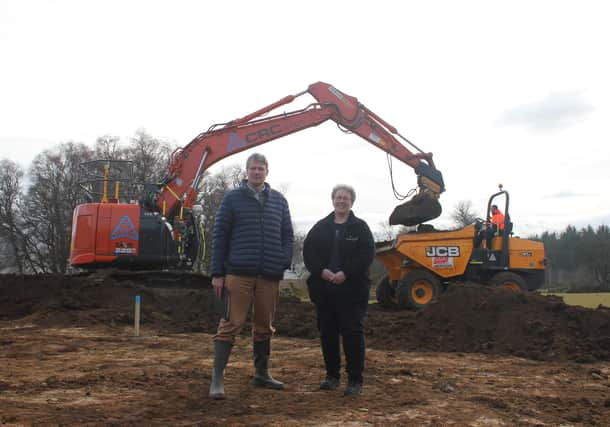 The Seed Box has started work on a new base in Deeside which will help the charity to respond to a growing need for its vital support services in the north-east.
Situated near Banchory, the additional facility will allow the charity to expand the work and activities it provides for the people it supports.
The Seed Box, which was granted Scottish charity status in 2020, has grown from its beginnings in 2013 to provide horticultural training and outdoor therapy to adults with additional support needs from its garden in Ballogie. However, it has recently experienced a significant increase in the need for its support services meaning the charity had to take the ambitious step to find an additional site.
Featuring a shop, office, planting and recreational areas, the new facility will increase the charity's capacity to help a diverse range of individuals who may benefit from therapeutic outdoor work as well as providing crucial respite to the families and carers of the charity's co-workers. It is also hoped that, by increasing the support services the charity can provide, more co-workers will be enabled to progress into mainstream or sheltered employment.
Belinda Rowlands, Director of The Seed Box, said: "The Seed Box has been working with children and adults who have additional support needs – our co-workers – for just under 10 years, growing plants and vegetables and making craft items which we then sell either online or at farmers markets.
"We reached the point where we needed to find a new site to allow us to grow and work with more co-workers. This new site at Lochton of Leys is a significant step on our journey. In particular, the new site will provide an additional growing area and an onsite shop to allow us to increase our sales."
Work is expected to be completed by late summer, allowing the charity to prepare the site for the 2024 growing season.
David Smart, Leys Estate Group Chief Executive, said: "When we were approached by The Seed Box we were immediately struck by how much the charity would benefit from an additional site in the Deeside area.
"We spent a great deal of time with Belinda and Guy to understand the organisations needs and were delighted to be able to identify an area on Leys Estate which would match the charity's future aims.
"It is very rewarding to see work commence on the site and we look forward to working with The Seed Box to develop a facility which will enable the charity to meet the growing needs of its co-workers and those in their support network who have access to crucial respite support through the charity's work."
Belinda added: "Everyone connected with The Seed Box is extremely grateful for the support of Leys Estate and also a wide variety of local Trusts and funding bodies without which this project would not be possible."
More information about The Seed Box, along with how you can support the charity, can be found at www.theseedbox.org.uk or by calling 01330 886633.