Calving interval a focus for family on new Banff and Buchan Monitor Farm
The importance of family as a foundation for farming was evident at Sauchentree in December as ninth generation farmer, Bruce Irvine and his young family welcomed more than 50 visitors to his livestock and arable business for their first Monitor Farm meeting.
Local networks, community support and shared ideas are vital too for the future of farming, with attendees soon suggesting tightening calving intervals for easier workload schedules.
Bruce, Vicky and their children Amy and Robyn live at the farm, near Fraserburgh, recently announced as the Banff and Buchan Monitor Farm, an initiative supported by Quality Meat Scotland and AHDB and funded by Scottish Government.
The four-year, farmer-led and farmer-driven project aims to encourage knowledge exchange of livestock and arable farming between a wide audience of farmers and others, improving resilience and long-term profitability across the agricultural supply chain.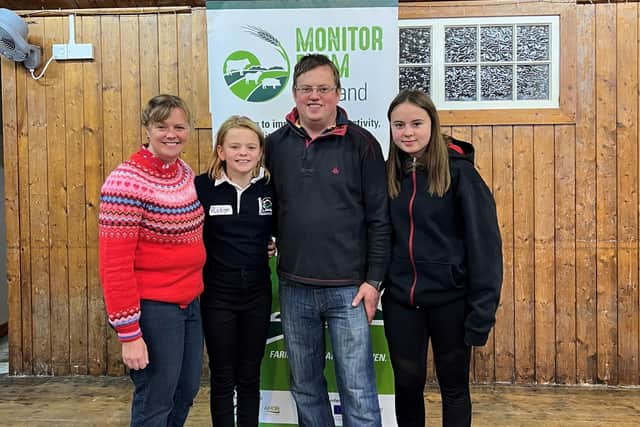 Bruce farms a total of 650ac with cereals, sheep and cattle and believes the three enterprises are as important as each other, with livestock providing fertility for the arable side.
He markets the family's organic lamb and beef through Scotbeef.
Until recently, Bruce farmed in partnership with his father and mother and is now making the major decisions on management and the way forward for this mixed livestock and arable organic farm.
The first meeting, introduced as 'First Impressions,' took visitors to the store cattle and in-calf cow pens, where Bruce, Vicky and Amy, his elder daughter, explained the set-up, management and aspirations for the herd while being questioned by attendees.
Numerous examples of current good practice on the farm were identified by attendees.
These included family cohesion, use of technology, low input costs with organic practices and an openness to change their systems with the right advice.
Then, from the experience and knowledge of local farmers and consultants, the Irvines received suggestions for improvements; tighter calving intervals, splitting calving into two periods and increased use of data for decision making.
Calving currently stretches over roughly 26 weeks, with a small break between autumn and spring calvers.
Several attendees suggested a clearer split between calvings, reducing the interval eventually, to two, six-week blocks, with the aim of producing more even sized beasts at point of sale.
Commenting, Bruce said: "It was great to know that my family was promoting the importance of managing the calves well and keeping them moving while I was discussing cattle health and breeding in the other sheds.
"We have some serious decisions to make going forward and it's good to hear others' thoughts on the paths to take."
Peter Beattie, the Regional Adviser for the North cluster of Monitor Farms added: "Bruce and his family are at an exciting point in their farming journey and it's clear that better use of data, improved bull management and forward planning will help gain more time for everyone while improving profitability and sustainability."