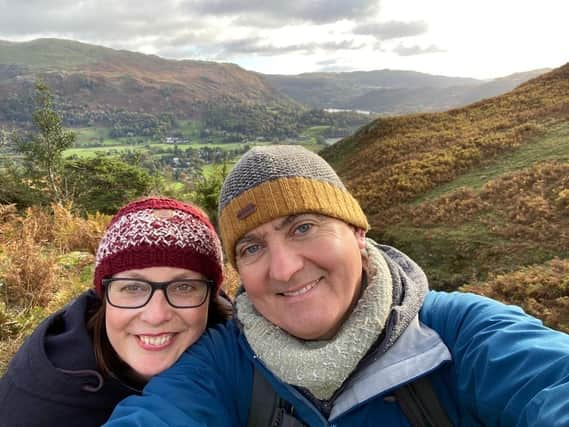 Alex Lawrence, 49, and his wife Jo, 44, have been trying to make it back to their home in Cumbria from the island since Monday.
The couple had to make an emergency trip to Lewis at the end of March after they were told Mrs Lawrence's father, Alan Hart, a resident on the island, had only days to live.
After almost three weeks of sitting with the 82-year-old former London firefighter in hospital, he died on Sunday.
Unfortunately for the couple, eager to get home for a change of clothes and to arrange funeral plans, their return trip was cancelled because of the latest CalMac ferry breakdown.
MV Loch Seaforth developed problems with its engine control system on Monday which led to a swathe of services being cancelled between Ullapool and Stornoway.
Sailings have been cancelled from Monday evening through to Wednesday afternoon, with passengers still being left in the dark about when the next departure from either port will happen.
Additional services are running between Uig and Tarbert to help with the backlog, but CalMac said these will prioritise freight including food, medical supplies, animal feed and time sensitive loads. Any remaining space will then be offered to general traffic.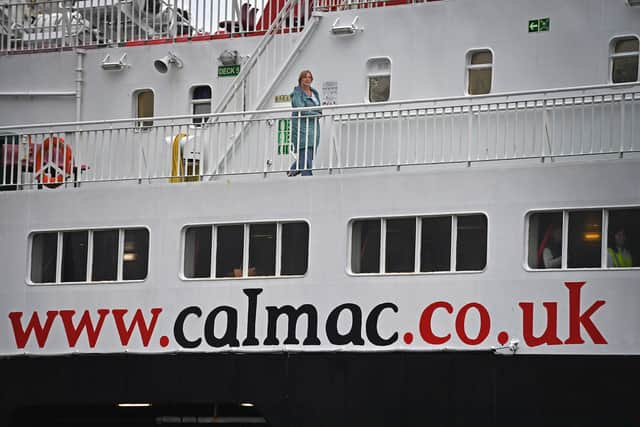 Mr Lawrence said: "Jo's father's funeral service will be in London, where he's originally from, and despite worrying about my wife's mental state at this time with the bereavement, I now have to worry about whether or not we will be able to get the body off the island because the service has been awful.
"We want to get home to make the funeral arrangements and arrangements to get him back to the mainland.
"We initially thought we would only be on the island for three days and so only packed for a few days. Our clothes smell of the hospital and we really just want to get home. It's been really awful having to be here watching him die and then now facing this."
The couple said Mr Hart moved to Lewis for his love of diving.
In 2020, aged 79 at the time, he was hit by car on the island which resulted in him being paralysed from the neck down.
The Lawrences said Mr Hart did everything he could to live as long as possible by making changes to his home after the incident, but he finally succumbed to his injuries with the couple by his side in hospital.
Mr Lawrence, a freelance photographer, said despite explaining his heart-breaking story to CalMac staff in the hope they would help him find an alternative route off the island, he was met with "no care or empathy."
"I was told the ferries on the alternative route from Tarbert were full until Sunday and that there was someone else in my situation who also had a bereavement problem so I would have to just wait.
"They then said they would book me on the next day's sailing, but that I would only receive un update on whether it was actually going or not the next day at 7am.
"All I wanted was someone to listen and help.
"Even if the person I spoke to had gone through the motions of just showing like she cared that would have helped.
"But to just shut the door in my face and tell me someone else had the same problem and not help me was insulting.
"I'm not bigger or better than anybody else trying to get off the island, I was just asking for help.
"The way they treated me was disgusting.
"It's been a really messy end to what has been a heart-breaking story."
Mr Lawrence said the lack of communication and difficulty trying to get hold of CalMac has made the ordeal a lot more stressful.
"We have had experience coming over here when the weather has caused cancellations and that's fine, I understand that. But when it's repeatedly a technical problem that drags, it's awful.
"And the communication with regards to any updates is shocking.
"I tried to call CalMac initially when our trip was cancelled and when I got through to someone, it lasted a few seconds, and then they dropped the call."
He said the only communication he has received from the ferry service has been random SMS messages.
CalMac's latest update on Wednesday said contractors are onboard the vessel working on resolving the technical fault and an update for the 5.30pm sailing from Ullapool will be provided at 2pm.
Mr Lawrence added: "There's a lot of people who have been affected by this.
"There were lots of people walking away from Stornoway harbour looking bemused.
"I overheard someone in the queue at the garage asking the cashier person if they had enough supplies.
"Locals here have told us that small businesses have gone out of business entirely because of CalMac because they can't guarantee the stock, the footfall.
"There are so many people affected. For us, someone has just died, and we want to get home."
In response, a CalMac spokesperson said: "We offer our deepest condolences to this family and are extremely sorry for adding to their distress at what is already a very difficult time for them.
"Unfortunately, our phone lines were overwhelmed with calls during this week's disruption, which did lead to calls being lost in some instances.
"This was also a fast changing situation, with additional services being arranged at short notice."
Three other CalMac large vessels are currently out of action after problems were discovered during annual maintenance.
MV Caledonian Isles, MV Hebridean Isles and MV Clansman have not been in service since the summer timetable began on 1 April.
Transport Minister Kevin Stewart said: "We fully recognise the need to improve reliability and confidence in services."