Buchan Bog Buddies get to work on peatlands
Pupils from two Aberdeenshire primary schools have joined forces with RSPB Scotland and Aberdeenshire Council to create an exhibition exploring the importance of peat bogs and local connections to these landscapes
RSPB Scotland and the Aberdeenshire Council Ranger Service have been working with P6/P7 classes at New Pitsligo and Strichen schools on a peatlands educational programme – Buchan Bog Buddies.
Buchan Bog Buddies was a 12-session project to raise awareness of the climate and ecological emergency we are facing and how bog restoration can help, culminating in a multi-media exhibition curated by the pupils.
The pupils have learned about the history of the Buchan Bogs, how they were formed after the last ice age, and the important cultural associations with cutting peat for fuel. They have also explored Sphagnum Moss and discovered how its water-retaining properties lead to the formation of raised bogs, and the value of the bogs for wildlife like insects, insectivorous plants, wading birds and Cranes.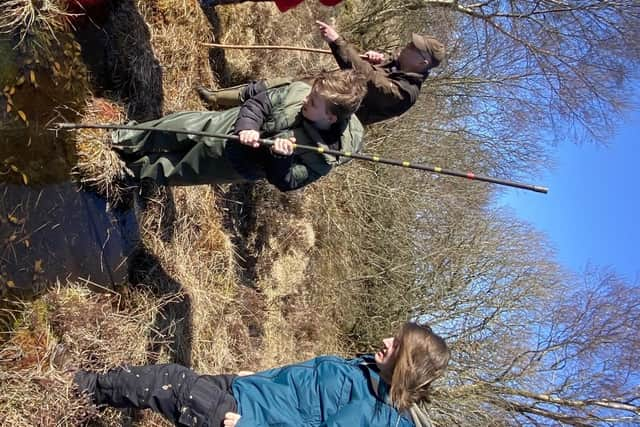 They have also been taken on a guided walk across a local bog so they can relate all they have learnt to the real world around them.
The sessions also covered how the bogs are being restored through the NatureScot Peatland Programme and how community action groups can play a role in the restoration and protection of their local bogs.
As part of the learning process pupils made their own Bog in a Bottle, explored a 10,000 year old bog and human history timeline, researched biodiversity on the bog, spoken with family members about their memories of the bogs, handled some traditional peat cutting tools and discovered the wonderful way in which Cranes dance.
Now the children have become community leaders, co-creating an exhibition for their community, sharing all they have discovered about how important the bogs of Buchan are. Both schools will come together to share their exhibits, including posters, animations, games and more.
Dawn James, Community Engagement Officer for RSPB Scotland said "Since we started in January, they've been very enthusiastic to learn all about their local bogs. They've discovered just how long they take to form; how special Sphagnum Moss is and the plants and wildlife that lives on and around the bogs. They've also learnt about human uses for peat and the tradition of peat casting in the area, some of the pupils discovered photos of their family working on the bogs and heard family stories.
"Now they've used all their creativity to develop what promises to be a fascinating and exciting exhibition.
"The exhibits they have created include an animation, hand drawn cartoons, computer and board games, posters and even an area where you can dress as a peat caster from the past. They have worked incredibly hard and are very eager to share what they have learnt with their community and beyond."
New Pitsligo School's Mrs Watson said: "This has been a great experience for the children. They have been engaged and excited about learning how their surroundings have been created, and the value to our earth that peat bogs have, how they are important for wildlife and storing carbon dioxide to help tackle climate change. They especially enjoyed their field trip to the nearby peat bog.".
Strichen School's Mrs Rennie added: "This has been a great project to be involved in, I have learned a lot myself as well as the class. The activities were all interesting and varied and we are looking forward to the opportunity to share our work with the community.".
The exhibition is taking place on May 11, from 12noon to 6pm at the Ritchie Hall, Strichen. It is free to visit and there's no need to book.