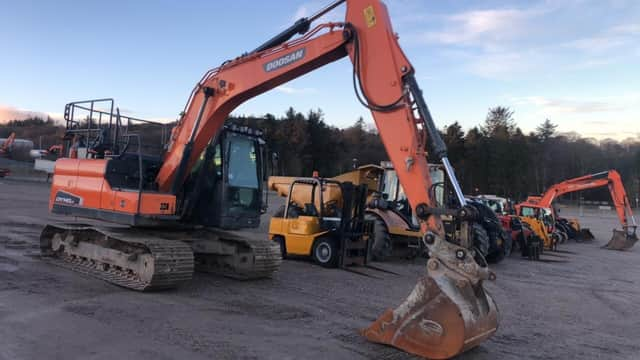 As one of the largest live online auctions of its kind, the sales reached a nationwide audience with over 650 bidders participating online.
Highlights from sale include a 2020 Doosan DX140 LC-5 Tracked Excavator reaching the top price of £41,500, followed by a 2008 Hydrema 9120 4x4 dumper achieving £24,500 both in the tractors, telehandlers and plant equipment section.
In the Vehicles, commercials and 4x4's category a 2018 Toyota Hilux Invincible Double Cab sold for £17,500 as well as a 2011 Nissan Cabstar 35.13 LWB C/W high access lift achieving £15,000.
Within the Lorries section a Man TGS 35.400 8x4 Tipper sold for £13,800 and in the implements and small agricultural equipment category a McHale Pro-glide F3100 & R3100 front and rear mower set sold at the price of £15,500.
In the trailers section a Ifor Williams 14' tri axle livestock trailer sold for £3,900 and lastly the small plant category saw a 2012 JCB 8018 CTS mini excavator achieve £9,000.
Mark Barrack, Head of Thainstone Specialist Auctions, said: "Ahead of the sale we received a good selection of high quality used equipment, machinery and vehicles with over 1,290 entries. We are delighted to see a positive start for 2023 with a sale success rate of over 83%, and bidders from across the UK actively participating throughout the sales.
"The Thainstone Online Collective Sale continues to demonstrate the importance of a competitive market and how fair and transparent bidding allows both buyers and sellers to achieve the best price on the day.
"We encourage businesses looking to move on underutilised equipment, machinery, or vehicles to maximise the power of the auction system and discover the true value of their surplus assets. If you would like to discuss your entries, please contact the team on 01467 623770."
The next Thainstone Online Collective sale will take place on Wednesday, February 15 with entries being accepted from Monday, February 6 to Thursday, February 9.