Battered sausage roll from Fife chipshop goes viral
A Fife chippy has gone viral with what could be the most Scottish food item yet – the battered square sausage roll.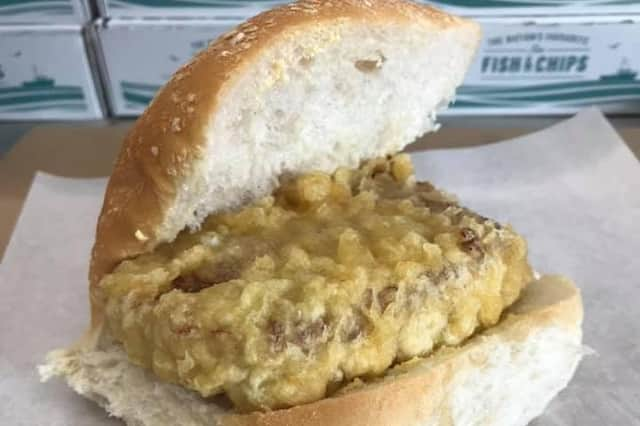 Ilario's, a chipshop located in Kincardine has earned a mass following, after a post of its battered square sausage roll went viral on social media.
A local stronghold, the Scottish-Italian chip shop is a family-run business and has been in the town for over 40 years.
Now, its most recent post on Facebook, which has received almost 2,000 shares and counting, shows a Scottish favourite, the square/ lorne sausage, covered in Ilario's home recipe batter served in a roll.
Comments from "Now these are banging" and "This is something I need to try" on their Facebook post have shown how popular the dish is amongst internet foodies.
Speaking about the recent fame of its hyper-Scottish take on a roll and sausage, Ricardo Chicarella who runs the chippy alongside his dad said: "Wow - it's just blown up. I think we are nearly at 400,000 interactions on Facebook and it just keeps climbing, it's massive and so random.
"People across the whole country have been getting in touch with us and we've been inundated with private mail - basically gone viral.
"We were just appealing to our wee town but now we've got it right out there and we've got Ilario's on the map."
Despite the battered sausage roll being on the chippy's menu for a while now, Mr Chicarella said he believes its recent fame is to do with people turning to social media more in lockdown.
He said: "We've done it for a while, I don't know what it is, it's just recently gone absolutely mad. It must have just come up on somebody's Facebook and everybody's jumped on the band wagon."
"I'm just happy we are trading right now.
"See if it's a wee square sausage that makes people happy? Then I'm happy.
"The world isn't in a good place right now and it's only going to get worse so it's nice to see we can at least cheer somebody up with a wee square sausage in batter."
Mr Ricardo says that secret to creating the best battered sausage bun is in the batter.
He said: "There's plenty of square sausages out there but do they use Ilario's batter? I don't think so. That's our biggest thing."
However, even the internet sensation sausage cannot take Ilario's bestselling title.
"This has been a wee thing since we are a Scottish-Italian fish and chip shop that's how it came about but obviously our fish is still number one alongside our pizza," Mr. Chicarella added
Talking about the recent battered pickled onion fad which has also gone viral, Mr Chicarella said: "We've been doing that for years but I'm glad people are getting a wee bit of limelight for that and it's a good distraction from Coronavirus.
"People are looking for stuff to share with friends as they can't go and interact with them so we've really benefited from that."
A message from the Editor:Thank you for reading this article. We're more reliant on your support than ever as the shift in consumer habits brought about by Coronavirus impacts our advertisers.
If you haven't already, please consider supporting our trusted, fact-checked journalism by taking out a digital subscription.