Ballater couple celebrate sapphire anniversary
Ballater couple Ian and Nancy Paterson have recently celebrated 65 years together.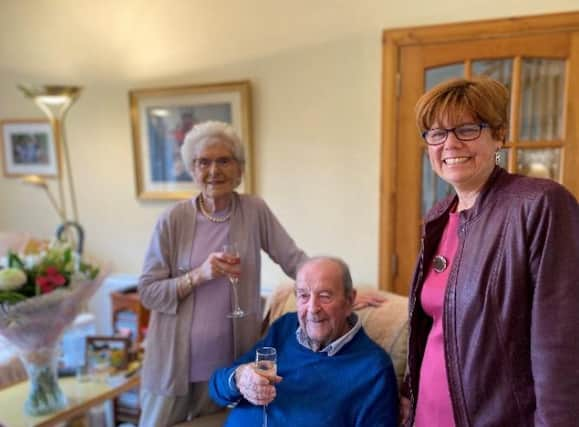 Ian and Nancy Paterson (nee Agnes Bruce) got married on the 9th August
1958, at Glenmuick Parish Church, Ballater after which they enjoyed a meal at the Charleston Hotel, Ballater.
After taking the "Sputnik" (the electric train) into Aberdeen, the newly wedded couple celebrated their honeymoon watching "A Night to Remember", unaware this was a movie about the sinking of the Titanic.
After their stay in Aberdeen, Ian and Nancy travelled by train to Blackpool, where they stayed for a few nights.
They then travelled to London to stay with relatives.
On return to their Ballater home, Ian received a telegraph to travel back to Falmouth which is on the coast of Cornwall as Ian was serving in the Merchant Navy.
Nancy followed on to live with him on ship for a few weeks, while it was laid up due to an oil shortage.
Ian's last trip for the Merchant Navy took him away from his family for 15 months with no leave so he decided at that point to call it a day so he could be a family man.
Ian then served time with Hoover then went into business in Ballater where he held Royal Warrants, one from The Queen mother and two from Queen Elizabeth II.
Both Ian and Nancy played active roles in the Ballater Golf Club where they both served as Captain.
Ian was an active Councillor with Kincardine and Deeside Council for 8 years ending up as Dean of Guild.
And 65 years later, the happy couple are both very proud of the family they have raised.
They have put it down to a long and happy marriage.
Ian and Nancy have four children – two boys and two girls – and 13 grand children and eight great grandchildren.
Ian and Nancy celebrated their Blue Sapphire (65 years) Anniversary at home and were delighted to receive a card from our King and Queen.
They also welcomed Councillor Anouk Kloppert into their home who presented them with a beautiful bouquet of flowers.