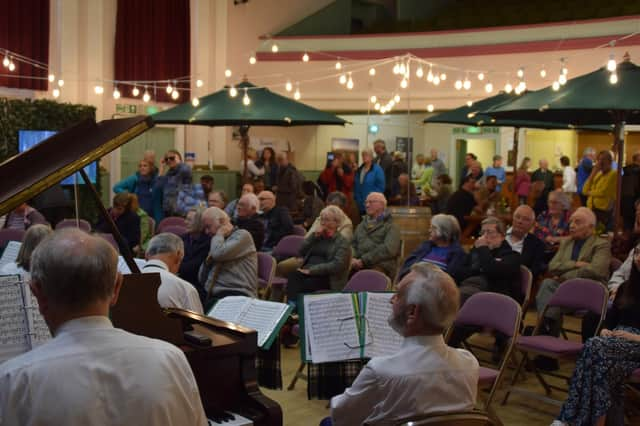 Some had been involved with the charity since the start and others were new to the Bailies and came to find out what they do.
The afternoon was compered by Mark Stephen, from BBC Scotland's Out of Doors.
Attendees were treated to a performance on the harp by Nadine Ralston and Tara Leiper played music on the piano that had been composed for the occasion by Phillip Cooke.
The Garioch Fiddlers played a few Bennachie-themed pieces composed by local traditional musician, Ian Thow.
The Mitchell School of Drama gave a preview of their upcoming play about Bennachie 'The Hill that was a Home'. There was also lots of opportunity for people to mingle, browse displays, and eat cake.
The Bailies were also joined on the day by local firm Little Brown Dog Spirits who have produced a Bailies and Bennachie inspired special edition of gin which was available for sale.
Norvite Farm and Country who are also celebrating a 50th anniversary this year had a stand distributing free flower seeds and squirrel food.
Peter Stock, the chair of the Bailies said: "I am delighted that people came along to join us mark this special anniversary. It was a fitting celebration of the efforts of the Bailies through the decades.
"It was wonderful to meet so many old and new friends and share memories and plans. I would like to thank all my fellow trustees for their time and enthusiasm for making this happen and everyone who attended and performed."
The Bailies of Bennachie are a voluntary conservation charity dedicated to protecting the much-loved Aberdeenshire hill range. They have over 2000 members and are run by a board of trustees.
They aim to be 'the voice for the hill' – advocating and representing the hill with landowners, the council and user groups. They look after visitors – repairing paths, picking up litter and cleaning loos.
For further information on the Bailies of Bennachie, visit www.bailiesofbennachie.co.uk