Autism charity celebrates launch of landmark initiative
Autism support charity Autism & Neurodiversity North Scotland (A-ND) is celebrating the launch of its landmark Binky the Sensory Bus initiative.
Following successful fundraising efforts and extensive preparation, Binky the Sensory Bus is set to begin its outreach throughout the north of Scotland, providing unique and specialised sensory support.
As an extension of A-ND's vital and highly sought-after outreach support service, Binky the Sensory Bus will help the charity reach further across the north of Scotland.
Donated by partner Stagecoach Bluebird, Binky the Sensory Bus was launched in recognition that many children, young people, and families throughout the region are currently unable to reach A-ND's playscheme based in Aberdeen City, leaving them without access to vital services. By taking its services to families where it is required, A-ND will provide timely support to prevent families from reaching crisis point.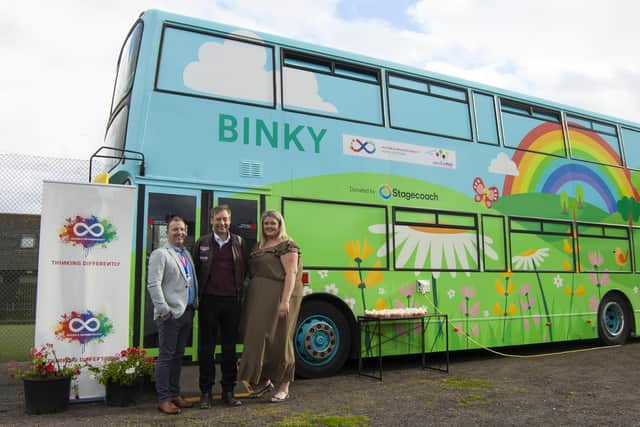 In partnership with fellow Aberdeen autism support group SensationAll, A-ND is aiming to offer outreach and sensory support on Binky the Sensory Bus to autistic and neurodivergent children and young people - some with additional support needs - aged up to 18 years old. Through the specialised sensory environment installed within the mobile double-decker bus, A-ND hopes to be able to reach a minimum of 1,400 individuals and their associated family members across the next 22 months throughout the region, including in Inverbervie, Fraserburgh, and Peterhead, with aims to increase their reach into Aberdeenshire and Moray.
To mark the initiative beginning its support, A-ND hosted an official launch event on Tuesday the 10th of October at The Royal Burgh of Inverbervie Community Caravan Park, Montrose. Attended by supporters, sponsors, partners, A-ND's team and members of its Board of Directors, as well as invited family and friends of the charity. The launch event provided guests the chance to experience Binky's unique sensory environment before it begins its inaugural journey next Tuesday (17th October 2023).
Binky the Sensory Bus has been made possible through funding and support from A-ND's partners and sponsors, including The Royal Burgh of Inverbervie Community Caravan Park, G.F. Bisset, Serica Energy, and main partners Stagecoach - who will fund the costs of storage, maintenance, and fuel across the next three years - as well as the funding secured from the success of A-ND's inaugural fundraising golf day and dinner which raised £46,000 for the charity in May this year.
Attending the launch event and discussing the importance of Binky the Sensory Bus beginning its services, A-ND Services Manager for Binky and Outreach Support, Francesca Read said: "After over two years of planning and fundraising, this is an incredible moment for everyone at A-ND, as well as the individuals, families, and networks we support. Binky the Sensory Bus has been a longstanding dream of ours. The potential this initiative has to transform the lives of children and young people living with neurological differences and their families is immense.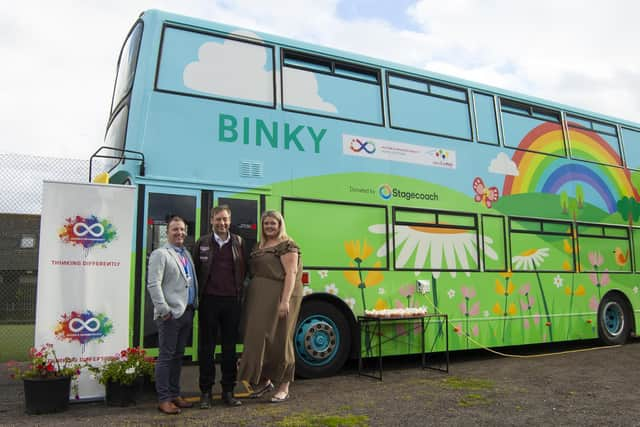 We know first-hand the importance of providing specialised support to areas in the north of Scotland that have limited access to unique sensory environments like that of Binky's. Already our team consistently deliver incredible experiences and support to 150 individuals and their families but because of resources and funding, we are only scratching the surface of what we can offer from our Aberdeen playscheme and current outreach service. Now, being able to provide a mobile solution is truly a landmark moment for the region, reaching the families who can't reach us. Of course, this wouldn't be possible without all the incredible continuous support we've had from our sponsors and supporters. We can't wait to get out on the road to make a difference."