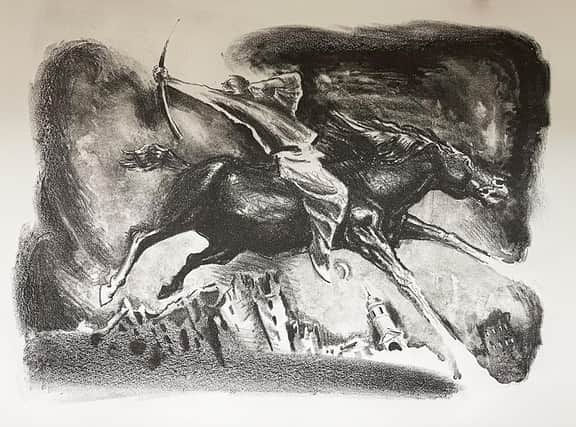 Keg de Souza, Shipping Roots, Inverleith House *****
Uprooted Visions is an international collaboration led by Edinburgh. For the show 30 artists were given month-long residencies in Edinburgh, Amsterdam, Odense in Denmark, Ljubljana in Slovenia and Cork in Ireland. All the artists have been forced to leave their home countries because of war or other circumstances.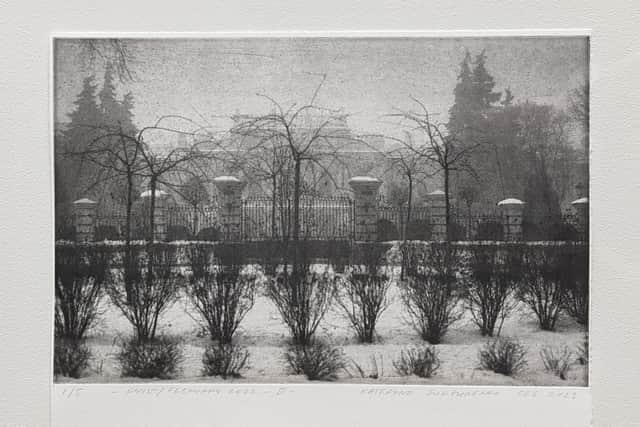 The work is varied. Some artists take a more oblique approach, but most reflect on their experience of displacement, on memories of what they have left behind and the difficulty of new, strange environments. Five of them have left the war in Ukraine. Others are from Syria, Sudan, Yemen, Somalia and other still war-torn places, or from places where although war is long past, the scars remain.
Among the works, Kateryna Svirgunenko's wistful prints are immediately striking. A refugee from Ukraine, she now lives in Denmark. Looking back to home and remembering a friend killed in the war, her prints of trees in a snowy park have mood of melancholy reflection. Symmetrical cropping adds a subtle note of anxiety and unease. Antony Reznik is also from Ukraine, but now lives in Germany. His reflections in various media on the ongoing war in his homeland are raw and immediate. A building is shattered by an explosion, a wolf's face looms above a pool of blood, or we look out from the doorway of a ruined house, but three quieter images inscribed "Granny Calling" progress from relative light to indistinct darkness as he graphically recalls the anxiety of trying to contact his grandmother, left on the wrong side of the battle. Wiktor Zwolskyi suggests the riders of the Apocalypse in a powerful lithograph of a Scythian rider above a devastated city.
In all the horrors inflicted on Ukraine by Putin's Russia, the fate of pets might seem trivial, but the frequent images of refugees carrying their dogs and cats into exile is a poignant reminder of the emotional disruption of their lives. Some, of course, had to leave their pets behind and in a richly textured etching Anastasiia Melnykova-Blidar remembers the parrots she had to abandon in Ukraine, but etchings of shells reflect her appreciation of the beauties of her new home in Ireland.
Naila Hekmat, now resident in Denmark, is from Syria. She trained before the war in Damascus, one of the world's oldest cities. Her training is a link to a happier time before Syria was ravaged by the hellish alliance of Assad and Putin. Her etchings reflect on this tragedy in images of battered or limbless dolls, standing for the suffering of the children in a war conducted by a tyrant against his own people. The suffering of thousands of children in another pointless, terrible war, the conflict in Yemen, is the theme of Shatha Altowai's three prints titled "Monument of Loss". Yemen is her home, but she now lives in Scotland. Zory Shahrokhi is from Iran. Women's rights or their absence, which has shifted recently into state-sponsored violent abuse, have long been a topic in her work. Here she shows three etchings titled the "Return of the Crows" and her sinister, evil looking birds seem to personify the violent misogyny of the Iranian state. Queer people, too, are targets in illiberal states. Mousa AlNana is from Syria and his etchings of queer embraces, "Conditional Love", boldly defy that institutional hostility.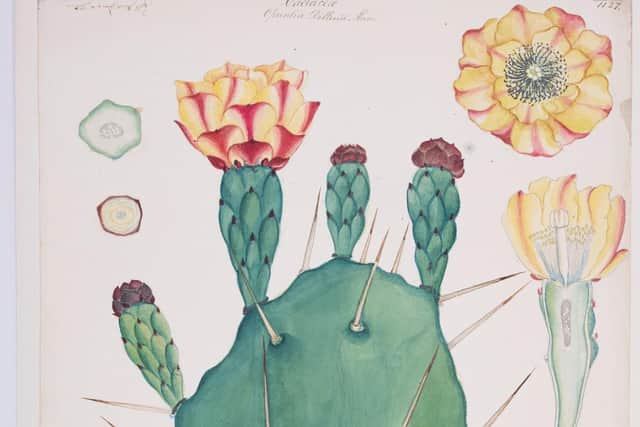 Keg de Souza is also uprooted. Her forbears were victims in Goa, first of Portuguese imperialists and then of British. She now lives in Australia, a continent whose people, flora and fauna have all been victims of extreme colonial disruption. She makes that point fiercely when she says she is now "a settler on unceded Gadigal land in the place known by its colonial name, Sydney". In Edinburgh, she is resident artist in the Botanical Gardens and has made good use of the organisation's unique resources to explore the theme of her exhibition, the "colonial legacy of plants": the displacement by colonialism of plants transported from their native habitats to places where, intruders in long-established eco-systems, they often proved extremely disruptive. This exploitation was largely driven by greed, but it also happened involuntarily. In the export of wool from Australia, for instance, seeds tangled in the fleeces were accidentally carried across the seas. She illustrates this process eloquently in her installation, "Fleece Fugitives". Using a range of information and images, including lovely blue cyanotypes of the invasive plants, she shows how these seed stowaways travelled across the seas to spread out quietly from the woollen mills in Scotland.
The most striking example she gives of this process of uprooting is, however, the prickly pear. Native of Central America, it was introduced with catastrophic results to Australia with the first colonists. There it behaved like one of John Wyndham's triffids , invading the countryside and displacing its inhabitants. It was imported to cultivate an insect which feeds on it. Also a native of America, this insect produces the brilliant red dye, cochineal. It was used for the red coats of the soldiers of imperial conquest, but it was extremely expensive and Spain had the monopoly from its American colonies. The British thinking was that in Australia, a British colony, the prickly pear and its attendant insect would provide a cheap source of red dye for the army. Ironically, they chose the wrong beetle. It didn't work, but the cactus loved its new home and the only result of this futile colonial enterprise was an intrusive and disastrous vegetable invasion. Called the Green Hell, the plant's march across Australia matched the invasion of the European colonists with similar catastrophic consequences for the native inhabitants – human, animal and vegetable. In the show a room dedicated to the Green Hell is painted dark green and hung with red banners decorated in batik with cochineal insects, prickly pears, the European invaders' ships and other motifs. A single prickly pear in a pot presides. Throughout the show there is fascinating supporting material. Here for instance, in a 19th-century botanical drawing, the plant looks animated, sinister and alien, just like a triffid.
Keg de Souza's third installation is Blue Haze, the story of the disastrous impact of the eucalyptus tree that, moving in the other direction, was exported by the British from Aboriginal land in its native Australia. Welcomed as a fast growing hardwood tree, it was transported across the globe and now covers "over 22 million hectares worldwide". Very thirsty and highly flammable, in a double whammy the eucalyptus both increases fire hazards and lowers the water table. Indeed, it is so greedy for water that Mussolini planted eucalyptus in a bid to drain malarial mashes south of Naples. A gallery here is filled with leaves and branches of the tree. You can smell it. With its peeling bark and blue-green foliage, it looks alien and it is. Nearly 150 years ago, Patrick Geddes was among the first to understand the intricate balance of the web of life and our responsibility for it. He would have heartily approved of Kes de Souza's show. She tells shocking stories, but she does it beautifully.
Uprooted Visions, Edinburgh Printmakers, to 2 July; Keg de Souza, Shipping Roots, Inverleith House, to 27 August