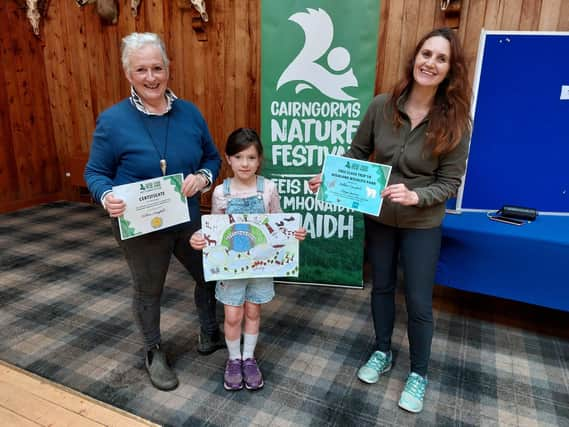 On Sunday, May 21 finalists and their families from across the National Park gathered to find out who had won the overall competition – with the lucky winners receiving a pair of binoculars for themselves and a school trip to the Highland Wildlife Park for their whole class.
Willow Campbell from Aboyne Primary won for P1-3 and Isaac and Kara Cullen from Carrbridge Primary for P4-7.
Judges said: "The winning artwork was fantastic! Capturing the different facets of freshwater life in the Cairngorms – the water, wildlife and people".
Elsewhere in the National Park dozens of events took place for the final weekend of the Festival, including sell out guided walks on Balmoral and Seafield Estates, a Ceilidh and Concert with Cocktails and active events for people with disabilities and their families.
Andy Ford, Director of Nature and Climate Change, said: "We have had a fantastic 10 days celebrating Cairngorms Nature with a huge array of events and activities taking place. The Cairngorms National Park is a special place for nature and it has been so encouraging to see people bringing their families to the National Park and connecting with nature, some for the first time. While the Festival is a highlight of the year, this is just 10 days - the real story is the exceptional nature in the National Park and the people who love it, care for it and share their passion all year round."