Amity Fish Company Welcomes Liam Kerr MSP to Peterhead
Peterhead's Amity Fish Company welcomed MSP Liam Kerr to their premises recently.
Mr Kerr had previously raised a motion in parliament regarding Amity's recent premises expansion and new onsite shop.
He was pleased to present Amity Managing Director Jimmy Buchan with a framed copy of this motion upon his arrival.
During the visit, Mr Kerr was provided a tour of Amity's new facility and shop.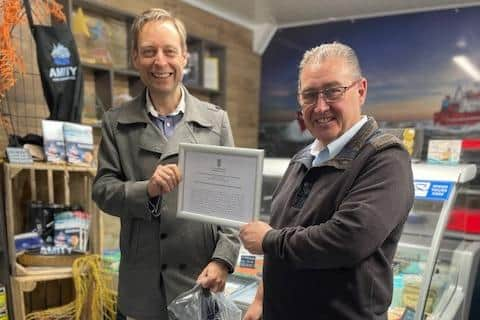 Jimmy was pleased to have the opportunity to share Amity's journey so far and future plans.
Of the visit, he said: "We extend a big welcome to Liam for taking the time to visit us in Peterhead.
"Our company is deeply committed to sustainable practices, and we welcome any opportunity to share our insights into the Scottish seafood industry. We hope that this visit will further emphasize the significance of supporting the seafood sector and its sustainable growth.
"We believe that such visits help raise awareness about the vital role that the seafood industry plays in the Scottish economy, creating jobs, supporting local communities, and ensuring the highest environmental and ethical standards."
Amity Fish Company is an award-winning Scottish Seafood supplier, sourcing sustainable, high-quality Scottish Seafood and delivering this direct to homes and businesses across mainland UK - from shore to your door.
From their base in Peterhead, Europe's largest white fish port, we source and supply Scottish Seafood responsibly and to high standards.
With almost 50 years' experience in the seafood industry and at sea as a passionate fishing skipper, Jimmy Buchan and his team ensure the best catch for customers with quality, traceability, provenance, and sustainability always at the heart of what they do.