Award-winning Scottish seafood supplier Amity Fish Company opened its new fish shop recently, and already customers are flooding down to the quayside to try out the fishy delights on offer.
The store promises to be a seafood lover's paradise, offering an exquisite range of the freshest fish and frozen seafood delicacies.
Amity Fish Company has been a trusted provider of high-quality Scottish seafood for almost two decades.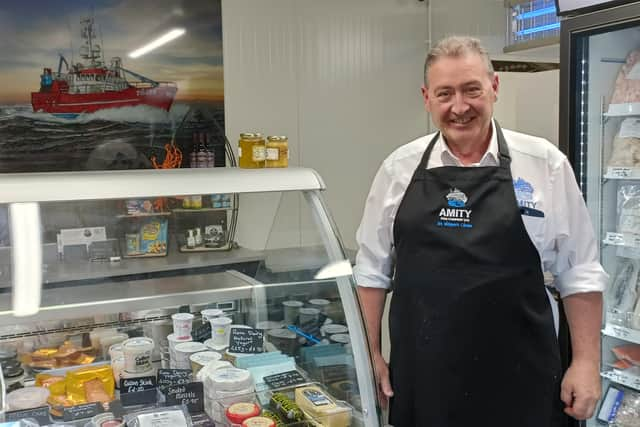 With the opening of the new fish shop, Amity Seafood Larder, the company aims to bring its passion for exceptional seafood and unparalleled customer service to a broader audience.
At the Amity Fish Company's new fish shop, customers can expect a seafood experience that caters to all tastes and budgets.
The store boasts a diverse selection of seafood sourced from sustainable and responsible fishing practices, ensuring the best available catch, every time.
"Our vision for the new shop is to create easy access to premium, responsibly sourced fish and seafood in the town," said Jimmy Buchan, Managing Director of Amity Fish Company.
"We take pride in delivering the best available catch to homes and businesses across the UK, and this new store at the heart of the harbour allows us to take our commitment to quality and sustainability to new heights.
"We can now invite locals and visitors alike in to view our products with their own eyes before buying.
"For years we have been asked if we have a shop to browse and now the answer is, yes we do!"
The fish shop will offer an extensive range of seafood, from popular favourites such as fresh haddock and lemon sole, to luxury produce such as lobster and langoustines.
Amity Fish Company's expert team will be on hand to provide recommendations, cooking tips, and recipe ideas, ensuring that customers have an exceptional experience from start to finish.
In addition to the wide selection of fish and seafood, the new shop will also feature a well-stocked pantry of complementary items, including spices, specialty sauces and fresh produce from a range of local producers.
Customers will find everything they need instore to take their seafood dishes to new heights. Those shopping in store or opting to click and collect their order will receive a 15% discount.
Amity Fish Company's new fish shop is located at Seagate, next to Amity's existing unit.
The store is currently open weekdays 9am to 5pm and Saturdays from 9am to 12noon.
With almost 50 years of industry experience at sea and ashore, Amity Fish Company is dedicated to sourcing the best available catch for homes and businesses across the UK and beyond.
The company's new fish shop aims to bring the easier access to great seafood locally, while continuing to uphold core company values of integrity, excellence, and environmental responsibility.