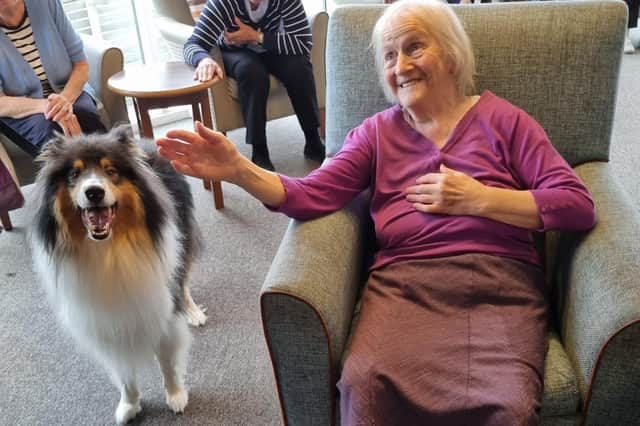 When care home manager Diane Martin started in her role three years ago, the residents at Deeside Care Home told her they'd love a pet at the home – but there were very specific requirements.
"They didn't want a lap dog, they wanted a dog that anyone could stroke; they specifically wanted a dog that could reach the height of a wheelchair," says Diane.
"They even decided on the colour, because black and white is easier to differentiate than brown if you have problems with your sight. And they wanted a dog with long hair that was soft to the touch."
The result was Alfie, a gorgeous two-year-old rough collie who has transformed residents' lives since Diane adopted him as a puppy.
"He just brings happiness to them; it is such a good outcome," she says. "The residents adore him, especially the residents who are on their journey of dementia. Even the residents who don't speak much will share their memories of pets they owned when they were younger – it's lovely to hear them reminisce and share their stories."
It's been a rough ride for both Alfie and his two-legged pals during the pandemic, but he's now back visiting his friends whenever he can.
"Before Covid, he would be up on the floors, I would leave him in people's rooms for a bit if they wanted him there – we had one lady who always liked to have him up on her bed when he visited," says Diane.
"He has got lots of different quirks with different people, he knows what they all like or don't like, and he's the same with the staff: he knows who he can go to for a good tug-of-war and a tussle."
These days he sticks to one floor at a time, and if the residents are out in the garden, Alfie will bound out to join them and splash around in his paddling pool when the weather is hot.
"The laughter we have had out there is amazing," she says. "He really missed socialising during the lockdowns. He missed the attention.
"He is such a softy with the residents here. He will go and rest his head on their laps."
There has only been one resident who wasn't a fan of dogs, and Alfie stayed out of his way, but everybody else loves him, continues Diane.
One resident who missed her cats has a wall of photos compiled by her daughter – and now there are pictures of Alfie added alongside her other pets to brighten her room.
Fully refurbished, Deeside, which was formerly known as Rowan Court, now has its own cinema room, hair salon and spa and a library, making it a perfect little village community for its 68 residents.
Our residents previously played an active part in the wider community, enjoying weekly services, singalongs and coffee mornings at the local church, and taking part in outings around the beautiful countryside. These activities are now again becoming a part of the routine activities for residents.
During normal times, the home provides activities and entertainment of all kinds: miniature Shetland ponies – part of a therapy group – have also been guest stars sharing Alfie's limelight, adding to a busy and stimulating calendar of events.
To find out more the welcoming care facility for the elderly at Deeside, located in the tranquil suburbs of Cults, or to book a tour for you or a loved one, visit www.deesidecare.com