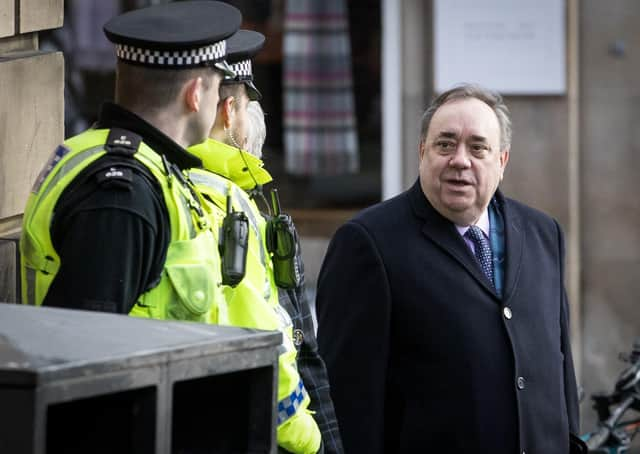 The former first minister is on trial for 14 sex charges involving ten women between 2008 and 2014. He denies all the charges.
One official known as Woman G told how she felt "trapped" after Mr Salmond insisted she go back with him to Bute House after a dinner at a restaurant in Edinburgh in April 2014.
She said he had got her to sit next to him on a sofa, made inappropriate remarks, put his arm around her and "leaned in" for a kiss.
Defence counsel Gordon Jackson QC suggested to her the matter may have been inappropriate, but had not been viewed as being very serious.
But Woman G said: "It was serious enough for us to change our staffing practices."
Asked by Alex Prentice QC, for the prosecution, what had changed, she said: "The specific change was that women were not to be alone with Mr Salmond in Bute House."
She said there was also to be no civil service support for Mr Salmond after a certain time in the evening – 7pm or 9pm – unless there was specific government business to attend to.
Woman G told the court she felt like a "play thing" for Mr Salmond after an earlier incident when he had smacked her on the bottom as they left a restaurant in Glasgow after a dinner in 2012.
She said: "Mr Salmond ushered people out ahead of him and I was standing back.
"He gestured for me to go ahead of him and as he did that he smacked my buttocks."
Mr Prentice asked how she reacted. "I was shocked. It had not happened to me before.
"We were in a public place and I remember feeling like I had to make sure I didn't react visibly. I didn't want to look embarrassed, so I carried on leaving the restaurant.
"It felt demeaning and it made me feel I was a play thing to him."
After the 2014 dinner in Edinburgh, she said she had papers for Mr Salmond which he could have taken himself, but he wanted her to go back to Bute House with him.
Inside, she had left the papers on the table in the second-floor sitting room and asked if she could leave.
"He said I wasn't to leave," she said.
"He beckoned to me to sit next to him on the sofa."
Mr Salmond had gone to the drinks cabinet and poured two glasses of limoncello.
"He wanted me to drink some shots with him," she said. "I told him I wasn't going to be drinking, I didn't like limoncello."
She said Mr Salmond told her to call him Alex and put his feet up on the coffee table. "I began to feel slightly intimidated and trapped," she said.
She said he had made inappropriate comments such as "what I would do to you if I were 26".
She said: "I thought it meant that he would try to have sex with me, to have sexual relations with me.
"He had his arm around me and at that point I started to feel panic and he leaned in to kiss me."
Mr Prentice asked if she had agreed to any of this or any signal which invited it. She said: "No, I had been trying to leave and had been saying it in many different ways."
She had tried to make up an excuse about a guest needing to get into her flat and made her ringtone go off so it sounded as if they were trying to contact her.
She said she had sat with "my legs closed tightly and my arms closed around me".
Mr Prentice asked: "Were you frightened?" She said: "Yes, I was frightened. It was at that moment I knew if I didn't get out that something serious might happen, so I just stood up and said 'I have to go' or 'Can I go now?' I just grabbed my coat and walked to the door."
Asked about Mr Salmond's reaction, she said: "He was frustrated and almost defeated and said something along the lines of 'fine, go'."
She said she messaged a colleague saying she wouldn't do her shift the next day because Alex Salmond had "been out of order" or "inappropriate" and she stayed off work for a few days. She said she was "extremely embarrassed" and "confused" and "hated him for what he had just done".
But she said going to the police was not an option. "I felt a huge responsibility to protect his reputation and if what happened to me got out into the public domain, or more widely within government, the ramifications of it would have been so severe I could not even fathom.
"I felt if I became involved in some sort of scandal with him, it would essentially lose the independence referendum.
"I was also conscious I didn't want my identity to be known. I really liked my job. I just needed to move on and forget about this."
Cross-examining, Mr Jackson said Mr Salmond's behaviour had been "thought of as nothing at the time", but years later had become a "criminal thing".
Woman G rejected a suggestion by Mr Jackson that when Mr Salmond put his arm around her on the sofa he was attempting to comfort her because she seemed upset. "No, not at all," she said. She said she had viewed it as "a move with romantic intentions".
Mr Jackson also suggested to Woman G that when Mr Salmond allegedly smacked her bottom he was being "playful – even if you didn't take it that way". She replied: "I think it was extremely inappropriate."
Mr Jackson said Woman G had emailed one of the other complainers against Mr Salmond and had detailed the incident, but did not mention her 2014 experience in Bute House.
Woman G said: "I feel it is quite personal and not something I have readily wanted to share with many people."
The 14 charges against Mr Salmond include one of attempted rape, one of sexual assault with intent to rape, ten others of sexual assaults and two of indecent assault. He has pled not guilty to them all.
He has lodged a special defence of consent in respect of four of the charges, claiming three of his accusers consented to sexual contact, and a special defence of alibi against one of the charges, claiming he was not present on certain dates at the location of the alleged offence.
The trial before Lady Dorrian has been scheduled for four weeks, but the court was told the prosecution case is now likely to be concluded next week.