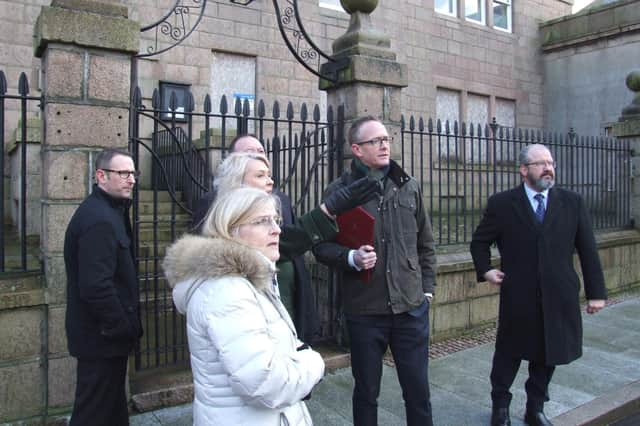 A total of 10 projects in Scotland have been allocated more than £177 million from round two of the Levelling Up Fund which will enable projects to create jobs, drive economic growth, help restore people's pride in the places where they live and spread opportunity more equally.
The region's bid - "Cultural Tides: North Sea Connections in Aberdeenshire" - focuses on the renovation and extension of Macduff Marine Aquarium and the development of a cultural quarter in Peterhead centred around the vacant Arbuthnot House.
Councillors and officers were delighted to host Parliamentary Under Secretary of State for Scotland, Minister John Lamont, in Peterhead today (Thurs, Jan 19) where he congratulated the authority on its successful submission.
Mr Lamont took the opportunity to learn more about the north-east projects and toured the existing Arbuthnot Museum and Library, the disused Arbuthnot House and the town's wider Conservation Area.
Under the Council's plans, a significant modernisation of the existing aquarium at Macduff would improve the visitor experience and include expanded exhibits and enhanced facilities.
A spectacular two-storey extension would take advantage of coastal views and include a new café-restaurant, education suite and community space.
The £5.7million project would also involve an external revamp of the building, a new children's play area and path links along the coastline.
In Peterhead, £18million would be invested in the creation of a new 'cultural quarter'.
The project will revitalise the heart of Peterhead by transforming the disused Arbuthnot House into a new destination museum and cultural hub. The historic building would be sensitively restored and a striking new extension would house both the town's library and a new regional museum showcasing Aberdeenshire's extensive historical collections and artwork.
Multi-purpose and workshop spaces would support participation and learning, whilst a new dedicated facility would attract temporary national exhibitions. The facility would include a café and restaurant with views of the harbour, and the building's former walled garden would be transformed into a new public green space.
The existing Arbuthnot Museum and Library building on the town's St Peter Street would be restored and converted into a new cultural venue with a live entertainment space and dance/music studios on the upper floor.
A report will now be tabled to a future meeting of Full Council to seek approval to accept the Levelling Up Fund grant, proceed with the project and confirm Council match funding.
A delighted Council Leader Cllr Mark Findlater said: "We very much welcome the announcement from the UK Government to support the Banff and Buchan constituency projects in Macduff and Peterhead.
"The next step will be to undertake a detailed design consultation and consider how these projects link to wider local initiatives such as regeneration and coastal paths. I can also advise that work to identify potential projects for future bids within other constituencies is ongoing."
Commenting on the two projects, Deputy Leader Cllr Anne Stirling added: "Macduff Marine Aquarium is a cherished visitor attraction operated by Live Life Aberdeenshire and valued natural heritage resource, but its current facilities do not allow its full potential to be realised. The proposed investment will overhaul the look and function of the aquarium whilst maintaining its charm and expanding its important educational role.
"The creation of a cultural quarter around the disused Arbuthnot House will ignite new energy and opportunities in Peterhead's historic town centre. The new museum and gallery, together with a bespoke library facility and educational facilities, will instill a deeper perception of culture, heritage and sense of place within the town and the wider region."
Peterhead SNP councillors Leeann McWhinnie and Stephen Smith welcomed the news.
Cllr McWhinnie (Peterhead North and Rattray) said: "I welcome this announcement today after the disappointment of missing out on the Green Freeport this will be a great boost for Peterhead and the surrounding area.
"Peterhead is a fantastic town and this announcement now gives us the opportunity to showcase that to a wider audience with the introduction of the Cultural Area."
Cllr Smith (Peterhead South and Cruden) added: "Arbuthnot House is part of Peterhead's history but has been left to degrade and decay after a rationalisation of the council's estate several years ago. I'm therefore delighted that this successful bid will mean not only an improved museum and library facility for the town, but also keeps them in the Town Centre.
"My thanks go to the council officers who worked very hard on producing the bid which has brought this investment to Peterhead."
Banff and Buchan MP David Duguid said: "I'm delighted the UK Government has reaffirmed its commitment to the north-east by awarding Aberdeenshire £20 million through its Levelling Up Fund.
"This money will help to maximise the potential of Banff and Buchan in places such as Peterhead and Macduff while helping to bring forward investment that will benefit communities for years to come.
"I have been working with Aberdeenshire Council throughout the process and I'm pleased these exciting plans will now become a reality.
"Direct investment of this scale from the UK Government is excellent news and there will be further opportunities for other areas across the north-east to prosper from this transformational Levelling Up Scheme in the future.
"As Aberdeen's £20 million Levelling Up award last year shows, direct UK Government funding can significantly improve the opportunities here in the north-east by helping to boost the economy, deliver jobs and rejuvenate our communities."