Aberdeenshire Council projects shortlisted in coveted Scottish Transport Awards
Aberdeenshire Council's work to promote sustainability in transportation has been recognised by being shortlisted in two categories at the 'Transport Times' Scottish Transport Awards.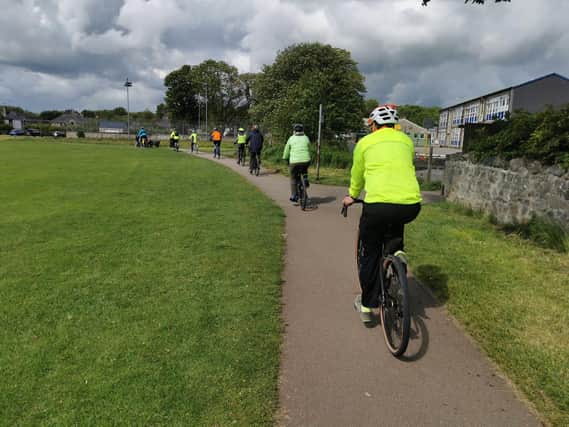 The Targeted Travel Behaviour Change Project has made the shortlist for 'Contribution to Sustainable Transport', while the Aberdeenshire Bothy project is shortlisted for the 'Excellence in Walking, Public Realm and Cycling' category.
Supported by the Scottish Government, Transport Scotland, Network Rail and the Railway Industry Association, the Awards will take place on June 22.
Aberdeenshire's Targeted Travel Behaviour Change Project sought volunteers to represent a variety of households and demographic groups who would be willing to replace some or all of their private car journeys with e-bikes and/or public transport.
Six Aberdeenshire households were chosen, with all choosing to use e-bikes to assist in changing travel behaviours. Participants were asked to complete travel diaries, which allowed the council to collect meaningful feedback about how e-bikes can provide a genuine and realistic sustainable transport option for many residents.
The strength of the scheme has been in documenting the changes in attitudes from the varied users and household types, which can then be used to encourage a desired change in behaviour amongst similar groups - peer to peer messaging being particularly effective.
The Aberdeenshire Bothy project is a partnership between Aberdeenshire Council and Cycling UK, which sees project officers working with and within local communities to act as a welcoming service for people looking for inspiration, help or advice on walking and cycling.
The project aims to overcome the main barriers people have to walking and cycling in Aberdeenshire towns and to promote accessible and inclusive active travel opportunities. The project has initially been focused on five towns designated as the 'Integrated Travel Towns' - Ellon, Fraserburgh, Huntly, Inverurie and Portlethen - where soft and hard interventions are delivered.
The project has been very successful to-date, with engagement via led cycle rides, cycle confidence sessions, Dr Bike support, family cycle rides, bike maintenance classes and various additional activities.
Councillor John Crawley, chair of the council's Infrastructure Services Committee said: "I am delighted that these outstanding projects have been recognised with a shortlisting in this year's Scottish Transport Awards. Not only do these coveted awards provide us with a tremendous opportunity to promote our work around changing travel behaviours, they also recognise all the hard work our teams undertake every day on behalf of our north east communities and I wish them all the very best in June."
Vice-chair Cllr Isobel Davidson added: "Aberdeenshire has enormous potential to lead when it comes to cycling and wider active travel and these projects clearly demonstrate that we are already well on that path to success."
Ewan Wallace, Head of Environment and Sustainability, said: "Aberdeenshire Council has a strong history of receiving recognition at the Scottish Transport Awards and this highlights the commitment of the council to sustainable transport. Both of the shortlisted project have encouraged positive behaviour change which has resulted in more local journeys being made by healthy and sustainable modes of travel such as walking, wheeling and cycling."