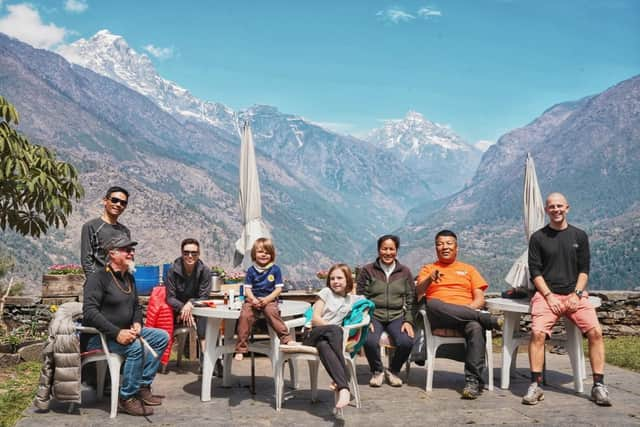 The family who are in Nepal, are taking each day as it comes and don't have plans to come home to Scotland too soon
The family, Julie Smith, her husband Kris, and children - Jacob aged three and nine-year-old Erihn have been on a round-the-world trip since June last year and arrived in Nepal on 6 March with a mission to make a 30-day-trek from Kathmandu to Everest Base Camp.
They began their trek to base camp on 19 March but days later on 24 March, Nepal went into lockdown after five people had been found to test positive for the coronavirus.
The lockdown has now been extended until 27 April, with 16 cases now in the country and it is uncertain whether the country will extend this further.
They have been staying at an altitude of around 3000m with a family of sherpas
"We were in Pakhepani when we heard lockdown was coming, some people decided to leave, but we wanted to carry on," Julie said, "We didn't immediately want to go back to the UK because it was getting worse, so we decided to ride it out in Nepal.
"We just kept walking and decided we would see what happens, then lockdown arrived. A local sherpa said that we could stay in this teahouse in a valley which overlooks the mountains."
The teahouse the family are currently staying in has an altitude of almost 3000m within the Nepalese mountains.
In the 10 months that the Smiths, who are originally from Hazlehead, have been away from Scotland, they have been documenting their trip for friends and family at home through their Instagram account, @clanwander.
They have so far visited and travelled through 19 countries as a family, including Jordan, Kosovo, Montenegro and Macedonia.
Julie added: "There are lots of local people locked down here, but it's a strange situation because we're happy and content, the children are happy here.
"Locals have been extremely friendly, there has been no hostility towards us. While we can't leave the premises there is a large amount of ground so the children can get out and run around.
"Locals are able to enter the grounds, but we can't leave. There's only one motorbike in the village but people travel across the runway which separates us to the village to come and have a go on it so we spend time watching them go on the bike and sometimes fall off of it."
The dream for the Smiths would be to make it to Everest Base Camp on foot, and they have so far walked 'around 30 to 40' kilometres to reach the camp already.
"The kids have been great," Julie said, "Sometimes we have been walking for six to eight hours a day. We would love to still get there, for the children they would be possibly the youngest siblings, but definitely the youngest Scottish siblings to walk to base camp the whole way, that would be our dream."
Despite being on lockdown, they have tried to maintain a daily routine of waking up in the morning and having breakfast outside in the sun with the view of the mountains.
Time is then spent homeschooling the children with reading and maths and sometimes they do assault courses on the grounds or make use of the pool table in the teahouse.
Julie said: "This is country 19 and it is still a blast - I like to think that we have our own little community here, there are good days and bad ones, but we have our happiness and health and are taking it one day at a time."
The family's trip of a lifetime can be followed on their Instagram page: @clanwander