Readers' Letters: Sturgeon's disregard for working class is shameful
A surgeon gives a prognosis before separating Siamese twins or other major surgery. An engineer does detailed calculations before a design is approved, never mind constructed. The First Minister Nicola Sturgeon, however, prefers to wing it. As she admitted to Andrew Marr of the BBC, the economic modelling of the costs of separation has not yet been done.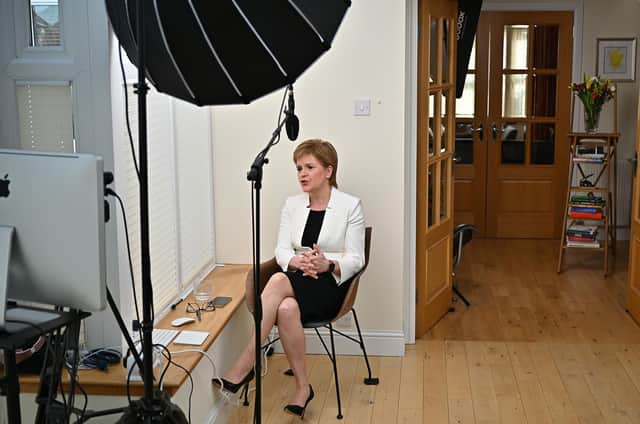 Given this is the main issue in Scottish politics, the First Minister's disregard for the economic interests of working-class Scots is shameful.
Penny Ponders, Ingliston Road, Edinburgh
The First Minister appears on the Andrew Marr show and trots out the usual independence argument that Scotland is one of the wealthiest countries in the world including all our "natural resources". Frustratingly, Mr Marr then fails to ask the First Minister why, under her watch and as one of the wealthiest countries, we have growing child poverty, the highest drugs death rate in Europe, a widening attainment gap in education and one of the lowest life expectancy rates in the poorest parts of Glasgow.
As she has stated herself, the obsession with independence has meant she "has taken her eye off the ball" as regards some of the major issues facing the country; her government has had 14 years to improve the lot of the Scottish people and they have demonstrably failed.
Richard Allison, Braehead Loan, Edinburgh
Ever since the referendum in 2014 there has been no such thing as normal politics in Scotland. Since then everything has revolved around Unionism and Nationalism.
In the election in May all those who do not want separation need to vote tactically. Irrespective of their politics they need to vote for the party most likely to beat the Nationalists. It would help if friends and family could be persuaded to vote in a similar manner. The aim would be to prevent an SNP majority at Holyrood which would otherwise lead to another divisive referendum which would be disastrous given the fallout from Covid and the serious financial position the country is in and will be for several years to come.
Jack Watt, Berstane Loan, St Ola, Orkney
Piotr Jaworski, an economics professor at Edinburgh Napier University, has put on record that an independent Scotland would just not cut the mustard financially left to its own devices. With the oil industry on its knees and tourism at an all-time low, an independent Scotland would simply go bankrupt without a cut in public spending – which, as we all know, is not something the SNP would even consider.
Being part of a family business with a branch in Scotland, it makes me shiver with fear when I contemplate the utterly preposterous state the economy will be in if Scotland was to become independent in the next 2 years. Trade across the Border will become riddled with red tape, businesses will close and jobs will be lost.
I leave you with this, the impact of Scottish independence on trade is likely to be four times bigger than Brexit. Ouch.
M Douglass, Evenley, Northamptonshire
It is indeed too early to declare Brexit "calamitous" (Letters, 24 April). The UK government's main argument against another Scottish indyref within the agreed "generational" time-frame of 2014-2044 should be that Scots are entitled to be given the chance to judge its effect over a realistic period based on a firm "evidential base" – a phrase Nicola Sturgeon falsely employs anent the UK's vaccine roll-out success, as Brian Wilson pointed out (Perspective, same day).
Likewise, it is too soon to judge the future direction of the EU, to whose rules and diktats she is keen to subject Scotland at the earliest opportunity. Many experts believe its overexposed banks will soon lead to a Eurozone crisis, which would spill over to the whole EU – already under pressure in several member states.
As for John Cutland's praise for Scotland prospering "for hundreds of years" before 1700 (Letters, same day) I wonder if he has read Arthur Herman's The Scottish Enlightenment, describing our nation as having endured a century of almost uninterrupted violence and bloodshed, torn apart by anarchy, civil war, foreign invasions, religious persecution and dominated by the harsh and repressive kirk – but which after 1707 evolved into Europe's most literate society, due to a large extent to the "school in every parish" proposed by John Knox in 1560 to strengthen the kirk, but only fully implemented more secularly after the 1696 legislation.
John Birkett, Horseleys Park, St Andrews, Fife
I have just finished reading an account of Sir Walter Ralegh's life and was struck by, despite the gap of some five centuries, how similar life in the high echelons of power was then when compared to the present day. Cronyism and backstabbing was the order of the day then to gain access to the Crown, which was in Sir Walters's case, Queen Elizabeth or King James. Loyalty to the throne was richly rewarded. If this loyalty wavered, however, then all the special treatment was swiftly removed and you became persona non grata. Usually those cast aside became a thorn in the side of the ruling regime.
Fast forward five centuries and what has changed? Access to the prime minister's mobile phone and being friends of the prime minister or his fiancé seems to be the key to the awarding of some Covid contracts and leadership roles in the new Covid-related teams.
Boris Johnson showed his loyalty to Dominic Cummings by defending the latter's trip to the north of England during lockdown when every right-thinking person in the land thought Cummings had broken the spirit and letter of the law. Boris would surely have expected total loyalty from Cummings even after he had to be "let go" for policy reasons.
However, Cumming has now launched a most vitriolic attack on the competence and integrity of the prime Minister. This is taking backstabbing to a new level.
It is depressing that power is being wielded in a similar manner five centuries on from Sir Walter Raleigh's time.
Vincent McCann, Fearniehill Gardens, Edinburgh
It seems fortuitous that at a time when the SNP appears to be losing support in the polls and Audit Scotland has announced an investigation into the Scottish Government's handling of the costly Ferguson Marine ferries fiasco, Boris Johnson should give Nicola Sturgeon an opportunity to claim "Tory sleaze" in response to the refurbishment of the Prime Minister's residence at No.11 Downing Street.
Of course Mr Johnson has many questions to answer, but I would have expected the attack upon him to have been launched by the SNP Commons leader, Ian Blackford – or his dog Maisie, who seems to get the public's attention better. Undoubtedly Ms Sturgeon has perfected the art of deflective politics when things are going badly for her. I would have welcomed her appearance on the recent BBC Question Time for the Scottish political leaders, but alas, we didn't get the opportunity to see her answer the audience's questions.
At the end of the day, is an as yet unproven allegation of sleaze any worse than proven instances of incompetence?
Bob MacDougall, Oxhill, Kippen, Stirlingshire
Douglas Ross must be in denial to accuse the "SNP of wasting taxpayer cash" (your report, 24 April). His Tory party wiped out a quarter of our industry during a failed experiment with Monetarism, telling us that "It no longer matters where things are made any more, things can be made anywhere in the world." They must be the only political party in the world that can inherit an oil bonanza and use it to destroy industry, then call themselves business friendly.
The loss of wealth generated from these industries meant we all had to pay more rates and taxes while the Tories benefited from selling foreign goods made cheaper by them forcing up the pound and earning 12 per cent interest on their savings. We would have more money to invest now in schools, hospitals and public services if they had not been so politically dogmatic and incompetent.
Andrew Burnett, Auld Mart Wynd, Milnathort
It is heartening news that a team at Oxford University is the first to developed a malaria vaccine which meets the World Health Organisation goal of 75 per cent efficacy. This terrible disease kills one child in Africa every 30 seconds, nearly 3,000 each day. More than 1 million people die of malaria each year, most of them children under five. This vaccine will do much more to benefit the world than all of Britain's grossly misspent foreign aid budget of more than £10 billion.
Also, this should remind us that Britain is a forward-looking country engaging with and helping to solve the world's most difficult problems; a country we should be proud of.
Otto Inglis, Ansonhill, Crossgates
In his column about the idea of flushing radioactive waste water from the Fukushima power station into the Pacific Ocean (Special Report, 22 April), Richard Dixon fails to mention that seawater is naturally slightly radioactive, containing five radionuclides, such as uranium, tritium and carbon-14. In fact there was a plan to extract uranium from seawater; there's is enough in the oceans to power the planet for thousands of years.
Discharges from Fukushima would be diluted in the Pacific such that they would quickly be undetectable.
Steuart Campbell, Dovecot Loan, Edinburgh
We welcome your thoughts. Write to [email protected] including name, address and phone number. Keep letters under 300 words, with no attachments, and avoid Letters to the Editor in your subject line.
A message from the Editor
Thank you for reading this article. We're more reliant on your support than ever as the shift in consumer habits brought about by coronavirus impacts our advertisers.
If you haven't already, please consider supporting our trusted, fact-checked journalism by taking out a digital subscription.
Comments
 0 comments
Want to join the conversation? Please or to comment on this article.