Readers' Letters: What about declaration of a bad memory, Alex?
How sad. Alex Salmond showed signs of short-term memory loss in the Alba campaign video by invoking the 700-year-old Declaration of Arbroath as cause for yet another independence referendum, yet failed to remember the seven-year-old Edinburgh Agreement that he signed declaring both sides of the 2014 Scottish referendum accept the "settled and sovereign will" of the Scottish people.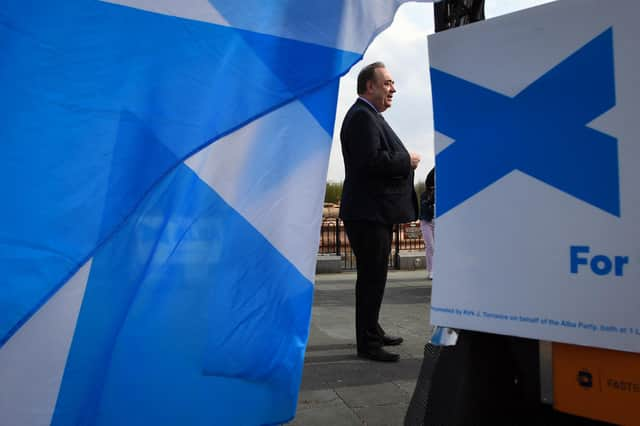 Is Alba leader Alex Salmond's memory for history alarmingly selective?
First Minister Nicola Sturgeon also seems to have inherited the same Scottish nationalist disease at her recent appearance at the Holyrood inquiry.
Allan Thompson, Bearsden, Glasgow
It is obvious from recent polls and the history around the last referendums polls that Scottish opinion on independence can vary from time to time. It would be tragic for a change to the British constitution to be the result of a one or two percentage point in a poll which could change if the poll were a week earlier or later.
A change in our constitution should only be the result of an incontestable majority, say ten per cent. and should include everyone who was born in Scotland. Even if a Scot lives in Australia they may wish to come home some day to a united country, so deserves a vote.
It would be a travesty if Independence was won by the SNP by one per cent because at a moment in time the prime minister did something to alienate Scots people via a policy which they or a successor could well change in the future. Such is the danger of a simple majority.
Max Mendelssohn, Craigleith Gardens, Edinburgh
If Nicola Sturgeon was genuinely committed to Scottish independence then she should kiss and make up with Alex Salmond rather than fighting him in the streets as an opposition party.
Latest polls indicate that the SNP will not have an overall majority in Holyrood, which seals the fate of ever having a second separation referendum.
Dennis Forbes Grattan, Mugiemoss Road, Bucksburn, Aberdeen
Finally this election campaign is exposing all the SNP and Greens' pat answers to the jobs and global warming crises which neatly combine the two in boasts about a transition to Green jobs. The fact that they provide no substance in terms of how this will be achieved is not new. Typical of the con is the SNP promise in 2010 of 130,000 green jobs by 2020. Instead the number of people directly employed had fallen to 21,400. This was highlighted this week in the Labour Party's Dossier of 50 failures.
Never mind, if all the oil industry and other workers vote SNP they'll at least have their Universal Basic Income to fall back on.
Allan Sutherland, Willow Row, Stonehaven
A disturbing new loophole has been introduced to the long-awaited ban on so-called "gay conversion therapy". The Prime Minister has told the Evangelical Alliance that religions will continue legally to be allowed to give "pastoral support" and pray for those who are "exploring their sexual orientation or gender identity".
So, gay conversion therapy is to be banned unless it's religious gay conversion therapy? Is there any other sort?
Neil Barber, Edinburgh Secular Society, Saughtonhall Drive, Edinburgh
Write to Scotland on Sunday
We welcome your thoughts. Write to [email protected] including name, address and phone number. Keep letters under 250 words, with no attachments, and avoid Letters to the Editor in your subject line.
Want to join the conversation? Please or to comment on this article.