Readers' Letters: Retired nurses in despair over state of NHS
Thank you to Dr R Smith (Letters, 31 December) for voicing the opinions that I and so many of my retired colleagues have been expressing for some time when despairing about the current state of our precious NHS.
Whilst change is inevitable and necessary for progress, change for the sake of change has often proved damaging. So many retired nurses feel privileged to have been part of an efficient service, in which we were paid and trained alongside professionals, learned our skills on the wards and were taught to university standards by experts during blocks of education within the excellent Schools of Nursing..
Nurses' registration resulted in not just academically qualified professionals, but nurses who could empathise, nurture and treat their patients with skill and understanding and who could, and would, unhesitatingly deal with challenges ranging from very basic "hands-on" care to complex medical techniques. Such apprenticeship, earning and learning whilst working alongside trained professionals, was rewarding and satisfying.
Bank nurses were unnecessary while the busy work of a ward was accomplished by a group of regular staff, ward maids, cleaners and nurses, none of whom were contracted out, but who worked together as a team, taking pride and responsibility for their wards. Shift work could be challenging, but unlike the 12 hours shifts of today, our eight-hour shifts meant we were not too exhausted to enjoy a good work/life balance which also benefited our patients.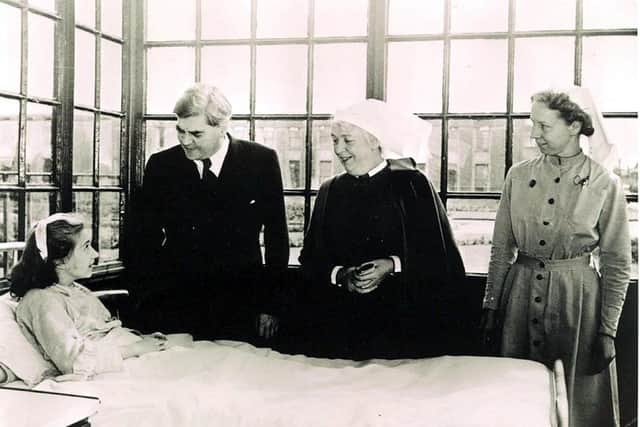 As Dr Smith states, an in-depth review of all areas of the NHS is badly needed before it is too late to mend.
I could not agree with Dr R Smith more. I qualified as a Registered Nurse in Edinburgh in 1968, and believe the training, for which we were paid, was a better idea than having to complete a university degree. We learnt on the job, with blocks of lectures every few weeks. We were never hard-up and having to use food banks to help us survive.
R. Arthur, Peterculter, Aberdeen
Nicola Sturgeon is forever trying to persuade Scots how much better we are than the English at running our affairs. Perhaps it is time for her to put this to a test.
Our Health Minister is somehow still in his post despite the absolute meltdown in the Scottish NHS under his watch. The SNP spin is to say the situation is worse South of the border. If we are to be better than England then surely this must start with a replacement Health Minister in Scotland to institute major changes and show how it should be done?
Ms Sturgeon should have dealt with this many months ago but did not and even now is still resisting the rising clamour. Are we really "better than England" after all?
For how much longer should Ukraine, a peaceable democratic sovereign nation on the doorstep of Europe, have to suffer constant aerial bombardment from an aggressive, non democratic tyrannical regime headed by a crazed unelected manipulative leader, hell bent on crushing the bodies and minds of the brave people of Ukraine?
For how much longer can 40 million Ukrainians have to live in daily fear for the lives of their children not knowing whether they will live for another hour or another day? This is now a war like no other, a war which has revealed hellish atrocities on the ground against ordinary people who are just like you or I but now with hell raining down from the sky.
For how much longer will humanity allow vast numbers of the world`s population to be gripped by tyrannical regimes headed by dangerous individuals like Putin, deceiving their populations into believing such wars are justifiable; warring unchallenged from within with these leaders touting whatever untruths they like, to a population not allowed to openly have freedom of opinion.
We are starting a new year. Let's hope for peace for Ukraine soon, before this war engulfs us all and let's look to depriving dictators like Putin of the power to quell the most basic of human rights: freedom.
As I approach the biblical three score years and ten, I'm blessed with still having all my own teeth. However, I fear that, if our Edinburgh roads get any worse, then that might not be the case soon as we rattle through potholes every few yards.
Driving the mile or so to my nearest shopping centre I can count at least 24 holes that should demand attention. As you drive around the town you have to keep one eye on the road ahead but try to keep the other on the state of the road at the same time. It's getting past the point of being dangerous, not just to teeth but to lives.
Many I am sure will say that the decreasing number making New Year resolutions is a sign that we are more thoughtful and keen to be realistic in our actions.
However, might it just be that the apparent increasingly failure to keep our "resolutions", is a sign of slipping standards in society with disrespect rife – particularly on social media. Rather than recognise this dangerous attitude, we simply fail to live up to the challenge and try to avoid "failure"?
On a positive side, there are also new specific challenges like "dry January", but these are focused on health challenges rather than our own responsibilities within the wider community.
James Watson, Dunbar, East Lothian
Stan Grodynski (Letters, 2 January) says a modicum of common sense suggests that if Scotland became independent, it is unlikely that the SNP would be in exclusive control of the government after the first post-independence election.
Does he think that the separation deal struck by the SNP government would be so bad that the SNP would be rejected at the polls? A modicum of common sense supports this view. Consider their ability to construct ferries, run the NHS, or even set up a scheme to recycle drink bottles. And it is only a vain hope that Gaelic tram stop signs in Edinburgh will turn out to be big long-term vote winners.
Hugh Pennington, Aberdeen
We welcome your thoughts. Write to [email protected] including name, address and phone number – we won't print full details. Keep letters under 300 words, with no attachments, and avoid 'Letters to the Editor/Readers' Letters' or similar in your subject line - be specific. No letters submitted elsewhere, please. If referring to an article, include date, page number and heading.
Comments
 0 comments
Want to join the conversation? Please or to comment on this article.