Readers' Letters: Labour Friends of Israel did not donate to Starmer leadership campaign
I am writing to make a complaint about a point of accuracy which relates to last Sunday's letter from Marjorie Ellis Thompson (12 November).
The letter claims that "Keir Starmer received a £50,000 donation from Labour Friends of Israel for his leadership campaign" and that "Deputy leader Angela Rayner has also received support from LFI".
These allegations are categorically false. Labour Friends of Israel did not donate to the leadership campaign of Keir Starmer and does not make monetary donations to Shadow Cabinet members or other MPs. These false claims are not even made in the deeply misleading "Declassified UK" article referenced in the letter.
Michael Rubin, Director, Labour Friends Of Israel, London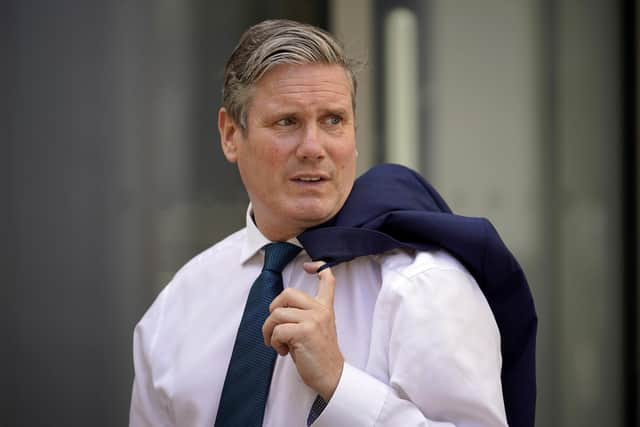 The SNP/Green alliance is stumbling from one crisis to another. Either it is the policies or just the politicians themselves. Some hiccups in any government's time in office are normal but the scale of the problems besetting the current Scottish Government are cataclysmic.
Part of the reason is the centralisation of powers plus little oversight of their usage. This is all down to fundamental flaws in devolution, our strange voting system that gives power to politicians who garnered few votes and loopholes being exploited that are not in the public's interests.
Add in the qualifications, or lack of them, of those in power to be suitable to govern us.
This state of affairs cannot continue. The SNP has always been a party devoted to referendums so why does it not call one right now to decide if devolution is working for Scotland, or should we revert back to Westminster control?
As always in these matters if the SNP is confident it has been doing the right thing, its politicians are worthy of public trust andthat Scotland has benefited hugely from its policies, then what has it got to lose? After all, it always claims to put Scotland's interests first. The public need a say in this now more than ever.
The latest figures from SEPA reveal that Scotland only recycles about 5 per cent of its plastic waste with the rest being shipped out of Scotland to rUK and worldwide disposal.
The SNP administration make great claims for their "Green" approach to waste but the reality is that they have failed to meet any recycling targets they have ever set.
Despite the SNP's coalition with the Green Party there has been no progress in 16 years in the way Scotland handles its waste as we lag well behind the rest of the UK.
Dennis Forbes Grattan, Bucksburn, Aberdeen
Volcanoes, earthquakes, tornadoes, hurricanes and tsunamis create greenhouse gases. The destruction and rebuilding with concrete, steel and diesel-powered machinery creates more greenhouse gases than puny mankind can ever save.
Mother Nature is a force that cannot be tamed so mankind must learn to adapt, and the money wasted on COP talking shops, those with "climate" in their job titles and those on the taxpayer-funded Climate Gravy Train should instead be used to adapt to a changing climate.
Why do the climate apostles never reveal the volume of greenhouse gases caused by Mother Nature?
Clark Cross, Linlithgow, West Lothian
Write to Scotland on Sunday
We welcome your thoughts – no letters submitted elsewhere, please. Write to [email protected] including name, address and phone number – we won't print full details. Keep letters under 250 words. If referring to an article, include date, page number and heading.
Comments
 0 comments
Want to join the conversation? Please or to comment on this article.