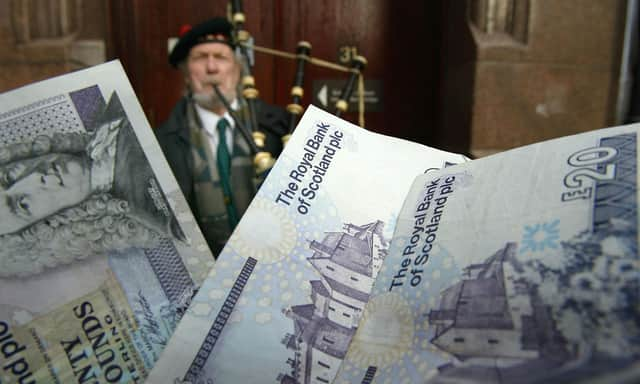 If we can start by accepting that the Tory years of austerity have had a damaging impact on Scotland's finances at both national and local levels, then inevitably this has made life very difficult for council budgets. However, I think that our councils could be doing much more to ease the pressures on our important local services. Here are three suggestions:
Firstly, an immediate introduction of a Tourist Tax. A charge of £3 a night would raise something like £25 million annually for the City of Edinburgh. It is frankly risible to claim that the introduction of such a widely applied tax would deter visitors to Scotland. They are not going to be put off by the cost of a cup of coffee.
Secondly as an Edinburgh Festival Volunteer Guide, I regularly find that visitors to Edinburgh are astonished that there are four city museums on the Royal Mile that have no admission charges. They are so used to having to pay entrance charges back home or in other countries that they have visited.
As a policy, free admissions to such cultural centres was well-intentioned but is now surely unsustainable. I am sure that those of your readers who have travelled abroad and who have visited such venues would have paid an entrance fee to museums, galleries and, in many countries, even gardens. So why do we persist in allowing universal free entry to these attractions, particularly when there are other venues such as those managed by Historic Environment Scotland and the National Trust for Scotland who do charge an entrance fee? This inconsistency must be confusing for our visitors. It is perfectly feasible to allow for reduced or indeed free entry for particular individuals or groups. The bottom line, however, is that there should be a charge to generate much-needed income. Given our financial woes, can we afford to be so different?
Finally, councils should increase the Council Tax rates for the three higher bands of Council Tax, F, G and H. The differential between those householders rated on Band A, the lowest band, with those on Band H, the highest band, is very small and certainly does not reflect the present value of the respective properties and the likely income of the residents. The last valuations were carried out as far back as 1991. Why has nothing been done to bring property valuations up to date and adjust the Council tax bands accordingly? What happened to the suggested Local Income Tax?
So, in conclusion I would suggest more action on the part of local councils and less complaining. There are ways to protect our local services that are readily to hand.
Local Authorities tell us they are cash strapped to the extent that they need to make cuts to services such as libraries, swimming pools, school music lessons and other cultural and leisure activities.
Perhaps if they didn't contribute around 20 per cent of their employees' wages to their pension funds they would indeed have sufficient funds available to retain these services. In comparison with the private sector (the real world) where their average company contribution is around 5 per cent, 20 per cent does seem a tad generous.
We don't hear this from public service unions constantly bemoaning wages and conditions of their members, or on the placards of striking workers. Perhaps they should pay attention. A complete restructuring of public sector pay is needed to reduce the significant burden of pension costs on the public purse. Presently net public sector pension liability is around £2 trillion and not getting smaller. Heaven forbid they should fund the significant proportion of their own pension costs!
David F Donaldson, Polmont, Falkirk
At this week's First Minister's Questions I hope Douglas Ross asks Nicola Sturgeon to name those she called transphobes, misogynists and racists.
He should list some suspects: Douglas Ross himself? Ash Regan? Joanna Cherry? Rishi Sunak? Sir Keir Starmer? Rosie Duffield? Scotland's Roman Catholic bishops? JK Rowling? The two-thirds of Scots whom polls say are against the GRR Bill?
This isn't a stunt, it's a deadly serious matter: the First Minister has smeared Scotland and its people with a blanket, disgraceful accusation spawned by her own arrogance, stupidity and vindictiveness. Mr Ross should call her to account and demand an apology, if not her resignation.
On another matter, Andrew Vass's letter yesterday has an error in it. The UK economy is forecast to shrink by 0.6, not 6 per cent.
Allan Sutherland, Stonehaven, Aberdeenshire
The SNP is betraying its complete lack of foresight to an incredulous public. As SNP politicians such as Alyn Smith and Stephen Flynn line up to defend Nicola Sturgeon they are taking a very narrow viewpoint that the Gender Recognition Reform Bill does not interact with the current jail dispute. This therefore ignores the very clauses that make switching gender so much easier and allowing legal right to gender change once stated. Why can these politicians not see that by changing the rules they open the floodgates to false declarations that are difficult to challenge? Just how is this serving the public good for the vast majority of Scots? No wonder Nicola Sturgeon is trying to keep a low profile.
The current furore over Holyrood's abandonment of common sense has largely been limited to male sex offenders who claim to be female and are sent to women's prisons.
But I cannot imagine any woman in prison (most of whom are there for relatively mild offences, many also being victims of more serious crimes than their own) would be comfortable being incarcerated with any fellow inmate in possession of intact male genitalia in full working order, if that person had committed a non-sexual violent crime or indeed, any non-violent crime, but had chosen, whether before the crime or even after being charged, to self-identify as a woman.
In a lengthy justification of his support for the Bill, Willie Rennie MSP assures me he has "studied this issue for some time" and believes it has no "direct influence over sport, public services, medicine and justice". I trust the events and volte-face of the past week have given him something more to study and reflect upon. I trust also that he and all other MSPs have read Jan (formerly James) Morris's book Conundrum on her ten-year transition (not a mere six months, and not when she was a child) as I did about 50 years ago, in which she writes: "My sense of difference remains… I can never be as other people. My past is with me".
If ever there was a justified case for a free vote in parliament, this was it. And it would certainly be reasonable and only fair to her constituents in Skye, Lochaber and Badenoch if Kate Forbes had been obliged to cast her vote, despite being on maternity leave from her senior position as Cabinet Secretary for Finance and the Economy.
John Birkett, St Andrews, Fife
There are no circumstances that cannot be made worse than if politicians try to legislate to clarify an issue. The present legislation is a moot point. This is where human rights and several other rights bounce up against the lawyer gravy train of free legal aid as they try to ensure that personal freedoms are not trampled on by heavy-handed government. We ordinary people look on with disbelief and wonder about the difference between gender and sex. We also wonder as to how a male, complete with all of the normal male appendages, can be considered a female merely because he has cross dressed for short period and now declares that he wants to be called Cynthia or whatever.
It should be obvious to most people that without an operation to remove and remodel the male appendages a male will retain the ability to procreate and therefore will remain a male. Any attempt to legislate that fact away is, as said earlier, Lawyer paradise.
Of course, where there is a need to use a document to prove identity trans people have a problem – but is it our problem? "Not really" should be the answer.
Tony Lewis, Coylton, Ayrshire
Our UK society seems to be disintegrating before our eyes. Once upon a time there was a mutuality of understanding and action in matters concerning the welfare, reputation and growth of the UK. What we now see is a "Me-Me-Me" demand being given as an excuse for the strikes we are seeing in our public service sector. There are claims that 40,000 civil servants visit foodbanks, and our teachers haven't enough money on which to live.
Why is it that during an era of cheap money, teachers did not have the foresight to save some money for a rainy day? As quality of education of our children has fallen dramatically in the past 10-20 years, surely there should be a link to performance before salary increases are paid. This is common practice in the commercial sector.
It seems public service employees feel immune to the consequences of their own lifestyle decisions and the increasingly poor collective quality of the outcomes of their work on our future generation, and expect to receive bailouts funded by others in society who are also hard-pressed by the present cost-of-living situation. The entire episode of strike-after-strike is a highly selfish and irresponsible behaviour pattern wherein the innocents suffer from what is simply a form of public blackmail! It is time that a very hard look was taken at the structure and management of public services in our country.
Derek Farmer, Anstruther, Fife
We welcome your thoughts – NO letters submitted elsewhere, please. Write to [email protected] including name, address and phone number – we won't print full details. Keep letters under 300 words, with no attachments, and avoid 'Letters to the Editor/Readers' Letters' or similar in your subject line - be specific. If referring to an article, include date, page number and heading.
Subscribe at www.scotsman.com/subscriptions