I'm too vain for the silver sisterhood, so I'll keep painting those grey roots in my bathroom - Gaby Soutar
There are few chores I detest more than colouring my hair. I wouldn't mind if the job didn't seem to roll around so quickly but barely three weeks pass before the white puffs of doom re-appear.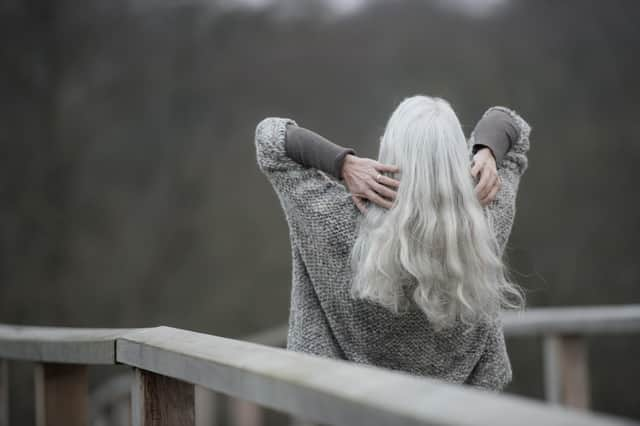 The lighter days make it much more obvious, and I'm especially traumatised by the spindly antennae that seem to materialise overnight. They resemble the fronds of clematis that are currently reanimating in the garden. I hope that my fringe doesn't start trying to climb the outside of my tenement, as if it's doing a reverse Rapunzel.
I suppose that spring is always the time for surveying the damage that winter has done.
The first thing bears and squirrels do, when they come out of hibernation, is look in the mirror. Sometimes, you'll hear them weeping beside their cave or up in a tree. David Attenborough made a very sad programme about it.
With each passing year, I have more of the salt and less of the pepper.
I suppose, if we were still neanderthals, the change would have been programmed into my DNA so that it would cancel out my camouflage in a timely fashion. I'd get picked off by a velociraptor before I could become a liability to the rest of my group.
This year, the grey evolution has picked up momentum. That's fair enough. I am an average Joe. The hair follicles usually stop producing as much pigment in our mid-thirties, and most of us have a fair shock of white by 50.
Farewell, sweet brown locks. It seems you could not cope with my life stresses.
As there's no way I can afford or have the time for a bi-monthly hairdressing appointment, I DIY in the bathroom. It's as if I'm prepping for surgery, when I lay out my plastic spatula, pot, gloves and a range of probably very toxic chemicals.
Ironically, the woman on the box looks about 12 years old.
I don't bother reading the instructions. They are consigned to memory. Ten minutes is all it takes, though I'd rather be doing anything else.
The white goo, which will transform my roots to an impossibly boujee-sounding Medium Brown, is daubed on. I recently switched from the Dark Brown shade, when I realised that the stark result made me look like David Gest.
I remember when, as a teenager, I'd apply the henna that I bought from a hippy-ish shop on Edinburgh's Cockburn Street. I'd be so excited to see my transformation, which would be accessorised with a dot of patchouli oil on my wrists. There were also the grunge-era bleach years, when I was going for something akin to Courtney Love or Kat Bjelland, but it went orange and I ended up resembling Dennis Pennis.
In my middle-age, it's a different task. Think Forth Bridge maintenance, rather than transformational self-discovery.
Since it's a home job, I don't even get a Biscoff and a cup of tea. There is nobody to talk to about holidays. I just grumble, as I scrub any residue from the bath with Fairy Liquid, wash my dappled hands and shove my stained towel into the washing machine.
At least I don't have a beard and moustache, though I'm sure Just For Men could sort me out.
Once it's done, I do feel more presentable, but I wish that I was brave enough to go au naturel.
On social media, my algorithm means that I'm constantly being shown encouraging photos of "silver sisters" – ie those who are letting their grey grow in. Jamie Lee Curtis looks great. So do Helen Mirren and George Clooney. Salma Hayek has chrome streaks and Andie MacDowell's got a mushroom cloud of grey. Sarah Jessica Parker was on the cover of Vogue with snowy bits.
These stars can afford regular hairdressing trips. They haven't stopped dyeing because they can't be bothered to nip to Boots.
However, I'm like Blanche in the Golden Girls. I'm not ready for the full Dorothy.
I have a few brave friends who have joined the club.
Their reasons have included being turned off by the chemical ingredients in these dyes, their environmental impact and the general upkeep. Not to mention the beauty standards that make us feel ashamed about the ageing process.
Most of them smartly decided to take the plunge during lockdown, presumably so they could have a period of white-haired confinement.
However, I find it quite painfully slow, watching other people's white curtains descend. The average mane grows at a rate of six inches per year.
First, there will be a pale kippah on the crown, then a fez, before transitioning into the full pharaoh's nemes.
It looks great, but there's a lot of two-tone limbo.
One of my other excuses for staying in the home-dye club is the placement of my greys, which are above my ears and at the temples.
My inspiration could be Lily Munster, with neat streaks through the top.
However, when mine start to peek through, I just see my late dad in the mirror. He had a full head of hair well into his eighties, and retained about half of his brown colour, but his white tufts were at the same spots as mine. It's a very distinctive inheritance.
This look isn't only reminiscent of him, but also all my retro father figures. I'm thinking Terry Wogan or Ronnie Corbett.
Not the style I'm going for.
Thus, I will continue to patch them up with Medium Brown and be very grateful that dinosaurs no longer exist.
Comments
 0 comments
Want to join the conversation? Please or to comment on this article.