Gaby Soutar: Iconic Scottish series Taggart was always a bit dour, like most Eighties television shows
Earlier this week, Glasgow Caledonian University announced that it will be compiling Taggart: The People's Archive. As part of the 40th anniversary of the iconic ITV programme, which ran for an incredible 27 series from 1983 until 2010, they're asking members of the public to share their stories.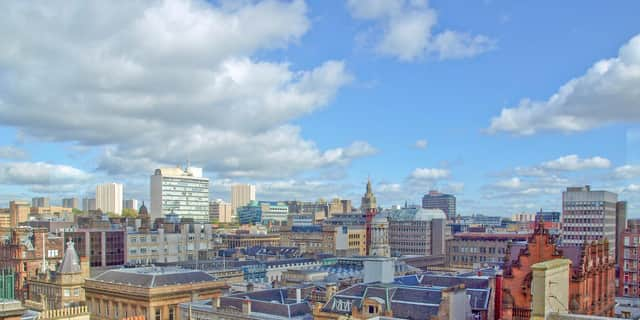 The institution invites those who were involved in shoots, worked as extras or in production, to visit and reveal all across three days of drop-in sessions at the university's Archive Centre, from September 6 to 8.
Best of all, Taggart actor Dr Blythe Duff (aka DCI Jackie Reid), who has donated her scripts from 95 episodes, and a team of retired detectives will be holding interviews in a faux police station.
There will also be paraphernalia on display in an "incident room", to complete the role-playing day out.
If only I could help with their investigation.
I have been an extra before, but that was in the late Nineties, as a Bosnian prostitute in The Hanging Garden episode of Rebus. I also auditioned for the body double for a freshly dredged corpse in the 2003 film Young Adam, though they employed someone else in the end. They probably had more acting range.
I don't think they'd accept those little nuggets down at the fake Taggart HQ.
Just as well, I'd probably get Stockholm Syndrome and insist that they send me down.
All I can offer them is that I'm like everyone in Scotland of a certain age, who has the phrase, "There's been a murder", embedded into their psyche.
Mind you, along with "For mash get Smash" and "Oooh, Betty", I've stopped using it around young people. It's been 13 years since Taggart ended, and the youth don't have a clue what I'm talking about.
Unfortunately, I will be of no use at the open days.
Fair enough, as I always dodged the series, when it first came on TV, back in the mid Eighties. It was too gritty, for a kid.
Forget tartan noir, this was more like tartan gris, but that was the appeal.
Unlike this month's UCI World Championships, which made the city look so appealing, the series was never meant for tourists. It was the anti-Outlander.
Sure, it's crime fiction, but there was, or is, a tough underside to Glasgow.
My late dad grew up in the city, and, as a young GP, had poverty-stricken patients in the Gorbals. There would be extended families sleeping in one room, with a single mattress between them.
In the Fifties, after completing his junior doctor shifts, he had to frantically sprint through the centre of town to catch the bus home, because of the spate of razor gangs that were leaving their mugging victims with Glasgow smiles. Maybe that's why he got a motorbike and took up boxing, much to my granny's disapproval.
By the time Taggart rolled round, times had changed.
However, the original opening titles, with its shots of shipyard cranes and tower blocks, still made the Dear Green Place look forbidding.
At least that's tempered by the raunchy No Mean City theme tune by Maggie Bell, with the opening lyrics, "I know the city like a lover", which seems designed to encourage drunkards to hump lampposts.
I have seen that in action, on a late night in the Gallowgate.
This series was more Glaswegian than The Barras. Not one for the prim Morningside ladies. Nor me, in Edinburgh, aged 10.
I was also a bit scared of the first actor to play DCI Jim Taggart, aka Mark McManus, who was edgily real, unlike the softer US series equivalent, Lieutenant Columbo.
I didn't remember, until now, that McManus sadly died of pneumonia while filming an episode, Prayer For the Dead, in 1994. Shortly afterwards, he was awarded the first posthumous Performing Arts Award at a ceremony where Lord Provost James Shield said "to many Mark McManus was Glasgow".
Taggart wasn't the only series that frightened me back in the Eighties. It was the era of dour telly. Well, there was Margaret Thatcher, and the dole, and nuclear threat, so I suppose doom was zeitgeist-y.
They packed plenty of nightmare-ish watching into three channels.
In contrast, my nieces and nephews have a smorgasbord of happy telly to choose from.
Netflix and other streaming channels provide a Willy Wonka selection box of technicolour programmes on friendship, superpowers and baking cakes. Our generation had the cathode-ray equivalent of a single pack of Fisherman's Friends.
Even the Scottish kids programme Glen Michael's Cartoon Cavalcade, which I loved, was a bit dark, thanks to that ominous lamp, Paladin.
Then there was Bagpuss and his depressive narcolepsy, and his manic mice pals. It would only be a cliche to mention Dr Who or Watership Down.
Back then, my mum was into Tales of the Unexpected – the creepiest of all. She still watches it, on one of the terrestrial channels that repeat these classics on rotation.
There are 112 episodes. I recently caught a snippet of an especially horrible one, which involves a landlady who poisons then taxidermies her potential tenants. As you do.
My mum's carer, who has recently come across from India and isn't au-fait with UK telly, was watching from the sidelines and looked absolutely traumatised. "What. Is. That?" he asked, and I didn't know how to explain any of it.
It's funny, because I love horror, but there's something about the comparatively low production values of Eighties telly that make it all the more frightening.
Still, maybe we should revisit Taggart together, now I'm a big brave grown-up.
I'll try not to jump when they say, "There's been a murder".
Comments
Want to join the conversation? Please or to comment on this article.