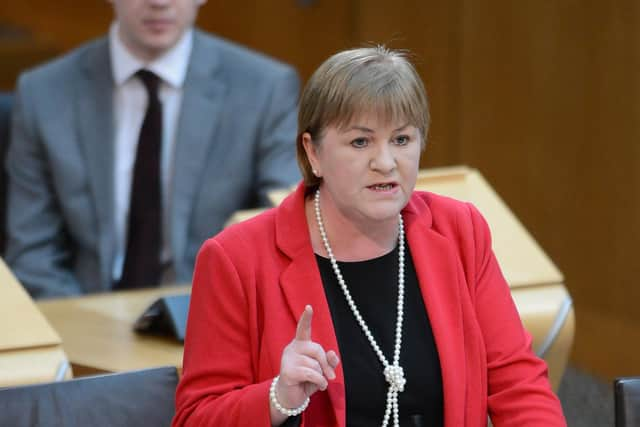 Johann Lamont learned her feminism the hard way, battling angry men in smoke-filled committee rooms, says Susan Dalgety (Picture: Neil Hanna)
She was "legendary", "a trailblazer", "a bonny fechter". Her close friend, MSP Johann Lamont, summed up Scottish Labour's feelings when she tweeted, "Farewell my beloved friend Maria Fyfe. Thoughtful, principled, kind, she fought with every fibre of her being for a fairer world. Role models don't come any smarter or inspiring or more fun."
Even the First Minister acknowledged her debt to the woman who was born in the Gorbals in 1938, a decade after women achieved the same voting rights as men. "We may have been in different parties, but when I was a young woman starting out in politics, she was someone I looked up to. Without women like her leading the way then, politics would still be even harder for women today."
'This has got to change'
Alongside the heartfelt messages, one photograph kept popping up in people's timelines. It shows a dark-haired Maria smiling amid a gaggle of middle-aged white men. When she was first elected to parliament in 1987, she was the only woman among 50 Scottish Labour MPs.
And when she took her seat at Westminster, representing Glasgow Maryhill, she was only the tenth woman MP from Scotland.
"I was thinking, this has got to change," Maria later told the History of Parliament project, "we've got to have more women in Parliament, and I was determined to be part of achieving that."
When Maria Fyfe was elected to the House of Commons in 1987, she was the only woman among 50 Scottish Labour MPs and only the tenth woman MP from Scotland (Picture: Allan Milligan)
So, while she campaigned passionately for devolution, she also led Labour's 50-50 campaign to secure equal representation of women and men in the new Scottish Parliament.
When the new Parliament convened for the first time in May 1999, there were 48 women MSPs – 37 per cent of the total intake – and half of Labour's new parliamentarians were women. Maria had secured 50-50 within her party.
"One of my proudest achievements," she later recalled. A legacy that her sisters-in-arms, including her close friend and equally tenacious campaigner, Johann Lamont, have struggled to protect since. Only now women are fighting, not just to be the equal of their male peers, but for the very right to exist.
A good piece of legislation
Hyperbole, I hear you mutter. Perhaps, but on the very day that Maria died, Johann Lamont had to table an amendment to a forthcoming bill to ensure that the rights of women, at one of the most vulnerable times in their lives, are protected.
On the face of it, the Forensic Medical Services Bill, which will be considered by the Scottish Parliament on Thursday, is a good piece of legislation.
Put simply, it gives the victims of rape and sexual assault – overwhelmingly female – the right to have a forensic medical examination first, before deciding whether to report an assault to the police.
At the moment, across most of Scotland, a victim must make a police report before she can access a forensic medical examination. [see editor's note below]
The trauma of visiting a police station is often as frightening as the assault, and many victims do not come forward until weeks later, by which time vital medical evidence is lost.
This new approach – which includes the recruitment of specially trained nurse sexual-offence examiners – has been welcomed by politicians from all parties and women's groups across Scotland.
Gender or sex
Except for one small but significant detail. The bill, as currently drafted, says a victim has the right to choose the gender of the person who examines them, not the sex.
Women's campaign group For Women Scotland argues that this is too ambiguous, as the biological sex of the medical examiner may not be their lived gender. In other words, a male doctor who identifies as a woman could be regarded as female if the wording of the Bill remains.
Yet all the evidence shows that women survivors of sexual abuse want a woman to examine them. "The lack of access to a female doctor is what causes most trauma," Rape Crisis Scotland told Parliament's health and sport committee recently.
The committee agreed and has recommended that because the use of gender has "the potential to cause distress to individuals undergoing forensic medical examination" it should be changed, yet the Scottish government has refused to budge.
In a letter to For Women Scotland two weeks ago, it insisted that "all rights – those of women and trans people – must be protected", and that the use of the term "gender" would remain.
A key test
Enter stage left Johann Lamont, who, like Maria Fyfe, learned her feminism the hard way, battling angry men in smoke-filled committee rooms.
Her amendment may be only six words long – "for the word 'gender' substitute 'sex'" – but it gets to the heart of the current debate about who counts as a woman.
"Women should be able to choose the sex of the person who conducts the investigation," Johann told me last night. "This is a key test for the Parliament, which is committed to rooting action in the understanding of experience. Women courageously and powerfully spoke up so that others might fare better than them.
"The amendment is tiny but would be a huge step in listening to survivors. The committee was convinced. The Parliament should be too."
Women and girls the world over are mutilated and murdered because of their sex, not because of gender stereotypes such as lipstick and high-heels. Yet a new generation of intersectional feminists argues that anyone who identifies as a woman is female, a wholesale redefinition which threatens the legal, sex-based rights that women fought decades to secure.
The Scottish Parliament, which exists in no small part because of Maria Fyfe, has an opportunity to stand up for women's sex-based rights on Thursday. Is this new generation of "bonny fechters" up to the challenge?
Editor's note: This article has been edited to remove out-of-date information that most forensic medical examinations of victims of rape and sexual assault take place in police stations. They are now carried out in health settings.
A message from the Editor:
Thank you for reading this article. We're more reliant on your support than ever as the shift in consumer habits brought about by coronavirus impacts our advertisers.
If you haven't already, please consider supporting our trusted, fact-checked journalism by taking out a digital subscription.