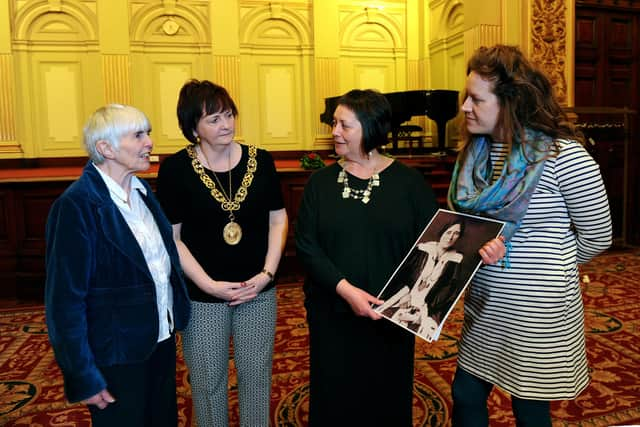 Ms Fyfe, who was first elected in 1987 for the Glasgow Maryhill seat, was regarded as a trailblazer for women's representation in politics and the trade union movement.
While she stood down in 2001, she continued to campaign on issues such as homelessness. She was chair of the Mary Barbour campaign, which successfully saw a memorial statue erected to the Glasgow rent strike leader in 2018.
In a social media post, Ms Fyfe's family said: "She was part of the lives of so many people across the Labour Party and the wider Labour movement as well as caring so much for her beloved city and her achievements make us all so proud."
Scottish Labour leader Richard Leonard said: "Maria Fyfe was honest, principled and a pioneer, someone who fought for what she believed in to the very end.
"She was an inspiration to generations of Labour Party members, encouraging young people to become active to change the world around them, and leading by example.
"Maria believed a society built on equality, peace and socialism was possible, and it is our duty to uphold her memory by carrying on her work. The thoughts of the whole Scottish Labour Party are with her sons Stephen and Chris and the family."
Nicola Sturgeon also paid tribute to Ms Fyfe's legacy at First Minister's Questions on Thursday. She said: "We may have been in different parties, but when I was a young woman starting out in politics, she was someone I looked up to. Without women like her leading the way then, politics would still be even harder for women today."
Ms Fyfe joined the Labour Party in 1960 and was elected to Glasgow District Council in 1984, where she served as vice-convener of the finance committee until winning the Maryhill seat in the 1987 general election.
She was appointed deputy shadow minister for women until 1991 and was also convener of the Scottish group of Labour MPs in the early 1990s, and frontbench spokesperson for Scotland from 1992-95, heavily influencing the party's move towards adopting devolution as a major policy.
Born in the Gorbals, she wrote a biography "Singing in the Streets", detailing growing up in the aftermath of World War Two and life as an MP and a Labour Party member. Labour group leader on Glasgow Council, Malcolm Cunning said: "She was a bonny fechter and a trail blazer her entire life. She will be sorely missed by all who knew her."
Ms Fyfe was quoted as saying that one of her proudest moments was being "involved in the 50-50 campaign to ensure that the Scottish Parliament started life with an almost equal representation of women, up there with the Scandinavian countries".
Emma Ritch, director of Engender, said Ms Fyfe was a "bold feminist and a great activist for women's political representation. The work of the 50-50 campaign she was so involved with has shaped the Scottish Parliament."