Trans rights and women's rights both matter. It is a question of balance – Kenny MacAskill
On waking up, my mind turns to various issues from the mundane to the deadly serious. Thoughts cross my mind, from my fitba team's stumbling form, never mind the plight of the national game, through to global warming and our planet's potential extinction. I have to confess though that trans rights don't normally spring to mind.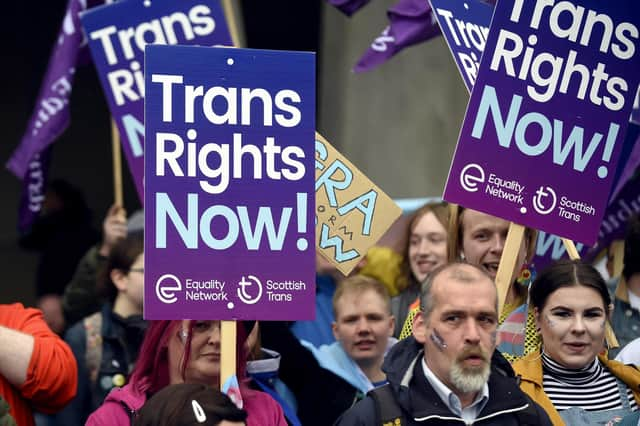 More often it's why there's hungry bairns in a land of plenty or how amidst all the beauty of the winter snow, there's many struggling to heat their homes. It's social justice that motivates me, along with the other trivial matters that I enjoy. That doesn't mean that I don't care about trans rights, as prejudice is to be condemned and the rights of all protected.
There has been injustice for trans people and addressing it is overdue. Many years ago I had a friend who was trans gender. She was remarkably kind but life was hard for her. Prejudice never mind scorn and just sniggers there were aplenty. Her background dragged up luridly on every occasion she had a public profile and always irrelevant to what she was saying or doing. But it was a cheap laugh and easy copy.
Life got hard for her and I've no doubt its roots lay in her suffering. Committing a crime, she was sent to prison. It was complex as prison rules then dictated you were the gender stated on your birth certificate. That insanity has been resolved but challenges still remain, in particular prejudice.
But there also has to be balance and protection of the rights of others. As Andy Wightman in the Greens and Joanna Cherry and others in the SNP have discovered, standing up for the rights of women can result in being accused of being transphobic. That's absurd and wrong. Both women and trans-gender people have rights that need protected.
As there were issues with trans-gender prisoners all those years ago, so it remains today. But as standing by a rule book when life or the individual had changed was absurd back then, then equally so it's today if you accept that you can self identify as you please.
Dangers to female prisoners from self-identification have been identified by prison governors who I know and rate highly. Serious incidents have occurred in English prisons and, most compellingly for me, some convicted sex offenders have written warning of dangerous predators who would abuse such rights.
So women's rights also require to be protected and they, like my thoughts, vary from the less serious to the life-threatening. They are though still important.
Using women's toilets or demanding unisex ones may sound a jolly wheeze to some young supposed campaigners. But it's unpleasant to many women and can cause real anxiety amongst young girls.
The boys toilets at my school were unpleasant for the lads and forcing unisex ones on young girls is frankly cruel, nevermind nuts.
Women's Rights and trans-gender rights matter, it's a matter of balance but it is injustice that drives me.
A message from the Editor:
Thank you for reading this article. We're more reliant on your support than ever as the shift in consumer habits brought about by coronavirus impacts our advertisers.
If you haven't already, please consider supporting our trusted, fact-checked journalism by taking out a digital subscription.
Comments
 0 comments
Want to join the conversation? Please or to comment on this article.