Tories tearing themselves apart over immigration as they once did over the EU – Scotsman comment
The Conservative party's 'big tent' seems a distant memory as 'stop the boats' eclipses more serious issues like the economy and the NHS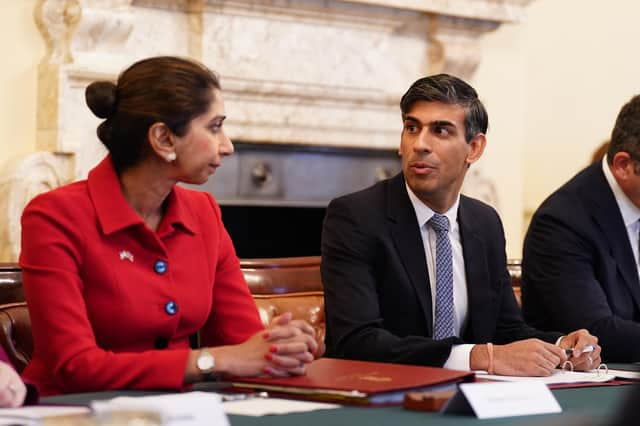 In Suella Braverman's letter to Rishi Sunak after she was sacked as Home Secretary, she accused him of "a betrayal of your promise to the nation that you would do 'whatever it takes' to stop the boats". She also anticipated yesterday's Supreme Court's ruling that the UK Government's plan to send asylum seekers to Rwanda was unlawful.
The Prime Minister's response to that setback was to announce "emergency legislation" that would "confirm Rwanda is safe", seemingly regardless of the evidence to the contrary. If an asylum seeker sent from the UK to Rwanda is returned to the country they fled and killed, such legislation will be the grimmest of legal fictions.
However, it seems clear that Sunak's new plan will not satisfy hard-right Conservatives, and that the party is set on tearing itself apart over the issue, as it did over the European question from the early 1990s until Brexit and beyond. Indeed, in many ways, the immigration row is an extension of the Brexit debate.
While Braverman and Sunak prepare for her seemingly inevitable leadership challenge – a ridiculous notion with a general election looming that some Tory MPs seem to be considering – there is the small matter of a country to run, an ailing economy to nurture, an NHS to fix. Immigration and small-boat crossings are serious issues, but the government's approach has turned a practical problem into a culture war touchstone that over-inflates its importance.
However, being tough on immigration has become such an article of faith that the Conservatives appear set on folding up their 'big tent' and inviting more liberal members to embrace populism or depart. Populists' main concern being power, the resulting rivalries produce chaotic government that struggles to achieve anything. Even supporters of the Rwanda scheme must be dismayed at the shambolic attempt to implement it.
Comments
 0 comments
Want to join the conversation? Please or to comment on this article.