Start with the toybox to broaden childrens' understanding of disability - Dr Sian Jones
With toy shop tills jingling at Christmas, retailers and manufacturers held their collective breath to see if they had correctly anticipated what would be most popular; a scooter, a video game or a lifelike doll.
When I was younger, there were no dolls like me. Disability aids such as wheelchairs or crutches were only included with toy sets such as a hospital set, implying that any physical impairment is temporary and can be "fixed". I have right hemiplegia, a type of cerebral palsy, a lifelong condition which means I'm disabled. Today, one in 400 children in the UK are living with cerebral palsy.
Toys are a way into a child's world, and they mirror the world to them. If there isn't an opportunity to play with disabled characters or children don't come across disabled people doing everyday things in books and films, we're losing an opportunity to broaden the next generation's understanding of the world and the people in it.
There is growing evidence that toys and resources representing disability help non-disabled children to think about making friends with disabled children. Working together with campaign charity Toy Like Me, my fellow researcher Dr Clare Uytman and our students at Queen Margaret University, we explored the effect on the attitudes of children in Scottish primary schools when shown toys representing the disabled community. We also explored the impact of language use around disability focusing on socially-minded rather than a medical understanding of disability.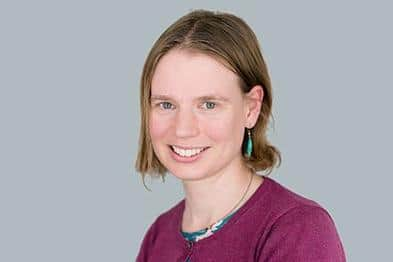 Children were asked to write a story about a character before and after viewing and discussing images of adapted toy prototypes such as Barbie with a missing limb, or Olaf the snowman with a cochlear implant developed by Toy Like Me, alongside commercially available toys representing a range of disabilities.
We found a variety of stories showed a medical understanding of disability; that there is "something broken", or "that needs to be fixed". Some showed a more positive attitude towards disability, an assertion that disability should not lead to limitation, although with added suggestion that this was a potential cause for sadness and potential exclusion. There was a tendency for the use of language that leads to an assertion that these characters are achieving goals "despite" their disability.
Following the tasks, childrens' reflections on what disability means tended to be more positive, and crucially children recognised that disability should be seen as part of the wide spectrum of people around them.
The General Teaching Council for Scotland republished the National Inclusion Framework in June this year. Within it is a series of principles on representation and accessibility which opens the idea of disability in schools beyond additional support needs. This started us thinking about how important it is to share our resources and research with schools now that they have responsibility to think about inclusion more broadly.
Good progress has been made in representing different ethnicities in schools. Now teachers need to look around their classrooms for representation of disabilities, and to think about how they could do more. It's not just about just what's in books, but what's on the walls, and what's going on in the toy corner. Instead of putting characters who use wheelchairs in the hospital corner, why not move them to the house corner where they can be used to enact everyday life?
Disability needs to be incorporated and represented across the board in a more systemic way. In the New Year we will release an accessible set of resources mapped to the Scottish Curriculum in collaboration with educators and the disabled community. The aim is to provide practical tools teachers need to ensure pupils see disabled people in everyday settings, and to broaden their understanding of disability.
Our research has shown only positive outcomes in wellbeing and acceptance when disability is portrayed more prominently. Let's start with the toybox.
Comments
 0 comments
Want to join the conversation? Please or to comment on this article.