SNP leadership debate: Attacks on Kate Forbes are classic case of intolerance dressed up as liberalism – Brian Wilson
An important detail is at risk of being overlooked in the SNP's culture wars. On gender self-identification, Kate Forbes is right and her vitriolic critics are wrong, as evidenced by everything which emerged with obliging rapidity since the Bill was passed.
This is how the vast majority of Scottish voters see it, including SNP ones. When John Swinney declares that he "profoundly disagrees" with Ms Forbes, they may conclude that he is profoundly wrong rather than that Ms Forbes is an illiberal extremist who should be banished from government.
This demonstrates something that should not need confirming – arriving at a conclusion from the perspective of religious conviction does not necessarily make one wrong. For starters, the Sermon on the Mount remains difficult to improve upon as the basis of a political agenda.
Most adherents of Christian denominations are also democrats and the Free Church of Scotland is no exception. They adapt to a world as it is rather than they might wish it to be. They maintain personal faith and opinions while respecting the law of the land.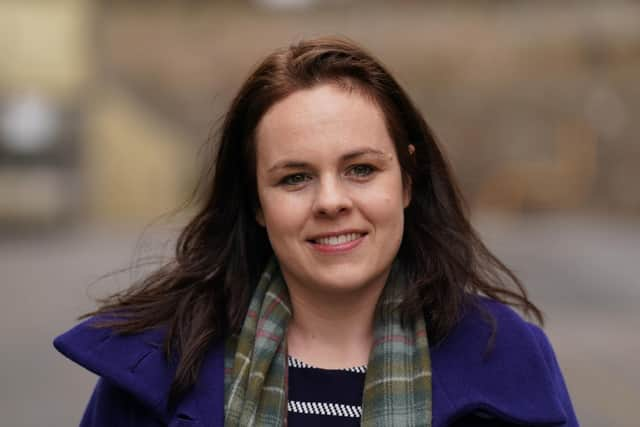 Just as they are capable of being right about some issues by following the logic of their religion, so they are capable of being wrong in the eyes of society. That is democracy and they accept its judgments, which cannot be said of all religions. What is there to suggest Ms Forbes is different?
My Free Church friends do not wear religion on their sleeves. They would be unlikely to go on radio to proclaim their "deep Christian faith", the better to politically assassinate a colleague. As a denomination rooted in egalitarianism, its expressions tend to be woven into life and deed rather than anything more ostentatious.
What we have seen in recent days is a classic case of intolerance dressed up as liberalism. Upholding the right to dissent for those with whom we "profoundly disagree" is a prerequisite for honest debate and a healthy society. The "othering" of inconvenient opinions encourages only dull, fearful conformity.
I am by no means uncritical of Ms Forbes though it is the fundamentalism of her nationalism rather than her Presbyterianism that bothers me. Like many, I wonder why she did not express a view on the Gender Reform Recognition Bill while it was a live issue on which she would have been influential. Maternity leave did not entail a vow of silence.
If it had not been for the UK Government's intervention, the Bill would now be heading for the statute book, prior to Ms Forbes' return. That raises questions which her opponent, Ash Regan, who walked the ministerial plank has a particular right to ask.
These, however, are internal matters for SNP members. The wider issue of how Ms Forbes has been treated is for Scotland as a whole to ponder. It brought to the surface the extent to which a vociferous, hyper-active minority has leveraged itself into a position of entitlement – and how intolerant it is of challenge.
For 15 years, the interests of Scotland have been abrogated to those of Scottish nationalism under cover of a flag that used to belong to us all. Beneath it, there has been little of intellectual or political worth going on. By all the key conventional indicators, Scotland has gone backwards into an ideas-free zone.
As long as the votes at Holyrood were guaranteed and Ms Sturgeon's army of enforcers, in party and parliament, were in control, none of that counted. The Greens were enlisted as additional protection, bringing with them a raft of priorities which few had voted for.
Ms Sturgeon's sudden intimation of departure has taken the lid off all that. There is no pool of talent to draw on. The "continuity candidate" is a proven dud. And now the hidden fissure is exposed between a tolerant Scotland and one which is obliged to accept whatever diktats the pseudo-progressives care to throw at it, wrapped up in that flag.
I suspect Ms Forbes will win and the test then will turn to what she can deliver, hopefully without advice from the shallow opportunists who so rapidly turned against her.
Comments
 0 comments
Want to join the conversation? Please or to comment on this article.