SNP leadership contest: John Swinney 'profoundly' disagrees with Kate Forbes religious stance
Scotland's Deputy First Minister has said he "profoundly" disagrees with the religious stance taken by SNP leadership contender Kate Forbes, despite being "a man of deep Christian faith".
The comments from Ms Forbes, a Free Church of Scotland member who had previously been seen as a frontrunner to replace Nicola Sturgeon as both SNP leader and First Minister, have seen her lose a number of high-profile backers in the leadership race.
Mr Swinney said while there has been a "huge amount of interest and debate" about her comments, it was "unhelpful" that much of the contest so far has focused on this issue.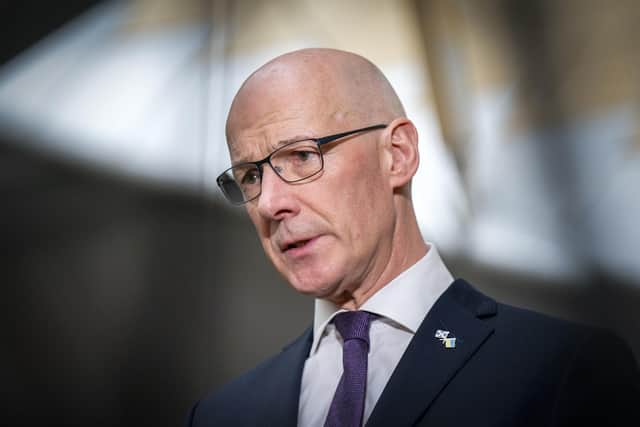 But he said it is now for SNP members to decide if someone with those views would be an "appropriate individual" to be Scotland's next first minister.
Mr Swinney had already ruled himself out of running for the post before Ms Forbes returned from maternity leave on Monday to declare her candidacy for the top job.
Mr Swinney told the BBC: "I think the thing for me that I would want to say at this stage is all of the debate that has been aired about Kate Forbes's position for me has got absolutely nothing to do with Kate's faith.
"I am a man of deep Christian faith, but I don't hold the same views that Kate has set out in the course of the last couple of days. I think it has been unhelpful that the debate has been focused on the question of faith, because in my view it has got nothing to do with faith.
"The Church of Scotland undertakes same-sex marriage, and I warmly congratulate and compliment the Church of Scotland on getting carefully to that position over some years."
Mr Swinney stressed Ms Forbes "is perfectly entitled to express her views", but party members were "equally entitled to decide if someone who holds those views will be an appropriate individual to be SNP leader and first minister".
He said: "If Kate wants to set out those views, with which I profoundly disagree despite being a man of deep faith, then the party membership will make their judgment about those views and whether they think those views are appropriate for someone to hold if they are leader of the SNP and first minister."
His comments came as Ms Regan made clear her support for same-sex marriage, declaring: "I firmly support the right to equal marriage and I am proud of the SNP Scottish Government's record in delivering the Equal Marriage Act Scotland in 2014.
"As party leader and first minister, I will take the SNP forward together, with like minds and critical friends, to create a Scotland where everyone feels safe, included and protected in what they say, what they believe and who they love."
Ms Regan said people should be able to marry the person they love, adding "just don't marry the wrong person", saying she had "been there, done that" – but is "thankfully" still friends with her former partner.
Mr Yousaf, a Muslim, stressed he will not use his faith as a basis to legislate. He told Times Radio: "The crux of the issue is whether you use your faith as a basis by which to legislate as a leader, that's a choice we have to make.
"I couldn't come on the programme in all sincerity and tell you I am able to change what Islam says about gay marriage or gay sex. But the question is do people use the basis of their faith when legislating? I haven't done so, I wouldn't do so because I don't believe that is the job of legislators and policy makers.
"I believe in a Scotland that celebrates differences, celebrates diversities, celebrates equality. I have been a minority my whole life in this country, I know my rights are interdependent on everybody else's rights."
Comments
 0 comments
Want to join the conversation? Please or to comment on this article.