Sleaze-ridden Tories set to lose next general election but Labour's immigration stance shows they're out of touch with reality – Stewart McDonald
One Conservative parliamentarian asked colleagues to ensure 'the last Tory MP to leave the building [would] please turn off the lights'
On Monday this week, the Conservatives accepted their biggest donation in two decades, with Mohamed Mansour – a man who only stopped selling oil and gas equipment to Russia in April, months after the illegal invasion and the horrors of Bucha – pouring £5 million into the party's coffers. (Mansour is also a Tory treasurer, the most ennobled job in the United Kingdom, with more former holders of the post sitting in the House of Lords than former Prime Ministers.) The same day, the press also revealed that Suella Braverman had asked civil servants to arrange a bespoke speed awareness course for her after she was caught speeding whilst serving as the UK Government's chief law officer.
On Tuesday morning, a former Conservative Prime Minister was referred to the police by the Cabinet Office amid 12 fresh allegations of pandemic parties and lockdown rule-breaking, and on Tuesday afternoon, we learned the inimitable chemical weapons expert, Dan Kaszeta, was uninvited from a conference organised by the government – where he was due to be the keynote speaker – after government officials found social media posts where he had criticised UK immigration policy.
On Wednesday, an official probe was opened into what the Conservative Secretary of State called "serious allegations of corruption, wrongdoing and illegality" by the Conservative mayor of Tees Valley in Northeast England. Yet rather than commission the National Audit Office to carry out the review, Michael Gove announced that he would set up an entirely new review body to conduct the investigation – and that he would handpick its members himself. Later that day, Suella Braverman was cleared by the Prime Minister of breaking the Ministerial Code, which would have been her second time.
They say a week is a long time in politics. But the problem at the end of yet another long week for the Conservative party is that every week in the United Kingdom now looks like this: a slow daily drip of sleaze allegations, incompetence and rule-breaking by the governing party. It's completely unsustainable. Even the Tory party recognises it, with leaked WhatsApp messages this week revealing one Conservative parliamentarian asking his colleagues if "the last Tory MP to leave the building [would] please turn off the lights".
The Conservative party will be rightly swept from power at the next general election. But what will replace them? The Labour party's reaction to the Office for National Statistics' migration figures this week has left me more convinced than ever that they simply cannot be trusted to manage the challenges that Scotland faces today.
The SNP Scottish Government has long celebrated the contributions that migrants make to our country. And just last week, Iain Brown – the horticulture chair of the National Farmers' Union Scotland – was explicit about the positive role that migrants play in our economy. "We need migrants to get the food that is grown on our farms onto our plates and not rotting in our fields," he said. "We need the government to move away from anti-migration politics and rhetoric to make good policy."
Yet while short-sighted migrant bashing has come to be expected from the Conservative party, it was still depressing to read a Labour Shadow Chancellor this week stating her belief that it "doesn't make any sense at all" to hire foreign workers when there are British nationals out of work. I would be very interested indeed to know what Mr Brown – or indeed anyone running a business and struggling for staff – thinks of that statement.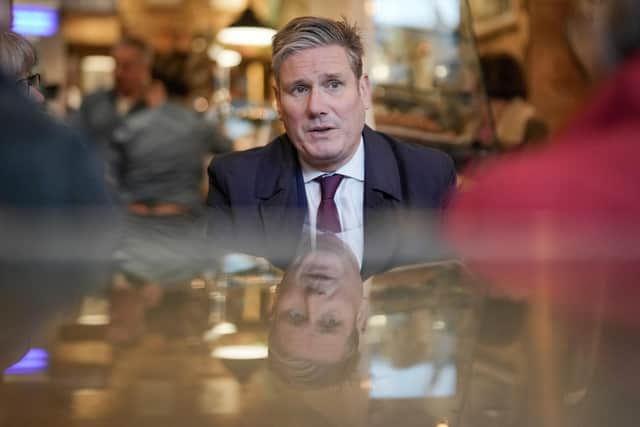 I would also be interested to know what Rachel Reeves thinks employers are meant to do in the here and now. Do farmers continue to watch their fruit wither on the vine? Do café owners continue to close early? Do NHS patients sit and watch while their waiting times grow and their access to services cut? These are the questions that people across the UK are grappling with every single day, and it borders on offensive to ask them to sit on their hands for a decade while Labour patiently invests in skills training.
Not only is the Labour party's current position on immigration hopelessly out of touch with the nature of the modern economy and the needs of employers, but it is strikingly at odds with the speech Sir Keir gave to his party just three years ago when he told an audience of party members that Labour must be more confident about "making the positive case for immigration".
Who knows, the Labour party's position might change again before the next general election. But this in itself is a problem: after more than a decade of truth-twisting and dishonesty by the Conservative party, we now have a Labour leader who seems all too willing to change his political beliefs with the wind.
Voters who recognise the economic and cultural benefits that immigration brings to our society will not find a home in the Labour party. While Keir Starmer dances to the tune of the culture wars, my party must continue to be unashamedly pro-migrant, pro-Europe and pro-independence – and we should be shouting this popular, election-winning platform with considerable confidence.
It now falls to the SNP to offer the Scottish electorate a platform they can be proud of voting for: one that will address the economic challenges they face, one that will make sure that Scotland's interests are heard at Westminster, and one that will keep the next Prime Minister honest.
Stewart McDonald is the SNP MP for Glasgow South
Comments
 0 comments
Want to join the conversation? Please or to comment on this article.