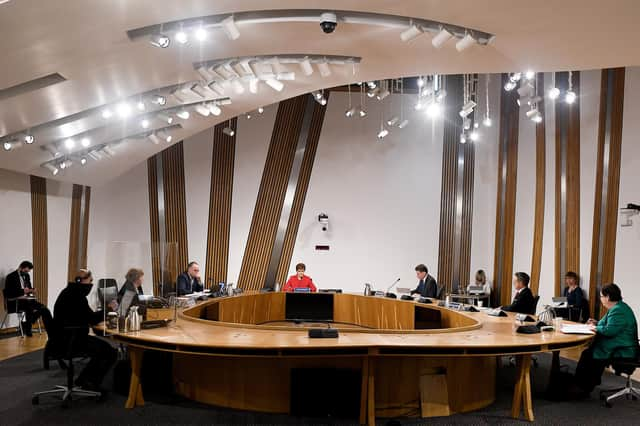 If anything, it has brought parliament into disrepute, and given fresh impetus to longstanding calls for the reform of a committee system which is singularly unfit for purpose.
The cross-party committee's final report landed yesterday like a damp squib, its conclusions having been leaked days beforehand, and its significance overshadowed by James Hamilton's separate inquiry, which ruled that First Minister Nicola Sturgeon had not breached the ministerial code.
Ordinarily, such a confluence of factors would have robbed the committee's report of what little impetus it had left. But amid the increasingly desperate calls for Ms Sturgeon to resign, the latest leak over the weekend can not and should not be allowed to pass without consequences.
On Sunday, evidence given in private to the committee by two complainers found its way into the national press. The women in question had originally been reluctant to speak to the committee, even in private, amid concerns that their welfare would not be given priority. It turns out their misgivings were well-placed and, quite rightly, they have now made a formal complaint.
Having already been failed by the Scottish government, they were let down by the committee's MSPs, who had the gall to note in their report that the inquiry process had added to the women's "distress". This is the biggest understatement since Noah felt a shower coming on.
The repercussions of this are hugely damaging, particularly for those individuals compelled to give evidence under oath behind closed doors. They now know that their evidence could be leaked, and done so in the name of political expediency. How can a system designed to act as a check on power hope be effective if it is prepared to brazenly abuse the confidence of those who come before it?
Sadly, this was just the latest misstep by the committee tasked with scrutinising the government's handling of sexual harassment complaints against Alex Salmond.
Long before it concluded its evidence hearings, let alone published its report, there were warnings that it would be reckless to prejudge its conclusions. It is hard not to believe that several of its members had already done precisely that.
Several preempted evidence given to the committee, or took to social media to play partisan politicking instead, sharing memes and idle gossip. At the very least, this gave the impression that they did not take the accountability of the committee system seriously.
Given the inquiry's proceedings have attracted the kind of national and international attention which eclipsed events in Holyrood's main chamber, it is not unreasonable to bemoan the cumulative effects of this behaviour.
One of the numerous concurrent controversies threading the Salmond inquiry has been the threat it posed to Scotland's democratic institutions. In this regard, several members of the committee should hold their hands up.
Thanks to their actions, those who maintain long standing grudges against Scotland's devolved legislature have been given plentiful ammunition with which to fire off their own claims, dismissing the nation as a "banana republic".
That such insults are as absurd as they are self-serving should go without saying, but as much as they should be dismissed, it is important to acknowledge how the committee's failings have given rise to them.
Anyone who watched the recent evidence hearings would do well to stifle a laugh when reminded that this grand new parliament once promised to usher in a new form of Nordic, consensual politics.
In truth, the new designs of Holyrood have never quite escaped the adversarial footprint of Westminster. The architects of devolution put in place literal differences to this suffocating, centuries-old political culture, such as a more proportional electoral system, as well as symbolic ones, like the curved seating in the debating chamber. All too often, however, the pull of the Mother of Parliaments has been all too clear to see.
No one involved in the construction of Scotland's shiny new constitutional architecture could have envisaged just how polarised politics would become in the space of a generation, or foreseen the angry tribalism now offered up as discourse. The committee system has been ensnared by these forces. If it is to perform its functions effectively, change is required.
The frustrating thing in all this is that there have already been eminently sensible proposals for reform, such as the suggestion by Tricia Marwick, the former presiding officer, for fewer committees, each with slightly larger memberships. This new structure would be overseen by conveners who are elected by their fellow parliamentarians, rather than being nominated by parties.
The latter point was not a new one, but its importance, especially now, deserves to be acknowledged. Such a step would automatically enhance the legitimacy of the committee system, and grant it a clearer mandate for holding the government to account. Perhaps in time, it would encourage a much needed shift in Holyrood's political culture.
Those MSPs who do not aspire to ministerial office – and they do exist – would have an alternative pathway to make meaningful change, while everyone else would be served with a timely reminder that a distinction does, and should, exist between the role of a politician and a parliamentarian.
In order for that distinction to work, of course, it depends on MSPs accepting the need to conduct themselves appropriately in such a quasi-judicial role, and to refrain from allowing their partisan interests to cloud their judgement. For all that the structures of Holyrood can be amended, that shift in mindset would be harder to achieve.
But the shambolic conduct of the harassment committee demonstrates the need for change. One of the complainers told MSPs that the process demonstrated the need for a "moratorium on party politics" when dealing with such important issues. This should not be dismissed as wishful thinking. It should be seized upon by Holyrood. Perhaps Mr Macintosh could start.
A message from the editor:
Thank you for reading this article. We're more reliant on your support than ever as the shift in consumer habits brought about by coronavirus impacts our advertisers. If you haven't already, please consider supporting our trusted, fact-checked journalism by taking out a digital subscription.