Alex Salmond inquiry: Women at centre of complaints tell of culture of 'permissiveness' around harassment
The two civil servants who alleged sexual harassment by former first minister Alex Salmond told MSPs that a "blind eye" was turned to his behaviour and the government's internal complaints policies were "laughable".
The women, known only as Ms A and Ms B, gave private testimony to the Scottish Parliament committee investigating how the government handled their harassment complaints just last week.
In the committee report, published on Tuesday, they revealed a workplace culture where people were complicit in not challenging poor behaviour by Mr Salmond and that "making complaints was simply not the done thing".
The pair also said their anonymity was a "double-edged sword" which could protect their identities, but which left them "faceless and voiceless" in the process and proved "the ultimate insult piled on to injury, when people ascribe motives to us that fit a particular theory that they have."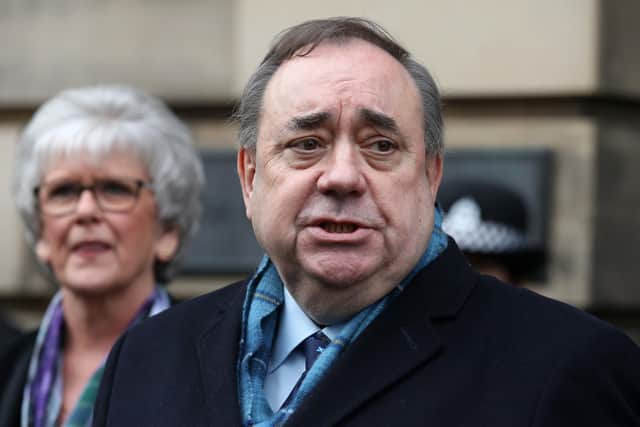 And they said they have received no support from the Scottish Government since the collapse of its case that saw Mr Salmond win his judicial review of the procedure.
One said: "I was quite taken aback by the lack of contact and support from the Scottish Government after the conclusion of its process. We were given regular updates over the period of the judicial review, but after that we were basically just dropped.
"We went through the entirety of the police investigation and the criminal trial with next to no contact from the Scottish Government, let alone any kind of support.
"There might be good reasons for that, but I certainly expected something, given that the government initiated the police referral and given the duty of care for us as staff members or former staff members, which the government had placed a lot of emphasis on during the process. I was quite taken aback because it felt as though we were just left to swim."
Further, the women revealed concerns about confidentiality in the process as they did not know who had access to their information.
"It was alarming to realise how many people apparently had access to our identities," one said.
"I was surprised to get an e-mail from someone who, at the time, I had no idea was involved in the process. That continues to happen in terms of the correspondence that we get from the Scottish Government to notify us of the release of documents.
"I see a number of people's names attached to things and I have no idea what their involvement in the process is. I find that quite concerning."
As a result, MSPs said that a new process independent of government must be introduced for the future investigation of sexual harassment complaints, as the women's experiences were "part of a broader problem" and "must stand against inertia and drive change on a bigger scale".
In their oral evidence, both women said there was an an organisational culture that did not challenge inappropriate behaviour by Mr Salmond.
One of the witnesses said "there was complicity across a number of fronts in terms of people not challenging that behaviour".
She added: "The culture that existed leading up for a number of years to the point at which we would have had to make complaints was about not challenging behaviours in the first instance, and perhaps there were not clear boundaries for what was appropriate behaviour, or leadership in the organisation to challenge behaviours."
They added: "Leslie Evans, as permanent secretary, talked about the concept that what you permit, you promote. I have always thought that that is quite a nice encapsulation of this and I think that it is a sad indictment of what happened at that time that such behaviour was permitted and a blind eye was turned to it."
They also said that as there was no organisational culture that would have allowed challenge, there was no sense of "the scale of the problem" and as a result "you end up thinking 'maybe I am the only one, maybe everyone else just puts up with this'.
"You can end up thinking that there is no point in raising anything because there is no sense that these things are addressed."
The witnesses said there was no promotion or encouragement to use the Fairness at Work policy, which appeared to involve the director of human resources sitting down with Mr Salmond "for a chat".
"It was just laughable," one said.
"It was something that was clearly never going to happen. It was a process that you could not imagine trying to apply."
Both women said they ultimately came forward with complaints as a result of the #MeToo movement in late 2017 – rather than the new policy which was being developed, though they were concerned that it should be robust and not a "corporate exercise that ends up concluding that everything is broadly fine … when, actually, under the surface, some really quite serious things had happened in the past that had never been recognised or acknowledged".
While they said they had never felt pressured to make a formal complaint at any time, they would have appreciated more "expert support, in particular around the police referral", which they agreed was the right move by the government, even if the prospect had left them "terrified".
They also revealed they had not been told that "things were going wrong" with the complaints process, and even when the government lost the judicial review, were told it was solely on a "narrow technicality".
Further, they said they had only become aware of information as the committee inquiry progressed and they were "frustrated" by the "piecemeal nature of the way in which documents have been given to the committee".
"When we had questions about the judicial review, there were issues about which it would have been really helpful to speak about to lawyers – even just internal government lawyers," they said.
"However, everything was filtered through HR, so it was a bit Chinese whispery – you did not feel as solidly in command of the information as you would have liked to have felt."
One of the witnesses made it clear that an independent route would be something they would want to see put in place, saying: "It could be really valuable to have a truly independent contact point, or at least the option of that, because the more sensitive a matter is, the more likely it is that somebody will not necessarily feel comfortable bringing it up with somebody internally."
Overall they told the committee: "The handling of these complaints has been quite damaging – unsurprisingly, perhaps – to the prospect of other people coming forward.
"I was really hoping that if you raised a complaint … you would be helping to set a healthy precedent, that actually, no minister is exempt from the standards and policies that should regulate appropriate behaviour.
"I would hope that you can bring forward complaints against even the most powerful people and they will be taken seriously, and that, through that precedent, a culture can be built that makes people feel that things are possible.
"Unfortunately, I suspect that that has been hindered rather than helped by the way that things developed."
A message from the Editor:Thank you for reading this article. We're more reliant on your support than ever as the shift in consumer habits brought about by Coronavirus impacts our advertisers.
If you haven't already, please consider supporting our trusted, fact-checked journalism by taking out a digital subscription.