Scottish Parliament election: SNP has prioritised public health during the Covid pandemic and should not abandon that caution over Holyrood vote – Martin McCluskey
Throughout the pandemic, politicians have deferred to health experts on decisions about what is and is not safe. For the past nine months, we have lived from day to day with little to no certainty about what new restrictions are around the corner.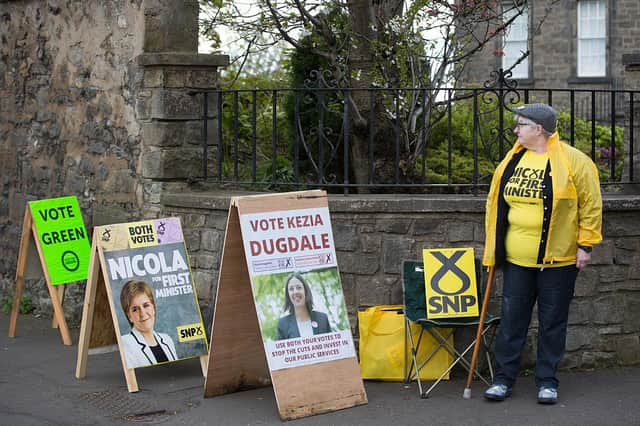 It was only four weeks ago that we heard about the new variant of coronavirus which means we are again being told to stay at home and face more restrictions from tomorrow. For families, making plans for anything more than a week or two away is impossible and most have resigned themselves to living with uncertainty.
On that background, the insistence from some that the Scottish Parliament elections must go ahead in May is baffling, and completely out of step with the public mood. At the end of last year, the Scottish government took the decision to put in place contingency plans to enable them to delay the elections, but now, with coronavirus in an even worse place than then, many SNP politicians appear to be reluctant to consider using these powers.
By no means should we take a decision to postpone an election lightly, but neither should we allow this debate to become mired in party politics. It should be a decision made on the grounds of public safety and health. The message from our political leaders should be as simple as this: if asking hundreds of thousands of people to leave their homes and go to polling stations could be a public health risk, then it shouldn't happen.
SNP politicians who have prioritised public health and practised caution shouldn't abandon that now. The judgement about whether to go ahead with the election doesn't have to happen immediately, but in the meantime they shouldn't allow a position to take hold that an election must take place regardless of the state of the pandemic in two months, when Parliament is due to go into recess.
In other countries, where the law allows postponements, health considerations have been put first. More than a dozen US states postponed their primary elections during the first wave. In New Zealand, Jacinda Ardern postponed their elections by a month when cases spiked.
Where elections have gone ahead during periods of rising case numbers, the effect on both the poll and public health has been clear. In Wisconsin, which held a primary during the first wave, there was a struggle to find enough people willing to staff polling stations, a fear that seems well-founded given that 14 states reported poll workers falling ill in the days and weeks after the November elections.
The direction of the debate around Scotland's election is taking a worrying turn. No one can say what conditions will be like in the weeks leading up to the poll. We don't know what the state of the pandemic will be, we have no idea if 40 per cent of Scots will register for postal votes (as the government is assuming) and we don't know if enough workers will be prepared to staff polling stations. Parliament has created the power to postpone the election and must be prepared to use it if the pandemic is not under control.
This shouldn't be controversial, and it seems for most Scots it is not. In a YouGov poll conducted earlier this week, 49 per cent said they would support postponing the election until the autumn, with only 28 per cent opposed. Support for postponement is only likely to rise if the pandemic continues to rage and restrictions on our movements and lives have not eased.
Whenever these elections take place, they will be anything but ordinary. Because of the impact on public health, the debate has rightly become focused on the single day in May when people go to their polling stations, but any democratic event extends far beyond putting a cross in a box. In the UK, it is normally a six-week process which is about debating ideas, engaging voters and persuading them of your case.
Those who support going ahead with the election in May have cited the US and New Zealand as examples of where it is possible, but in both places in-person campaigning carried on in full glare of the media. That is not going to happen here. The limited ability for in-person campaigning presents a unique challenge for smaller parties and a significant risk that money will matter more in this election than ever before.
Smaller parties rely on activists to deliver material and to have persuasive face-to-face conversations with voters. These are important parts of the democratic process. Paying for postage, buying billboards and even displaying highly targeted adverts on Facebook are costly and only open on a large scale to the parties with the biggest bank balances.
While the party leaders may continue to be subject to scrutiny in TV debates and interviews, individual candidates will not. And when we are electing members to a Parliament, not voting for a president, that matters. Election campaigns test candidates and media scrutiny helps the public decide if they are ready and prepared for the job. In an election devoid of constituency visits, in-person hustings and debates, it will be even more difficult to decide if they are up to the job.
No one expected to be dealing with how to run an election during a pandemic. But neither did we think we would have to contemplate enforced periods apart from our friends and family and government-mandated orders to stay at home for months. People across the country have had to change their plans constantly over the past months. Birthdays unmarked, weddings cancelled, funerals held under the most awful conditions. They will not look kindly on politicians who do not use the powers they have to delay the election if the needs of public health demand it.
Martin McCluskey is a doctoral researcher at Edinburgh University, director of Kempock & Co, and a former political director of Scottish Labour
A message from the Editor:
Thank you for reading this article. We're more reliant on your support than ever as the shift in consumer habits brought about by coronavirus impacts our advertisers.
If you haven't already, please consider supporting our trusted, fact-checked journalism by taking out a digital subscription.
Comments
 0 comments
Want to join the conversation? Please or to comment on this article.