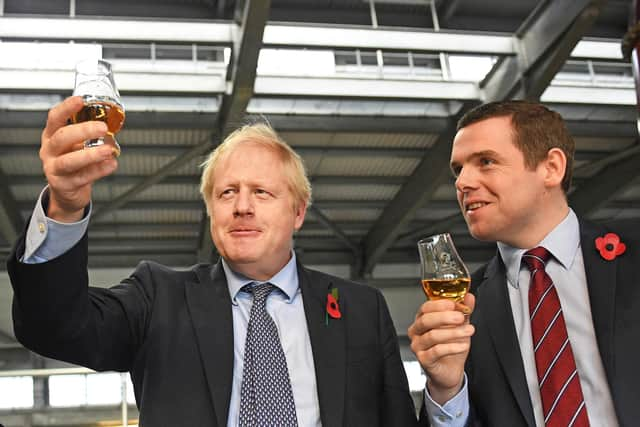 Stopping Brexit has failed, pursuing independence must replace it. Currently, the strategy is for a Section 30 order which requires Westminster's agreement. Boris Johnson has repeatedly said he isn't intent on granting it anytime soon and nothing in his actions or negotiations with the EU give credence to the idea that he'll blink following an SNP victory in May.
One alternative route is therefore through a poll called by Holyrood which is what "Refusnik" Ross is referring to. That's the subject of a court action at present and which will clarify if it can be done.
Many believe that it can, though it would be consultative only and not binding in its outcome. If the court concur with that view, then a poll could be held whether the Tories chose to participate or not.
For sure, a significant boycott would damage its legitimacy but not necessarily invalidate it. Whether, in the heat of a contested poll, a mass abstention by unionist support could be organised is questionable and, in any event, a convincing victory, even with a reduced turnout, could still have significant validity.
Further momentum could be obtained and the legitimacy of continued Tory rule shown to be far more questionable than even that of the conduct of the poll.
But what "Refusnik" Ross does articulate is the intention of the Tories to dig in. They don't care about democracy or the rights of the Scottish people. It's "No" to a referendum now or anytime. And, if there's to be one at some stage, then it will be when they want it and run the way they wish it.
It's the Scottish edition of their EU trade-deal policy of "have cake and eat it". Not until they want it and then only on their terms.
Now I can see why Tories argue for that. It suits them to delay and deny but it certainly doesn't suit Scotland.
Time is of the essence. The need is great as catastrophe mounts. The SNP require to show the Scottish people that there's way out of this mess. Righteous anger isn't saving jobs and playing the Westminster game won't feed the kids.
The SNP is to debate the available options but change's needed. One option that Ross's refusal does open up is to make the Holyrood poll in May a plebiscite, as much as an election.
A vote for the SNP becoming confirmation of support for independence and providing a mandate for an incoming administration to negotiate terms or run a consultative referendum regardless of consent by Westminster.
The recent call by Dennis Canavan to go early is wise, indeed essential. This is the time both in the urgency for the country's needs and as the optimum time for success. Timing cannot and must not be left by the SNP to Boris Johnson or Refusnik Ross.
Kenny MacAskill is the SNP MP for East Lothian
A message from the Editor:
Thank you for reading this article. We're more reliant on your support than ever as the shift in consumer habits brought about by coronavirus impacts our advertisers.
If you haven't already, please consider supporting our trusted, fact-checked journalism by taking out a digital subscription.