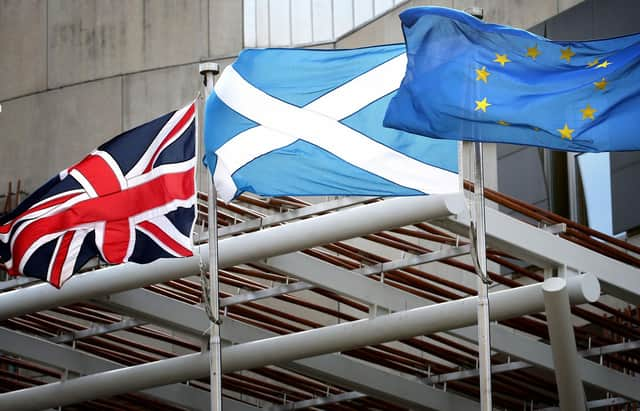 The Covid outbreak has shown the benefits of a 'four-nations' approach while Brexit has demonstrated the folly of isolationism, says Daniel Johnson (Picture: Jane Barlow/PA)
The last four-and-a-half years have seen the UK look at best stubborn and at worst foolish. Because what was clear before this process is now in very sharp focus. Economic success is reliant on cooperation but in turn that cooperation requires giving up some sovereignty. Shared rules means you cannot set and interpret them in splendid isolation.
While some may try to claim the Brexit process has nothing to do with independence – the parallels are there for all to see. Claims of straight forward and rapid negotiations; assertions that seamless access to shared institutions would remain; suggestions of border problems rebuffed without detail nor explanation.
These were key features of the debate in the lead up to the vote in 2014 and have been mirrored in the confused and contorted efforts trying to sort out a supposedly "oven-ready deal" with the EU.
As we look to rebuild following the pandemic, we can ill afford years of wrangling and high stakes negotiation triggered by a push for independence.
Sharing an island between the North Sea and the Atlantic Ocean means we need to share sovereignty and accept the decisions made in one part of this land will affect the rest of it.
Pursuing independence which seeks to keep an open border, share institutions and continue to enjoy a common economy are easy to state as aims but, outside political union, are difficult to achieve.
More critically, more constitutional fallout would consume time and political energy we can ill-afford at a time when we must focus on rebuilding our economy and society, shattered by Covid.
But I do agree with those that call for change. Brexit highlights the errors of exceptionalism and isolationism. And Covid has exposed shortcomings across the nations, Scotland's infection rate and death rate being little different to the rest of the UK.
The change we need must recognise the importance of cooperation and shared internal sovereignty. And that our future is intertwined with our larger neighbours whether we like it or not. We need change that helps us meet the challenges we face not distract from them.
It is somewhat ironic that the speech Kier Starmer had hoped to make on Friday was postponed because of Brexit. The constitutional convention chaired by Gordon Brown that Starmer is bringing forward is critical.
Change and more devolution is needed not just by Scotland, but the whole of the UK. Through the crises, it is the city mayors who have been standing up for areas and regions of England.
But they need more power to shape and direct public services. Through the pandemic, the phrase "four nations" approach has become common, but we need that to be made permanent not just a feature of crisis.
This country needs change. But I don't just want change for Scotland. If the last few months teach us anything, it is that we must work together. We must therefore change together.
Daniel Johnson is Scottish Labour MSP for Edinburgh Southern
A message from the Editor:
Thank you for reading this article. We're more reliant on your support than ever as the shift in consumer habits brought about by coronavirus impacts our advertisers.
If you haven't already, please consider supporting our trusted, fact-checked journalism by taking out a digital subscription.