Scottish Green party: How much damage will they do before these chancers are called out? – Brian Wilson
What did Scotland do to deserve Lorna Slater? It certainly didn't vote for her. Ms Slater is an accident who emerged through Andy Wightman walking out on the Scottish Greens and leaving a vacancy at the top of their Lothians candidates list.
The "Bute House Agreement" did the rest and now she's everywhere, a multi-functional wrecking-ball, picking up a hundred grand to exude piety and blunder from one disaster to the next. Unfortunately, real livelihoods are her playthings in this unexpected adventure.
Before turning to Ms Slater's more conspicuous failures, I recommend a Holyrood clip which has attracted a quarter of a million views, so her fame as a comedy turn is growing. She is asked a factual question by Edward Mountain MSP about whether Scottish farmers will be able to apply for future conditionality payments.
Ms Slater could have done herself a favour by saying she hadn't a clue what he was talking about but would find out and let him know. Instead, she tried to read out a random page from her briefing which made no sense at all. A Canadian tourist plucked off the Royal Mile would have been as much use to Scottish farmers.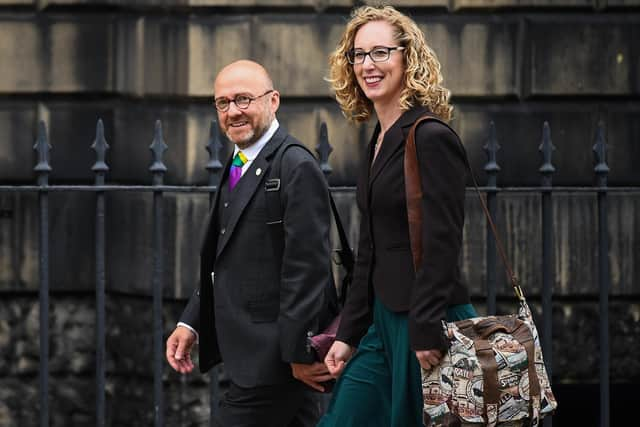 It's actually insulting to them and to Scotland that she has been parachuted into a position of responsibility. My specific prompts for bothering to write about her were interviews following the deposit return scheme's delay that were so blatantly untruthful as to raise serious questions about her fitness for office. Any office.
According to Ms Slater's version, the sole reason for delay is the UK Government failing to give approval under the Internal Market Act which protects trade movements within the UK. Until the possible use of "this crazy power" was signalled in February, averred Ms Slater, everything was going to plan. Now, in the absence of that approval, delay is "inevitable".
This is complete and utter falsehood. Virtually all resistance to the scheme has come from within Scotland – not from people opposed to the principle but who have had to deal with the complexity and incompetence of the way it is being introduced, for which Ms Slater bears political responsibility.
A large part of that problem stems from the obsession with doing things differently rather than competently. Common sense points to a UK-wide approach, not for political reasons but simply because bottles do not recognise borders. That is what every section of the industry says and the UK Government's position reflects.
There is general agreement that one barrier to progress would disappear if the cocksure Ms Slater was returned to obscurity. Organising the exchange of empty bottles is a practical matter which pragmatic people could organise successfully, given the time and money. The last thing it needed was a zealot trying to outbid the natives in her enthusiasm for division.
I heard her repeat the formulation that "over 90 per cent by volume" of drinks producers have signed up to the scheme. Translated, that means the multinationals have spent large sums (in the case of Coca-Cola in Scotland, I understand it is £20 million) to pursue an even larger market share, while the great majority of small Scottish businesses have declined to register. So it's "Greens for Coke" and sod the little Scottish guys!
Ms Slater was in action again at Holyrood as champion of highly protected marine areas, another product of the Bute House Agreement which has provoked a wave of revulsion around Scotland – not because communities do not care for their own environment but due to the heavy-handed extremism of what is proposed.
The Calgary know-all blithely assured MSPs: "Communities can absolutely benefit from highly protected marine areas." So that's that. And the Greens have the power while those who live and work in these places don't. The whole scenario borders on the surreal.
How much damage will Ms Slater and her running-mate Patrick Harvie, who has been unusually quiet in recent days, perpetrate through this unholy Bute House alliance of convenience before being called out as the chancers they undoubtedly are? Or is that a qualification for being part of Team Yousaf?
Comments
 0 comments
Want to join the conversation? Please or to comment on this article.