Scottish Elections 2021: Unionists who have never voted Tory before need to back us now to stop SNP's independence referendum plan – Douglas Ross MP
This election is about the very future of our country.
The deciding factor will be the peach ballot and, particularly, how pro-UK voters choose to use it.
It's more important than ever before that everyone who values the United Kingdom lends their peach vote to the Scottish Conservatives, even just this one time, so we can stop an SNP majority.
Scotland's leading polling expert, Professor John Curtice, has said this week that an SNP majority is "on a knife edge". Make no mistake, if the SNP get a majority, they're going full-throttle towards another independence referendum.
It really does all come down to that. The choice couldn't be clearer.
On one hand, there's the SNP. They've made another referendum the biggest issue of this election.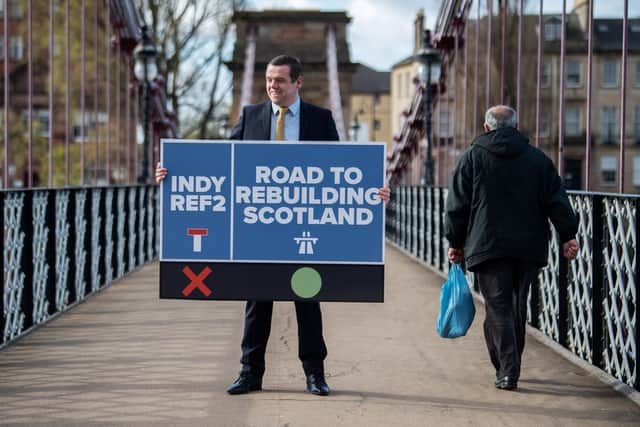 On the other hand, there's the Scottish Conservatives. We want to reject that referendum, so we can focus all our efforts on Covid recovery and rebuilding Scotland.
It comes down to that binary choice because, sadly, Labour can't decide which side of the argument they want to be on. It's unbelievable – but they don't know where they stand on the future of our country. They're not sure if they are still a pro-UK party or if they should switch.
Last weekend, it emerged that at least seven of their candidates are pro-referendum. They're split down the middle on the constitution. That's why they've spent most of this campaign seeking the votes of pro-independence voters.
It's disappointing to see a party that used to fight the nationalists now try to cosy up to them instead. Labour are still sitting on the sidelines, waiting to see which way the wind blows.
This week's Channel 4 debate made that clearer than ever.
He could have used that line on Jeremy Corbyn or Richard Leonard. That's the problem – Labour still just can't make up their mind if they're against the SNP or want to work with them.
Watching the Channel 4 presenter tell Labour that they're in effect, not on the pitch, my mind went straight to football, as it often does.
When I see Scottish Labour lost over Indyref2 again, all I can think of is the great spoof of Kenny Dalglish in Only an Excuse? Of Jonathan Watson's classic line impersonating the Liverpool and Celtic legend – "Mibbes Aye. Mibbes Naw."
That has been Labour's position on another referendum ever since the SNP started to take their voters in huge numbers. Maybe yes. Maybe no. They just can't decide which way they should go.
They are stuck on the fence on the biggest issue of the day.
My party could work with them on a wide range of policy areas. We both firmly believe that the next Scottish Parliament should be 100 per cent focused on Scotland's recovery.
We both want the focus to be on improving schools. Tackling drug deaths. Ending unemployment.
We have many of the same aspirations, we just have different ideas about how exactly to get there.
But they don't recognise that we can't do any of that – improve schools, tackle drug deaths or end unemployment – if the SNP get another referendum.
They are ignoring the elephant in the room. They just don't take the nationalist threat seriously enough.
They keep trying to wish it away, as if the SNP will stop demanding another referendum if we ask them nicely.
Labour think this will all be solved if they just say "please Nicola, please just stop demanding another referendum".
The SNP will never stop. That's the problem. They will keep demanding another referendum every chance they get.
So we have to stop them getting that chance.
If we don't realise, accept and face down the threat that's staring us in the face, then the SNP will win a majority and divide us all over again.
But they can be stopped. An SNP majority is not inevitable. Another referendum is not inevitable.
The power is all in the hands of pro-UK voters and if they choose to use their peach ballots for the biggest opposition party, the Scottish Conservatives, to stop that SNP majority.
The party list vote – that peach ballot – is where this election will be won and lost. If just a few more people choose to lend their list vote to the Scottish Conservatives, we can stop that SNP majority and their plan for another referendum.
It worked in 2016 and if pro-UK voters come together, the polls all show it will work again in 2021.
So even just this one time, please use that peach vote for Scotland's biggest opposition party, the Scottish Conservatives.
It's never been more important because in this election, it's a straight choice between those two futures – referendum or recovery.
So I hope every pro-UK voter, no matter how they usually vote, will lend the Scottish Conservatives their vote on the peach ballot and together, we'll get all of the focus back onto rebuilding Scotland.
We can build our country back stronger after the Covid pandemic – but only if we stay united.
Douglas Ross is MP for Moray and leader of the Scottish Conservatives
A message from the Editor:
Thank you for reading this article. We're more reliant on your support than ever as the shift in consumer habits brought about by coronavirus impacts our advertisers.
If you haven't already, please consider supporting our trusted, fact-checked journalism by taking out a digital subscription.
Comments
 0 comments
Want to join the conversation? Please or to comment on this article.