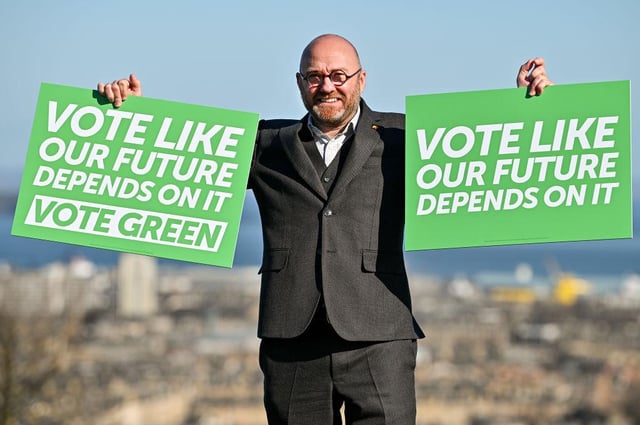 Scottish Greens co-leader Patrick Harvie helps launch party's 2021 Holyrood election campaign (Picture: Jeff J Mitchell/Getty Images)
Indeed, it would more likely be the parking of the cause so many hold so dear.
The Greens may have begun to tire of opposition. It can be frustrating, elected but without power. Other Green parties elsewhere have sought to make the move into government and it would be logical for it to happen here.
There's risks, of course, as power brings responsibility and hard choices need made. Decisions, even unpalatable ones, are often unable to be avoided. But it's a natural political progression and if the Green party wants to change the world, its political leadership has to grasp the levers that control it.
From an SNP position though, it would be a sign of defeat as an outright majority won't have been obtained. For sure, stability in government's a good thing and minority government's often far from easy to handle. So the SNP – as with all parties – would prefer to rule on their own, but if they can't will seek stability.
At first glance, there may seem merit in it. The parties have co-operated in Holyrood as budgets and critical votes have shown. There are shared sympathies on many subjects. Equally though on many issues – such as women's rights, as Andy Wightman's departure from the Greens shows – there's cause for concern not hope.
But where would that put independence? Whatever the Greens may say it's not their priority. Indyref2 therefore wouldn't be at the heart of government and indeed might be side-lined as a consequence of the election outcome.
It's why those committed to the independence cause and who worry about a wasted vote on the list where hardly any list SNP MSPs were elected, should beware of voting Green. That would more likely be about putting SNP and Green backsides in ministerial office than delivering independence.
Hence why those supporting independence should only vote for list parties who prioritise independence. Only that can ensure an independence-focused administration.
A message from the Editor:
Thank you for reading this article. We're more reliant on your support than ever as the shift in consumer habits brought about by coronavirus impacts our advertisers.
If you haven't already, please consider supporting our trusted, fact-checked journalism by taking out a digital subscription.