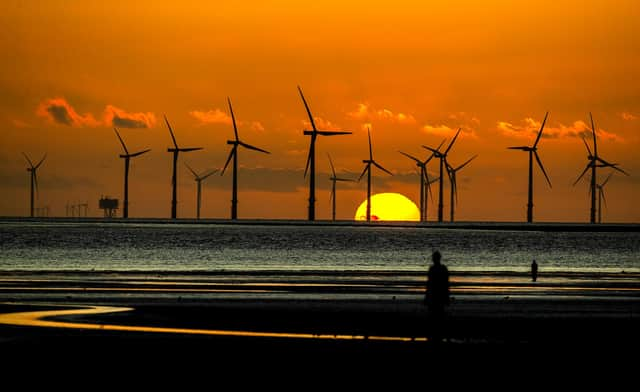 Scotland can produce vast amounts of renewable energy and other sources of wealth (Picture: Peter Byrne/PA)
It was frustrating, but a reminder of the strange times we are living in. I haven't had any symptoms, but I'm glad of a cautious approach.
The pandemic provides the context for everyone at the moment. It has been a year which has brought many challenges both personal and national, and there's no doubt it also provides the context for the Scottish Parliament election in May.
While most of the parties seem to recognise that, the Scottish Conservatives appear to be focused instead purely on attacking the integrity of the Scottish Parliament and constitutional positioning.
Perhaps the idea is that if enough people become disillusioned with the workings of our democracy, they will be less concerned when the UK government tries to ignore a majority of MSPs who support giving Scotland a say over our future.
Beneath this game-playing, the Tories have no positive proposals for Scotland. They exist merely to try and prevent Scotland deciding things for ourselves.
That isn't just about independence either. The internal market bill essentially gave UK ministers a veto over any devolved decision which interferes with their ideological pursuit of a free-market economy.
I've always thought a national election should be an opportunity to have a conversation about what kind of country we want. That is about values, yes, but it also about how those values are reflected in practical policy.
For example, all the major political parties acknowledge that the world faces climate breakdown, they all recognise the forest fires, flash flooding, droughts and melting ice caps provide ample evidence that we are running out of time.
This is evidence I saw first-hand when I joined 80 scientists on a trip to Antarctica to see for ourselves, just a few months before I was elected co-leader of the Scottish Greens.
The ship's captain, a man with 30 years of experience in the Antarctic, told us how each year the glaciers were smaller and further away. Each year there was more bare rock to see. We were also told of wildlife finding it harder to survive.
The parties seem united in their values, they agree this is a bad thing, but it's enormously frustrating that they don't recognise what they need to do, urgently, to stop this getting worse.
Climate science gives us just nine years to reverse climate breakdown, and the pandemic has shown up the gaps in our economy that allow too many people to fall into poverty.
These need to be addressed urgently, but we also need to look forward to what kind of Scotland we want, so that our solutions to economic and climate emergency are long lasting, equitable and sustainable.
It would be unthinkable to return to the broken economy we had before, which allowed far too many people to fall into poverty while a very few gathered vast amounts of wealth.
It is a system which has failed people and the planet.
A discussion about what kind of Scotland we want can be much more positive than the political point-scoring we see at the moment.
For example, unlike the SNP, I don't see why Scotland needs to rely on diminishing oil revenues. As someone who works in renewable energy, I believe Scotland can lead Europe in the alternatives.
Thanks in large part to the sector I work in, tidal power, Scotland has the potential to provide 25 per cent of all the renewable energy in the whole continent. What's more, our economy can play to our strengths in finance, renewable energy, high-tech research and development, digital, culture and tourism.
Scotland has wealth, it's what we decide to prioritise that is at stake.
There's no reason why we can't have the levels of social mobility enjoyed by our Scandinavian cousins. Where obscene levels of wealth are not needed, and no one falls into abject poverty.
We can ask ourselves why we have tolerated such levels of tax evasion and tax avoidance for so long, or why we have allowed the exploitation of so many people through low-waged insecure work.
Scotland doesn't have to become a little Britain, with its cruel centralised social security system and its concentration of land, wealth and power in the hands of the already privileged. There's no need for social care to be absent from the social contract that provides health care and education.
Scotland's land could belong to the communities that live there. We could have a social security safety net that leaves no-one behind, such as a universal basic income. Where the rights to housing, healthcare and social care are upheld and newcomers welcomed and recognised for the contribution they bring to our country and the strength that diversity brings.
Direct investment by the state can lead to excellent public transport, free buses and fast reliable trains to all major urban centres. The Scottish Greens have already been planning this. Our £22bn 'Rail For All' plans were praised by rail engineers and trade unions.
It's too easy to look at the difficulties we are facing through this pandemic, see the personality clashes in our politics and on the overwhelming challenges we face ahead of us and lose hope.
But our future depends on the actions we take, on the ideas we have and on what we need to do to realise them. That's what will keep me going on this campaign trail. Just as soon as I'm out of self-isolation, of course.
Lorna Slater is co-leader of the Scottish Greens
A message from the Editor:
Thank you for reading this article. We're more reliant on your support than ever as the shift in consumer habits brought about by coronavirus impacts our advertisers.
If you haven't already, please consider supporting our trusted, fact-checked journalism by taking out a digital subscription.