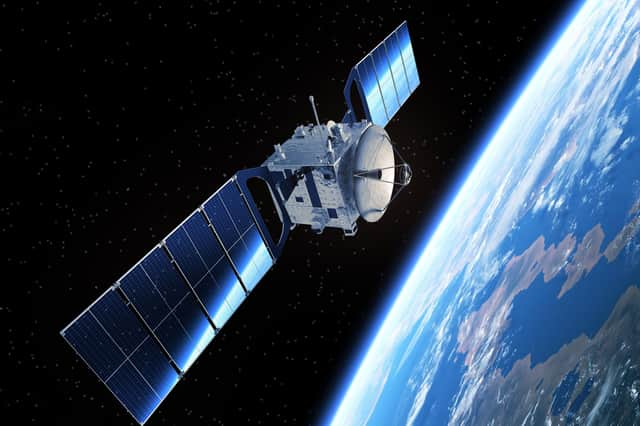 The announcement, following the granting of planning consent to Space Hub Sutherland in June, will further expand Scotland's launch capabilities and inject momentum into the development programme at Shetland Space Centre, which hopes to create 200 jobs on the islands by 2024.
Yet while this announcement will attract global attention, it is just a small part of a much bigger story of Scotland's successful space sector focused primarily on 'agile' space and tackling climate change.
Satellites built and launched here can monitor the environment in ways not previously possible, including mapping global carbon levels. Thirty-five of the 45 essential climate variables defined by the UN are measured from space.
And Scotland's space industry can be a force for good in other ways too. Of the 17 Sustainable Development Goals set by the United Nations with the aim of ending poverty and hunger by 2030, satellite data plays a critical role in 13 and contributes to the remaining four.
Eco-friendly rocket fuel
As minister responsible for the space sector, I am delighted with how much progress Scotland has already made – and increasingly excited by our future potential.
In Glasgow, we make more small satellites than anywhere in the world outside California, driven by world-class companies.
ACC Clyde Space was behind Scotland's first space satellite, UKube-1, in 2014 and is involved in 40 per cent of all worldwide missions to launch cubesat satellites, which can measure just 10cm across. Its customers have included Nasa.
Spire Global designs, builds, tests and operates all its satellites in-house and its data services track aviation, shipping and weather systems, while Alba Orbital builds and launches the world's most advanced picosatellites. These start at just 5cm across and are used for Earth observation and telecommunications.
Our businesses are also leading the way in the manufacture of micro-launchers which are a world away from the enormous heavy-lift, gas-guzzling vehicles of traditional space launches.
Orbex, which recently opened a design and manufacturing facility in Forres, has secured contracts to launch commercial satellites using its Orbex Prime vehicle. Prime is 30 per cent lighter than similar-size rockets and fuelled by biopropane, which produces 90 per cent fewer carbon emissions than standard kerosene.
In Edinburgh, Skyrora has successfully tested Ecosene fuel created from waste plastic and hopes to have its Skylark-L sub-orbital rocket ready for flight next year.
Thousands of jobs
Scotland's universities are playing a pivotal role in using satellite data to tackle major issues such as climate change, conservation and food production. Glasgow and Strathclyde universities focus this work in their innovation districts, while Edinburgh is partnering with Orbital Micro Systems to develop constantly updated weather forecasts.
This project will see Orbital launch 60 small satellites from Space Hub Sutherland on the Mhoine peninsula.
In 2017/18, the latest year for which figures are available, Scotland's space industry was worth £880 million and sustained 8,019 jobs. But this just scratches the surface of what is possible, and our aim is for the sector to have a £4 billion slice of the global space market by 2030.
It is an ambitious target but I am convinced it is achievable. Up to 19,600 satellites are expected to be operational by 2031, driven by a sharp rise in demand for small satellites.
Currently, most small satellites 'ride share' on the back of larger satellite missions launched from countries such as Kazakhstan. However, this meets less than 35 per cent of present demand, leaving a significant gap in the market that we are in a strong position to exploit.
Horizontal launches
Scotland is home to five of the UK's seven spaceport sites currently in development and I am pleased to see them working together through the Spaceport Alliance to support launch activity for the whole of the sector.
Space Hub Sutherland is the first in the UK to secure planning consent and has been selected by the UK Space Agency as a national centre for vertical launches. Its location provides a flight path which avoids populated areas and access to orbits that 95 per cent of small satellite launches require. An economic assessment estimated it will be capable of supporting about 400 jobs throughout the Highlands and Islands by 2025.
Shetland and the Western Isles spaceports are both developing vertical launch capability, with Shetland able to handle heavier payloads such as that planned by Lockheed Martin.
In contrast, Machrihanish and Prestwick are pursuing horizontal launches, which involve aircraft carrying rockets to the appropriate altitude for an airborne launch. Prestwick has already been approached by several companies interested in the site's launch capabilities.
The Scottish Government's role is to help ensure that Scotland is competitive at every stage, from design and manufacture, through launch, to the interpretation and application of satellite data. This will bring maximum economic benefit and create the highly skilled engineering, data analysis and manufacturing jobs that are the real prize.
Good news in troubled times
To this end, I am working closely with the Scottish Space Leadership Council to ensure the views of the sector in Scotland are represented at all levels of government. As we move forward, I will continue to champion Scotland's space sector and maximise the benefits it can deliver.
Our focus on space as a force for good, designing lighter, more efficient rockets, developing clean-burning and renewable fuel and using satellite data to combat climate change and promote scientific discovery, gives the Scottish space sector a unique selling point.
Add the sector's resilience to the economic effects of the coronavirus (Covid-19) pandemic and its ability to create high-quality jobs across the length and breadth of Scotland, space is a much-needed economic good news story in these difficult times.
Ivan McKee is minister for trade, investment and innovation
A message from the Editor:
Thank you for reading this article. We're more reliant on your support than ever as the shift in consumer habits brought about by coronavirus impacts our advertisers.
If you haven't already, please consider supporting our trusted, fact-checked journalism by taking out a digital subscription.