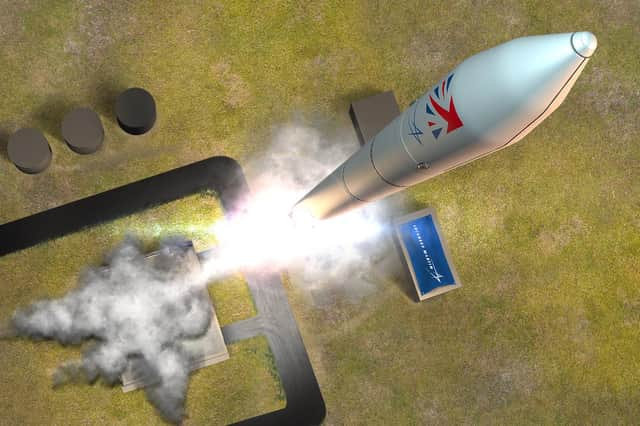 An impression of the satellite launch vehicle leaving Shetland Space Centre. PIC: Contributed.
The UK Space Agency has confirmed that Lockheed Martin will move its UK Pathfinder Launch project to the Shetland site at Lamba Ness on Unst.
The firm was originally set to run the project at Space Hub Sutherland site on the Melness Crofting Estate, near Tongue but the Shetland site was decided to be a better technical fit, it is understood.
The company was earlier selected by the UK government to help create a market for commercial launches of satellites and grow the 'next space age'.
Amanda Solloway, Science Minister, said: "We want the UK to be the best place in Europe to launch satellites, attracting innovative businesses from all over the world and creating hundreds of high-skilled jobs.
"The potential to have multiple spaceports in Scotland demonstrates the scale of our ambition, and I want to support industry by pressing ahead with our plans during this challenging time.
"This government is committed to backing our growing space sector, developing a comprehensive space strategy and supporting transformative technologies that will benefit people and businesses across the country."
Iain Stewart, UK Government Minister for Scotland, said the move to Shetland was a "huge step forward" for the UK Spaceflight programme.
Shetland Space Centre will build infrastructure to handle the arrival of the UK Pathfinder Launch, with Lockheed Martin to create a launch vehicle – or rocket – that will send satellites into space from the site.
An orbital manoeuvrevehicle that will release and accurately locate the satellites – such as those used to gather meteorological information – will also be dispatched from Shetland.
Orbex, a Forres-based aerospace company which has partnered with the UK Space Agency, will continue to work towards launching its small commercial orbital rocket at Sutherland in 2022.
The UK Space Agency said it would continue to support Space Hub Sutherland, through grant funding to Highlands and Islands Enterprise, and Orbex.
Ivan McKee, Scottish Government Minister for Trade, Investment and Innovation said: "The transfer of Lockheed Martin's UK pathfinder satellite launch to Shetland Space Centre will enhance Scotland's existing vertical launch capability and enable us to target a wider market base through a complementary offer across multiple spaceports.
"This will provide an economic boost not only to the Shetland Isles but also maximise the commercial opportunity across the wider region, with Highlands and Islands Enterprise leading the delivery of Space Hub Sutherland alongside Scottish-based launch partner, Orbex."
Nik Smith, UK Country Executive at Lockheed Martin said: "From the outset our focus has been on realising the greatest economic benefit for the UK through the Spaceflight programme. The transfer of our UK spaceflight operations to Shetland will not only broaden launch options available in the UK, but also ensure the economic benefits of these endeavours are felt more widely."
By 2024, Shetland Space Centre expects that 140 jobs will be created at Unst by the deal. A further 210 are set to be created across Shetland and a further 255 in Scotland, with further roles in manufacturing likely as part of the Lockheed Martin move.
Thank you for reading this article. We're more reliant on your support than ever as the shift in consumer habits brought about by Coronavirus impacts our advertisers.
If you haven't already, please consider supporting our trusted, fact-checked journalism by taking out a digital subscription.