Passions: Move over Steve McQueen, I'm also a hero on my Honda Super Cub
On your bike for freedom of the open road with fuel at a pocket money price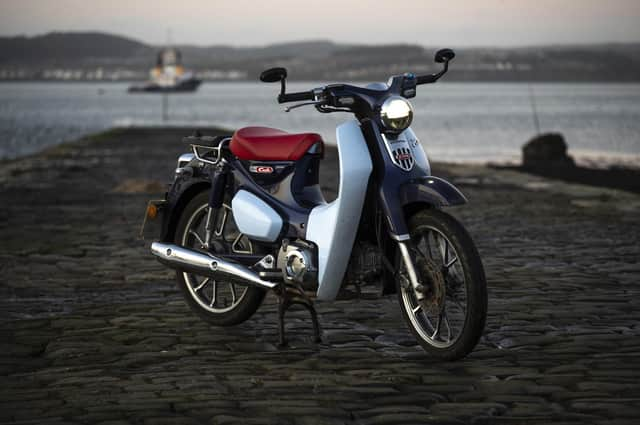 Regardless of what I look like, every time I jump on my motorbike I am Steve McQueen in The Great Escape. Or occasionally Fonzie. Either way my days are happier when they involve a ride out on my Honda Super Cub.
Whether it is a short pootle to work, avoiding the traffic and snagging the best parking spaces in town – for free! (don't let on) – or beetling through the countryside catching flies in my teeth, I often wonder why everybody isn't on a bike?
The truth is, motorcyclists are a bit different, or so we like to think. That is why, much like the AA man from yesteryear, we still give a nod or a wave to kindred sprits when we pass by on the open road. Not to every Deliveroo or Just Eat rider though, that wouldn't be possible.
Noted as the most produced motor vehicle in history, with over 100 million made, the overall look of the Super Cub has remained unchanged since the first models came off the production line in 1958. It is the motorcycle equivalent of the Model T, or Volkswagen Beetle – a bike for everyman, or woman, that is used the world over. Indeed, so reliable is it that one intrepid traveller, Ed March, has notched up more than 100,000 miles touring the world on a 30-year-old Cub he picked up for $200.
A full tank of petrol is still comfortably under a fiver, so with 150mpg it might even be possible to do the North Coast 500 for under £20 – something, one day, I hope to find out! You might recognise it better as a stalwart of mobility in countries like Vietnam, often transporting a family of five – and their goat – as they go to Ho Chi Minh market.
A frequent conversation starter, I am constantly meeting people with a connection to the Honda. They have either had one, or their dad, uncle or aunt has had one in the past. One misty-eyed octogenarian approached me outside a shop and told me of her days whizzing around her Far East posting on one. If it wasn't for the single seat, I would have offered her a quick jaunt around the block for old time's sake.
All this only goes to prove, as the early advertising campaign in the United States said: "You meet the nicest people on a Honda."
Andrew O'Brien is Head of Audio Visual at The Scotsman
Comments
 0 comments
Want to join the conversation? Please or to comment on this article.